Oblivion - User Reviews
Thank you for rating this movie!
Read your review below. Ratings will be added after 24 hours.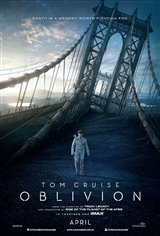 ---
Please rate movie 1 to 5 stars
Showing 1 to 50 of 85
October 02, 2020
Very underrated movie. I don´t know what was so hard to understand for some people. :D Also it´s really funny when a sci-fi dystopian movie perfectly illustrates the life of workers in sh*tholes like my country in the scene where there´s said the workers can go to the toilet only once per the whole shift and when the main character is forced to enter the dangerous part of some machine and almost dies. These things are actually hapenning here. I don´t think the authors could know it, they just described the reality accidentaly when they tried to make up a dystopian future.
April 30, 2015
much better than anticipated .....very well done!
May 07, 2014
Smart, interesting story with some decent special fx...Mr. Tom wasn't too annoying either.
March 14, 2014
I am dumbfounded to see that Tribute watchers have only given this movie a 3 star rating. That is why I feel compelled to leave this review. THIS IS AN AWESOME FILM!!! Despite having Cruise in it. He does pick some good films though. This one is just so excellent. I watched it 3 times in a row.
January 04, 2014
Terrible movie. Terrible writing. Terrible acting. Bad Bad Bad.
September 30, 2013
awesome awesome awesome
September 03, 2013
I was oblivious.
September 01, 2013
Really enjoyed this movie. Way too many unfair 'one stars'. My only guess is that some people have it in for Mr. Cruise ;)
August 12, 2013
Great effects - worth seeing..
August 08, 2013
Good, not great. I can't understand folks who said they didn't understand or got lost. My complaint was it's too predictable. Seriously, how dumbed down does hollywood have to get before the current movie watchers don't somehow get confused?!
August 08, 2013
Waste of time. Don't bother with this dog. Really really bad movie.
July 27, 2013
126 you can never get back. STAY AWAY!!!!!!!!!!!!!
July 24, 2013
this movie is visually stunning, yet painfully boring. fake emotions throughout. morgan freeman must have been begged by a starving homeless kid to take part in this movie. save your time.
June 25, 2013
Tom Cruise, as always, is intense! Pretty good story line. I enjoyed it.
June 21, 2013
Are you kidding me, this movie was awesome!! A must see Sci Fi movie! Tom Cruise was brilliant and Morgan Freeman, Olga Kurylenko , Andrea Riseborough were great! Great special effects,action,story and acting. A must see!
June 13, 2013
Save your money people.
June 13, 2013
Terrible, terrible,terrible.
June 13, 2013
Honestly, time for TC to retire...what a loser!
June 13, 2013
Bad acting.
June 10, 2013
Good movie would have been more believable if set in 2117, we really can't accomplish all the tech in the next 4 years. The women were too young too.
June 02, 2013
Exciting action. Inspiring music. Money well spent whther you are a Tom Cruise fan or not.
June 02, 2013
Exciting and great action overlayed with a very inspiring soundtrack. A great choice for an evening of science fiction entertainment.
May 29, 2013
Pretty good with great visuals and decent story. But it's not that memorable. Once you leave the theatre you don't ever think about it again. Worth to watch but not worth to buy.
May 21, 2013
I'd go 4.5 but I ain't got the option
May 19, 2013
It was confusing and I didn't really like the plot.
May 15, 2013
ok ,good action.
May 12, 2013
Overall a great movie. Great visuals and really liked the storyline. Movie makes you think. Some unanswered questions though.
May 08, 2013
I would rank it similar in feeling to "The Book of Eli" not some of these other movie comparos mentioned. If you like Sci-Fi, it will tide you over 'till "After Earth" and "Elysium." Then we will see which is best.
May 05, 2013
excellent sci-fi movie, great visuals, interesting plot, unique (others are different in too many ways), twists that fall into place (rather than confuse). worth the see. enjoyed it immensely. heroism/anti-heroism includes great tragedies and a hopeful ending.
May 05, 2013
I found this movie to be very boring
May 04, 2013
People are complaining about it being hard to follow or it's not original. For starters, it's a sci-fi film where the main plot doesn't involve an invasion. It's very much like Prometheus, where it's a thinking and visually stunning film, but with more action. I saw it in IMAX and the action and scenery was amplified by the big screen and loud speakers. I thought this film was awesome and you definitely need to see it in theaters.
May 04, 2013
Great special effects, confusing at times story line with some unanswered questions when you leave, better action half way through made it interesting to watch then
May 03, 2013
pretty pathetic
May 01, 2013
I came into this movie not really expecting much to be honest. However, the story line and acting were fantastic and the music was phenomenal! Definitely a movie to pay very close attention to so no bathroom breaks! Truly one to see on the big screen.
May 01, 2013
Wow, this is a great movie. I highly recommend it. It has a compelling story and the atmosphere it created was incredible. This is a movie to experience.
April 30, 2013
I really didn't like this movie.
April 29, 2013
Visuals - 5 Stars. Acting 3.5 Stars. Story 1 star. Yup, another fantastic-looking, ok acted, totally unoriginal flick that once again shows Hollywood is totally on top of things when it comes to FX and totally out to lunch when it comes to writing. This is a mix of Terminator Salvation, 2001 A Space Odyssey, and a few other post-apocalyptic flicks. Oh, and the soundtrack was very intrusive - didn't need that much headache-inducing music!
April 28, 2013
I loved it and am not a big Tom Cruise fan
April 28, 2013
its awesome
April 28, 2013
Saw this movie last night,thought it was very good! Visually stunning..Good performances by all of the cast...Thought provoking,in the sense of what courage is and being human really means..
April 27, 2013
Great movie lots of action and it will hold your interest
April 27, 2013
Tom should retire from the movie business....
April 27, 2013
Am I allowed to give it a 0??????
April 27, 2013
Cruise is such a washed up actor, especially in this movie.
April 27, 2013
If I could give this a zero, I would.
April 26, 2013
The ones who rated this as 1 star is totally know what they are talking about. Basically this genre is an action film but all we saw were more drama scenes than action. I'm a big fan of Tom Cruise but this one by far his worst film EVER.
April 26, 2013
Anti New World Order flick...well done.