Ocean's Thirteen - User Reviews
Thank you for rating this movie!
Read your review below. Ratings will be added after 24 hours.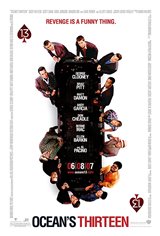 3.70 / 5
User Rating
Based on 1724 votes and 77 reviews
---
Please rate movie 1 to 5 stars
Showing 1 to 50 of 77
October 15, 2011
Julia Roberts at her sexiest!
December 22, 2007
Good movie, though not as good as the first one, but better then the second. If you like heist movies,, let alone the ocean movies, give it a shot, I'm sure it won't dissapoint!:)
September 16, 2007
best ocean's movie yet
September 11, 2007
After about 10 minutes I was snoring away. (I remember the same thing happened when I saw Oceans Eleven on an overseas flight). When I woke up 2 hours later, I asked my bro what he found of the movie. He said "I dunno...I fell asleep shortly after you...". Twenty bucks down the drain.
August 29, 2007
It's great to finally have this on dvd to complete my "Ocean's" collection. I think it's actually my favourite of the series and the disc comes packed with some really cool extras!
July 29, 2007
A very high four stars for this fine addition to the Ocean's series. Full of wit and fine acting, plot twists and engaging moments, I thought this a very worthy successor to the first.
July 29, 2007
it was better than the second but not the first but i thought it was really good
July 16, 2007
good, it was better then i thought it would be, it wasnt quite as good as the first one, but alot better then the second one
July 13, 2007
i thought it was pretty good
July 12, 2007
pretty good, better than Ocean's 12 - but I still prefer Ocean's 11. Overall, worth the watch, I found it entertaining
July 10, 2007
A fun movie, funny, and full of style. Story didn't have an twists like the original, so that was a let down.
July 09, 2007
At first you wonder if it can keep you drawn in, but it does. It is worth the time invested. Nice ending to the storyline.
July 08, 2007
Ok movie to watch!!
July 06, 2007
I liket this one better then ocean's 12
July 03, 2007
The best yet! Carl Reiner steals the show! Great movie and head and shoulders above Ocean's 12!
July 02, 2007
OK Hollywood STOP the seres now we all get it OK. Gearge stick to NOT acting in this series of films we get it. Same plot as all STOP them now it has been done so many times.
June 30, 2007
Better than the second one, but still a rental. I wish George Cloney would take some acting lessons and would stop being George Cloney and actually play a character. He should talk to Jhonny Depp about acting...
June 28, 2007
This movie seemed to frag on FOREVER! Disapointed to say the least.
June 27, 2007
Was exactly what I expected - slick, stylish, face-paced with a good dose of nonsense and tongue-in-cheek humour! Pretty much like Ocean's 11 and 12, but with a new plot. DOn't look for a believable plot - it's really just about the interaction of the characters - good for a laugh!
June 26, 2007
it was awesome
June 25, 2007
Worse movie i have ever seen this year!It's totally waste of money.
June 25, 2007
Worst movie i have seen in a long time. i have never been so bored in my life. if i wasnt with good company i would have left!
June 24, 2007
Dry, very slow, hard to follow and a total waste of money. I would have had a better time doing anything else.
June 22, 2007
well filmed
June 19, 2007
It's really good!
June 19, 2007
TOTALLY ENJOYABLE. It almost seems unfair that these guys get paid such rediculous amounts of money to basicly just hang out with each other... and this would be annoying if they didnt look so good doing it. Far better than twelve... but still a far cry from eleven. Lots of laughs and slick suits... Thats what we want...
June 18, 2007
Was Quite Good. went to see brad pitt, George clooney and Matt demon.. so HOTTTT
June 18, 2007
Not as good as the previous 2 series. It's kinda boring actually. Disappointed
June 18, 2007
Crap - Actors in this movie obviously did it for the money:(
June 18, 2007
Not nearly as good as the other two Oceans films. Some ghood comedy, but probably better for DVD. Brutus Branyan
June 18, 2007
I went to see this movie doubting the people who rate it a '1 Star', and since Ocean 11 was such a great movie, i had so much faith in the backstage team... trusting that they will do a good job in this one........... but i just saw it last night and i had to post this comment... Don't see it unless u have too much time and money..... Overall, it's not too good because everything's just too slow........... the tricks that's in the movie was good, but they show you one, and half an hour later, they show you anther one.. it's just way to slow.... A 120mins movie that could have been much better if it's cut into 75-90 mins!!!
June 17, 2007
meh, not thhhhhhhhhat good..but its clever/cheezy/funny/ironic __________3.5 stars but since that isnt an option, i gave it a 4
June 17, 2007
It was great to see the "boys" back together on the big screen. I spent most of the movie laughing at the quirks of each character. The chemistry between Rusty and Danny is great and Linus brings a funny naivete to the group. Can't wait for it to come on DVD so I can see the trilogy all together!
June 17, 2007
Fantastic movie. Would goo and see it again.
June 17, 2007
same plot as the other ocean's-but not as good for some reason maybe cuz we expected the gang to try an impossible feat. better than the 2nd one for sure but the 1st one was well better just for the plain reason that it was a new concept/new plot. Matt Damon's larger than life nose was pretty funny and the worker's strike in mexico was a blast-all in all a good movie at the same level as the 1st movie - not explosively better than the 1st one. lets just say that if this movie was the first one, it would be really good cuz of the newness of it
June 16, 2007
wow great movie. Funny, intelligent and captivationg, all at the same time!! 4/5 stars.
June 16, 2007
It was good. Lacked something from the first one but still entertaining. Glad Matt Damon and the two fighting brothers (Casey Affleck and ??) got more screen time.
June 16, 2007
alright movie to watch on a rainy day in your apartment, not worth movie theatre rates, some great parts, some fairly predictable. rent it
June 15, 2007
Great movie, funny(especially the oprah parts and damon's prop), smart, good acting. To those who said it was "predictable" obviously your watching the wrong type of movie, cause the whole fun of the Ocean's movies is watching the hilariously ridiculous planning and then seeing it come together perfectly. GReat movie!
June 15, 2007
Very nice and funny.
June 15, 2007
Terrible movie, very boring. Do not go see this.
June 15, 2007
I really enjoyed this movie. At first you wonder how everything is going to fall into place, but it does wonderfully. The characters were all great. Good humour in this movie! More focus was on Matt Damon this time which was good to see! I enjoyed all 3 Ocean's movies.
June 15, 2007
Average, at best.
June 13, 2007
it was good..i gave it 3 stars. it's a rental. But it is better than the 2nd.
June 12, 2007
Definately not as good as the two previous, but still a good watch. Was missing certain elements that the first and second one had. But I still would recommend it!
June 11, 2007
i loved it. better than 12 and as good as 11.
June 11, 2007
It was a pretty good movie. No where near being as good as the first one. I didn't leave thinking that was a good movie. I like the characters and that's why I enjoyed the movie. It seemed to lack something that the first one had.