Parker - User Reviews
Thank you for rating this movie!
Read your review below. Ratings will be added after 24 hours.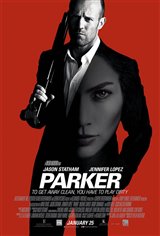 ---
Please rate movie 1 to 5 stars
Showing 1 to 20 of 20
February 02, 2015
Anothe thief movie. The beginning is really good but the characters aren't strong enough to keep the attention of the audience. Especially the character of JLO, it's so weak.
January 08, 2015
It was a fantastic, action packed movie. I was so glad J-Lo wasn't his love interest in this movie. There wasn't much sex, just lots of action and blood; like all of Jason Statham movies!
April 14, 2014
The best action movie since Steven Seagal's Glimmer Man. If they make a sequel I'm there!
June 12, 2013
A very forgettable movie.
June 10, 2013
Jennifer Lopez, surprisingly, was the best thing in this illogical action-thriller. Without her funny, off-beat performance, the movie would have been really boring.
May 27, 2013
Somehow very surprisingly this one was very enjoyable.
May 16, 2013
Awesome movie. I am big fan of Jason.
February 18, 2013
Great action. Great character. Lots of blood and gore and fights. Only thing Jennifer Lopez added was flesh-showing off her body
February 10, 2013
Awesome movie.
February 07, 2013
i enjoyed it; the story, the setting/locale, the action. especially Jason Statham's parts, he carried his role quite well (as did the other thugs). i didn't mind the predictability of the plot. and do agree that Jennifer Lopez's character could've allowed a newcomer to play the part; and she was there more to show she's got a 'nice bod' (which she does), but hey, let another upcoming actress do that! worth the see.
February 06, 2013
This was a good movie.it was not the greatest but i have nothing to complain about. there was just enough action and a decent story as well. i have learned one thing from reading the reviews on movies on here.that everytime i have heard bad reviews about a movie and went to see it for myself, i end up enjoying the movie so read the reviews but don't let the bad reviews stop you from going to see it if you were planning to cause you might miss a movie you would like.
February 05, 2013
In the words of Tommy Lee Jones in The Fugitive: " My, my, my. What a mess."
February 03, 2013
The first third of the movie was good. It had the potential to be a good crime flick. Then Jennifer Lopez was introduced and I was thinking, "Ok, what will she add to the plot?" Answer: absolutely nothing. Her role could've been played by an extra and the character's screen time knocked down to 5 minutes. Then things went downhill fast. I may be exaggerating a bit here but the plot holes in this flick make the Grand Canyon seem tiny. I'm fully capable of suspending my sense of reality but so much of the last two-thirds of this movie made no sense. Jason Statham did a good job but I was sad for Michael Chiklis and the other baddies. They deserved a better script and a director that gav
February 02, 2013
very good movie.
February 02, 2013
movie was ok definitely not one of stathams best. found it entertaining but there was really no need for j lo, even though she was pretty good. better to wait till it comes out on dvd not worth seeing in the theatre
January 30, 2013
I really enjoyed this action-packed movie.
January 29, 2013
very good
January 27, 2013
Better than expected, Jennifer doesn't add much really wasn't a need for her. Jason still kicks it for an action hero.
January 27, 2013
Definitely below the expectations. Slow, boring, not really smart action movie. Payback was a masterpiece, this on is just trash.
January 26, 2013
Please don't see this movie. I love Jason Statham but this was slow moving, acting was okay, some characters were not needed, the storyline was not gripping and only had maybe 3 or 4 action scenes. Save your money.