Paul Blart: Mall Cop - User Reviews
Thank you for rating this movie!
Read your review below. Ratings will be added after 24 hours.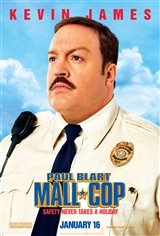 3.84 / 5
User Rating
Based on 1360 votes and 145 reviews
---
Please rate movie 1 to 5 stars
Showing 1 to 50 of 145
March 21, 2018
AWESOME AND COOL
August 26, 2015
It was sooo good. I loved that movie!!! It was hilarious!!! !!!
April 20, 2015
Kevin James hilarious. I love it and my woman loves it too.
June 03, 2011
I really like Kevin James (mainly in King of Queens and in Hitch). He doesn't disappoint in this movie, good laughs!!
July 06, 2009
Mildly amusing at times but not really that good.
June 06, 2009
This movie was awful! It was NOT funny and poorly thought out. What a waste of money and time. If you are into asinine humour then by all means kill some more brain cells with this piece of crap.
May 17, 2009
Amazing movie
May 05, 2009
This is a PG (parental guidance) so for the parent who took a 4 year old - pay attention to the ratings next time.
May 03, 2009
kevin james is hailarious
May 03, 2009
Great movie. Very funny.
May 02, 2009
its a good movie
April 20, 2009
Superior to the recent sequel with Seth Rogan in every possible way. Arguably one of the best movie comedies of our time. 10/10
April 15, 2009
Simply hilarious! This is a great movie for a family or just a movie with your friends. Its a great Kevin James flick.
April 12, 2009
Decent movie with a few good laughs, woth cheap theatre price only.
April 09, 2009
don't listen to the bad reviews!!! best movie ever!!!!!
April 03, 2009
i love dis it is funny l o l l o l l o l
March 23, 2009
I liked the movie. It was ok, but it said a swear and i was watching it with a four year old so take someone eight and up.
March 19, 2009
Not good at all.
March 19, 2009
This movie sucked its a waste of time go see another movie it wasn't even that funny it was boring. Really the only good thing about it is that skate boarder Mike Vallely is in it.
March 17, 2009
it was pretty freaking funny
March 16, 2009
Big fan of Kevin James, forgettable movie. Save your $$$ and wait for it on dvd.
March 14, 2009
so fun this movie i love it wish i could watch it again
March 11, 2009
most of the funny parts are in the trailer. its not a movie you want to see at the theatre.. kinda a bit of a let down. rent it if you want :)
March 09, 2009
FUNNNY!!!!
February 28, 2009
it was a great movie funnnnnnny. a great movie for all ages. Dont listen to any bad reviews this is a must see even if you rent it.
February 23, 2009
Thought it was going to be the worst movie , EVER! Although, despite stupid storyline, and the fact its not a "great" movie, I liked the characters and admit i laughed abit! Idk, tho. If im going to rent/buy it, prob waite , for it on tv, or something ! Well; a mediochre movie , deserves a mediochre review ! 2 *1/2* stars , sorta good & entertaning , but overall , not great ! Yet , somehow , it entertainned , me & bc; theres no , half for the , scale ill give it , an official , of 3 bc; 5 rounds , up to , 6 which , is 10 (:. Lol , alright ! not great; hence , mediochre ! See , Friday the 13th , if ya wanna , see a good.; movie ! ♥ *I liked , the daughter bc; she wanst' a normal , brat
February 22, 2009
this movie is funny and I was entertaned the whole time and the best movie I have seen this month.
February 21, 2009
It is a actve movie that will not make you fall asleep!!!!!!!!!!!!!!!!!!!!!!!!!!!!!
February 21, 2009
the movie is the best
February 20, 2009
i saw the movie two times and i dident enjoy it either times. It had its moments for funnieness, but i just found it dumb and stupid.
February 20, 2009
My favourite part of the movie was the part with the Hot Sauce bottle: THE DEVILs CROTCH! But the part I disliked was the scene where Paul fights against a fat woman & everybody saw your plumpness; EEEESSSSHHHH!!!! But the movie is still HILARIOUS & I say its the GREAT first movie of 2009! Dont miss out!
February 17, 2009
i think this movie was very weird and funny at the same time
February 17, 2009
this is a very good movie
February 17, 2009
It has been a long while since I have laughed so hard at a movie. It was funny! If your looking for a movie to take away your stress and worries for a night...this is the movie to watch
February 17, 2009
very light hearted funny excellent
February 17, 2009
Very Good and entertaining for the whole family .we laughed all the way through.. i will buy a copy later
February 16, 2009
kevin james is the most hailarious actor
February 16, 2009
It's an awesome and hilarious movie. Everybody has to watch it you'll pee your pants.
February 16, 2009
IT WAS HILARIOUS
February 16, 2009
freakin AWSOME
February 15, 2009
this is the most weird hailarious movie ever
February 15, 2009
it was so an ok movie, but not the best!!!
February 15, 2009
What a funny movie, one of the best this year! It's worth the money to see it more than Pink Pather 2.
February 15, 2009
Paul Blart is an outstanding comedy! 5 Stars is not enough!!!! One of the funniest movies I've seen in a while! My kids and I love it! We're planning on seeing it again soon. Its o
February 14, 2009
it was the best movie i've ever seen
February 13, 2009
the best movie ever
February 13, 2009
i thought it was so awesome and funny and it is also great because i watch kings of queens.
February 10, 2009
Poor movie. Lethal Weapon meets Mr.Bean. Guns, shooting and death threats. All inappropriate. Steve Carrell should stick with The Office.