Peppermint - User Reviews
Thank you for rating this movie!
Read your review below. Ratings will be added after 24 hours.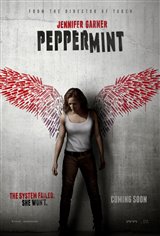 ---
Please rate movie 1 to 5 stars
Showing 1 to 50 of 63
August 13, 2019
Go Jennifer! Now go after the Trumptonians! Love it!
August 13, 2019
Pretty good revenge movie. Tax payers save money when criminals are eliminated!
December 14, 2018
A horrible, horrible , horrible and meaningless movie. Bad ass acting, terrible screenplay- how come so many people gave it four to five stars.
October 20, 2018
A solid action film. Jennifer Garner delivers and TWO THUMBS UP!!!!!!!!!!
October 12, 2018
This was not a chick flick, Jennifer Garner makes the action believable. She is the best female action star today, making other women action stars pale in comparison. Garner should have had a part in marvel movies. This movie had a great plot, the acting was good by all. I liked this movie.
October 10, 2018
Not your run of the mill vigilante movie. Jennifer Garner is superb in the role of a woman out to even the score. She has nothing to lose, which makes her even more dangerous to those who think they can do what they want with no consequences. The bad guys find out the hard way that there are consequences. I'd see it again.
October 08, 2018
Action adventures are by their nature fantasies. When they are well acted, well written and have a reasonable level of plausibility, they grow into excellent entertainment and earn excellent ratings. WELL DONE!
October 06, 2018
Yes, I agree with previous ratings that Jennifer deserves an award nomination for this movie. She such a hero and a bad ass in the movie, she can play any role with such compassion and bravery.
October 05, 2018
Jennifer was outstanding in this movie and should be given a award nomination. Awesome movie overall.
September 27, 2018
Jennifer was great in this movie and I really enjoyed it !!! Do we have a female John Wick here? (I have the entire 'Alias' series and she was great in that at well.)
September 27, 2018
The revenge on all the corrupt and devious people were so good. Some deserved more but justice was served the way she wanted them to suffer. As long as she's satisfied, then revenge was served. Usually my friend and I fall asleep in movies, even in action movies. This movie kept our attention alive and our heart pumping. Would watch it again in theater and give the DVDs away as gifts.
September 25, 2018
Jennifer is in her element with this character. Very good story as these revenge things go. Only a few fight scenes a little to far fetched. Well made and acted. If you like this genre you will like this.
September 25, 2018
Excellent action and acting! Would see again in the theater. Will buy the DVD.
September 23, 2018
I enjoyed the story and twists in the script. The acting was great! and Jennifer Garner was fantastic!
September 23, 2018
Not very original, but better than most of the stuff it steals from. Oh, sweet vigilante justice.
September 23, 2018
Fast paced, edge-of-your-seat.
September 23, 2018
Great movie with action from start to finish !!!!
September 23, 2018
thought it was just another generic revenge plot, wrong, wow acting on garners part-Great! movie was riveting and moved right on. will watch it again, masterpiece
September 22, 2018
Loved it! Great theme, liked the story plot. Action, but just enough, after all she is a Mom. Great ending.
September 22, 2018
Very disappointed...was not that good!!!
September 22, 2018
Lots of action
September 20, 2018
very entertaining movie.... violent ..so don't complain that it is too rough... lots of good characters/plots.... always great to see the bad actors get exactly what they deserve !!
September 20, 2018
BOOM!!! Jennifer Garner does with a gun what Uma Thurman did with a sword in Kill Bill 1 & 2. Modern spirituality is all about letting go but revenge movies touch something deep in our beings. This is a VERY GOOD one. Mindless entertainment perhaps, but masterfully crafted. Guru Bob says 95/100.
September 20, 2018
The reason reviewers gave it a poor rating is because they said it's racist because the bad guys are all Latinos. I don't know what they expect since they are the Mexican cartel. Do they expect to see white or Asian members of the Mexican cartel???
September 19, 2018
Very good movie!!! A+++!!! You won't fall asleep watching this! Shows you very clearly what we can expect from society in near future if Trudeau and his government will continue to go same way and tells you how can we respond if bad things happened to you.....
September 19, 2018
Great show. Jennifer Garner played an excellent role.
September 18, 2018
I think they made a casting error in picking Jennifer Garner. Charlize Theron would have been perfect. Garner is no Charles Bronson.
September 17, 2018
So great to see Jennifer Garner spring back into action. If you like the Taken movies with Liam Neeson, you will probably enjoy this movie as well. I'm waiting on the sequel now!
September 16, 2018
Loved this movie! It kept moving from start to end.
September 16, 2018
It was a good movie keep u on your toes
September 16, 2018
It would have been higher, but, the theater was designated Family Friendly and there were no indications until the movie started. Lights stayed up, volume low and 10 babies under 2 arrived. Not the age range for that type of movie. Don't get me wrong I don't object to Family Friendly, but, please indicate it prior to purchasing the ticket.
September 14, 2018
Extremely violent, not for the faint hearted. Garner was good.
September 14, 2018
Very violent, not for everyone. Garner is like a female Bronson back in the day, revenge, shoot em up. At least it was cool for ` 1/2 hours out of the heat.
September 14, 2018
Same repetive action and extremely predictable!
September 12, 2018
I saw the movie last night with some friends last night we liked it but it is not for kids to watch
September 12, 2018
Excellent movie! Is action-packed and kept us on the edge of our seat! This movie is not for the faint of heart! I read some of the reviews and don't understand why anyone would not like such a great movie. Jennifer Garner should get an Oscar or some kind of award for this movie. By the way, the story line in this movie was very easy to follow and was complete. It is just that the viewer must pay close attention because it is a fast-moving movie.
September 11, 2018
I went because I like Jen Garner but walked out of the movie part way through. Vengeance. Violence. Blood. Unbelievable scenes.
September 11, 2018
I went to this movie after reading all the good ratings. Hmmmphhh..lots of action. Not bad acting ..just kinda unengaging and pretty stupid how this lady just keeps on living and killing everyone bad in town. I didn't hate it. I just didn't like it.
September 10, 2018
Action
September 10, 2018
I enjoy Jen Garn movies; but this movie was just killing bad guys - poor , incomplete story line. poor movie
September 09, 2018
Jennifer G still has it. Kicks ass. Makes The Equilizer and Deathwish seem tame. Bad guys need punishment and she dishes it out. No mercy for the wicked. Needs a sequel badly
September 09, 2018
Lots of action . This should've been the remake of Deathwish. It was better than the shitty Bruce Willis remake . I was never really a Jennifer Garner fan but she was pretty good in this role .
September 09, 2018
Love Jennifer Garner she was great
September 09, 2018
I really liked this movie, Good story,good, good acting, good action. Good entertainment. Some violence/no sex. Tried to give it 4 stars but the rating system kicks it up to 5. What is going on?
September 08, 2018
Wow! Death Wish on steroids. Well done, Jennifer Garner, co-stars, and production crew. Powerful, focused action movie with a tight script and wildly brutal action scenes. Also, totally relaxing for those of us who take in the good, bad, and ugly of action movies that come our way. Highly recommend it as an escape too from deadpan action movies. For once, an excellent Act I, Act II, and Act III, rather than a slowdown in Act III. No slowdown in this gem. Petal to the floor; no letup.
September 08, 2018
This movie was so good, very exciting, great acting. Cannot understand negative reviews by critics. This movie is excellent.
September 08, 2018
Loved this movie! Acting was great!!
September 08, 2018
Great movie! Kept me awake!
September 08, 2018
Excellent movie!
September 08, 2018
If you like vigilante style movies, you'll like this one. But lots of violence - definitely not for kids/teens.