Pirates of the Caribbean: At World's End - User Reviews
Thank you for rating this movie!
Read your review below. Ratings will be added after 24 hours.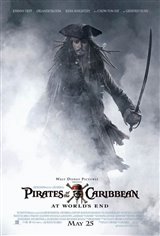 3.48 / 5
User Rating
Based on 5811 votes and 415 reviews
---
Please rate movie 1 to 5 stars
Showing 1 to 50 of 415
March 02, 2018
It could be shorter, mainly the psychedelic part with multiple Jacks wasn´t neccessary and the plot could be less complicated. But it has enough cool stuff like legendary Maelstrom and pirate gathering in the Shipwreck cove on the Shipwreck island, so let it get 4 stars.
September 12, 2012
too short to be really satisfying, but at least it has penelope cruz.
July 29, 2009
The best movie ever produced. The actors are ALL incredible and the story is amazing. 5 Stars.
May 18, 2009
this movie have all the characters that 1 and 2 has but it was so dark and really brilliant this is the best pirates movie igive 4 to 5 starz
June 16, 2008
i think this one is the best
March 25, 2008
thought it was very good and the music was very good. hope to see 3 and 4 movie.
January 13, 2008
What went wrong, I really mean it, what went wrong! The first one beuatiful, second, good enough., all they had to do to make this one good was to make it action packed, which they didn't. Dissapointing, and anybody saying that it isn't is just joking themselves, cause they put way to much hype, and no madder what, they were going to say they liked it, even though they didn't.
December 26, 2007
This was a thoroughly entertaining movie! It took my brain to parts it never goes. -pq
December 13, 2007
Johnboy at his best
December 12, 2007
I thought this movie was a piece of crap. I enjoy the first one and the second one was OK but dragged on and got boring. I would not recommend watching the 3rd movie. It would be a waste of your time and money.
December 09, 2007
Best pirates of the caribbean movie EVER!!!!!!!!!
December 03, 2007
this movie is amazing. even if the story line is confusing, you will still love it. hope theres a 4
November 19, 2007
This was the best movie in the trilogy by far as well as one of the best movies I have ever seen.I highly recommend it.
November 11, 2007
best movie ever
November 03, 2007
Oh golly! Bestest movie yet, and by far the best POTC movie! How can you NOT love it? I WANT THE DVD!
November 03, 2007
Oh golly! The best movie I've ever seen! And by far the best POTC movie!!!
October 30, 2007
Okay well it's Pirate of the Caribbean who doesn't love these movies but at the same time I was very disappointed in it. It is starting to get a bit repetitive. All the battles it's like we have seen before. It was good but it could have been alot better.
October 23, 2007
BEST MOVIE EVER!!! EVERY PENNY WAS WORTH IT... CAN'T WAIT TILL IT COMES OUT ON VIDEO... BEST MOVIE EVER!!!!!!!!!!!!!!!!!!!!!!!!!!! WAY MORE THAN 5 STARS
October 12, 2007
Hmmm, well, entertaining albeit kinda bleh. This franchise has played itself out, we have seen all the interesting characters, and they aren't any more interesting in this one. Great fanchise, time to stop.
October 02, 2007
I found the second one the funniest, but this was still very enjoyable and worth every penny I spent to see it.
September 26, 2007
this was one of the best movies ener i really hope meany people go to see this movie.
September 16, 2007
i loved this movie it was so enjoyable
September 16, 2007
i dont know. is it good? yes. is it better than the first two? NO. but i dont regret watching it to know what happened and im guessing that there is a fourth one on the way
September 15, 2007
ORLANDO IS SOO HOTTTTTTTTTT!!!!!!!!!
September 07, 2007
almost as bad as the matrix trilogy...the story is confusing and leaves you wondering what it had to do with any of the other two episodes...Like the Matrix the first movie was the best and where they went with the two other movies only they know..i would have given it 0 stars if i could have...
September 02, 2007
so cool!!! not as good as the 1st one but a 100 times better than the second!
August 29, 2007
Another "barebones" dvd from Disney; save your money for the inevitable Special Edition.
August 29, 2007
i love this movie keira and Orlando are such great actors when they work with johnny depp they bring out the best in their abillity i think in this movie. or that could just be me
August 27, 2007
overated!
August 12, 2007
Unbelievably horrible! Thumbs down! They have to get Jerry Bruckheimer back to direct or produce the next one. This director was awful!
August 09, 2007
BEST MOVIE EVER!! cause johnny depp is in it!!!
August 08, 2007
very funny, excellent story telling, good action, finishes the trilogy quite nicely...leaving room for a possible #4
August 01, 2007
a very good move better then they other two alot of action also funny
July 30, 2007
It wasn't very good. It was too long and the scenes were not put together well!
July 29, 2007
Barely 4 stars for this better-than-the-second installment effort. The slow Jack-in-Limbo sequence did take after a while, and the character interplay was far more effective and compelling than in the second movie; and although as a whole the storyline was a bit of a dog's breakfast (unnecessarily obtuse) as a movie it came close to rivalling the first. Close, but barely 4 stars - more like 3.55
July 22, 2007
good good movie...acting and special effects were fantastic along with the comedy. definitely better than the 2nd movie but doesnt beat the first
July 21, 2007
Brilliant! I can't WAIT for the DVD
July 19, 2007
Keira Knightley is very sexy as Elizabeth Swann in Pirates of the Caribbean: At World's End.
July 16, 2007
Excellent, except for the whole "Crazy at the end of the world part" with Johnny Depp. Otherwise it was a thrilling ride.
July 13, 2007
Absolutely loved it!!!! The best so far. Johnny and Orlando are great as alway. Johnny got back to being Jack Sparrow like he was in the first one. Can't wait for 4!!!!
July 10, 2007
Kiera Knightly gets 5 stars. They really should stop smoking crack before writing movies though.
July 10, 2007
A little bit too long. The story line was acceptable. There were some good scenes though. 4 stars.
July 09, 2007
this movie sucked so much it sould not be allowed out
July 09, 2007
excellent film! worth seeing twice
July 09, 2007
if u actualy pay attention it`s an awsome movie
July 08, 2007
I loved it, although the first one was still better!!!
July 06, 2007
it was kind of boring the first 1 was the best!!
July 06, 2007
Wost move ever