Pirates of the Caribbean: The Curse of the Black Pearl - User Reviews
Thank you for rating this movie!
Read your review below. Ratings will be added after 24 hours.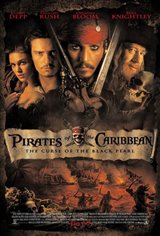 4.45 / 5
User Rating
Based on 81568 votes and 1082 reviews
---
Please rate movie 1 to 5 stars
Showing 1 to 50 of 1082
February 02, 2018
The first and the best from the series. It has perfect combination of fun and adventure. The characters have great chemistry and interactions with each other. Locations, ships and CGI are beautiful. The plot isn´t overcomplicated. Jack Sparrow is original and funny antihero who seems like silly drunk loser but there´s much more in him.
November 06, 2016
Great movie...Johnny Depp is prefect for his role
May 18, 2009
This is the best movie in the world it was absolutely brilliant and keyra knightley was hot!!!!!!!!!!!!!!!!!!!!!!!!!!i give it 5 starz for real
June 11, 2007
Absolutely amazingly brilliant
June 05, 2007
BEST MOVIE IN THE WORLD!!! IF YOU DONT SEE THIS MOVIE YOU FAIL!!!! I LOOOOVE JACK SPARROW!!!
May 29, 2007
This was a terrific movie. One of the best.
March 19, 2007
i liked it
March 14, 2007
Aye aye ! Greeeeeat ! LOVED IT !
February 12, 2007
i saw this movie in theatre more than once n now i own it johnny how did u do it with out laughing i got 2 kno i love this movie wit all my heart hey johnny can i ask a question how was ur gf when u kissed all thoses gurls did she get mad or does she know ur only acting n its in the script i wanna know that love u a million n one im 18 female n live in toronto i really wanna know wut u thought of the movie
December 06, 2006
This movie was AWESOME!!! I LOVED IT!!!
November 30, 2006
I LOVE ORLANDO BLOOM!!!!! MY MOTHER LOVES JOHNNY DEPP!!!!!!!!
November 01, 2006
it was sexy!!
October 25, 2006
IT IS THE BEST MOVIE EVER
October 23, 2006
it was the most amazing movie ever!!!! johnny depp and orlando bloome are gorgeous!!!!!!!!!!!
October 14, 2006
It was AMAZING cant wait until i can buy the dvd!
October 10, 2006
sick movie
October 02, 2006
its got johnny depp in it .. how can it go wrong ?? !!!!!!
October 01, 2006
I laugh out loud at Johny Depp`s portrayal of the Captain. He is very good.
September 19, 2006
It was thrilling and funny at the same time Johnny can Act any roles u give it to him
September 03, 2006
Johnny Depp is the S--. I`ve seen all his movies<33 And loved everyone of them. He`s good. Wonderful with such character!!
August 29, 2006
It was cool,awesome,great,wow and well I never seen anything like that before!!!!!!!!!!!!!! I just want to see it all over again!!!!!!!!!! I liked only Elizabeth swann which is really Keira Knightley,Captain Jack Sparrow which is really Johny Depp and I liked Will turner which is really Orlando Bloom. I would say that it is five stars or more!!!!!!!!!! Well I guess what i`m trying to say is I loved it!!!!!!!!!!!!!!!!!
August 27, 2006
I enjoyed it very much. Thank you.
August 25, 2006
Depp was good.
August 24, 2006
Johnny Depp can make any character he plays look easy!! I enjoyed both 1 & 2 POTC. I am looking forward to POTC 3!!!!
August 24, 2006
Johnny Depp is a superb actor!!! I have enjoyed all his movies. The latest DVD that I watched was the Libertine, and although critics gave it a 2 star, I thought that his potral of John Wilmont was excellent!!
August 20, 2006
I liked the first one better just because it had a better moral to it.
August 16, 2006
such a greay movie ,lots of action
August 13, 2006
The movie was quite well done overall with lots of humour. Not disappointing although it seems like a really long trailer for the third installment when all is said and done. Still, I laughed and enjoyed it!
August 11, 2006
His really a great actor, I give 5 stars for this movie.
August 11, 2006
What else can be said about Johnny Depp...he is fabulous in this role.
August 10, 2006
PIRATES OF THE CARIBBEAN WAS GREAT, I THOUGHT IT WAS BETTER THAN THE FIRST ONE, I JUST HOPE THAT THE THIRD MOVIE IS BETTER THAN THE FIRST AND SECOND.
August 07, 2006
Pirate`s of the caribbean was AMAZING especially the rum part that was hilarious! I loved it especially with so many big names in it! I think that made the movie a lot better than if they used some random people that nobody knows!
August 05, 2006
This movie was ok... the acting was good and so where the special effects and the costumes but it was way to long. I was getting tired watching the movie so it was hard to pay attention.
July 31, 2006
we think this movie was 5 stars because it was very scary,especially when the blackbirds pecked out the eyeballs of the dead people, and the octopus Davy Jones was creepy, creepy creepy! It was 30 minutes too long, BUT we loved all the action. And we got the Dead Man`s Chest prize from McDonalds happy meal. YEh
July 26, 2006
This movie was awesome!!!! Johnny Depp is the ultimate best choice for that character and any movie he is in...I feel the movie would fail if they replaced him!!
July 25, 2006
*ATTENTION* This film is extreamly entertaining. From "tragic" start to "curious" ending, this film excites and pleases. Fans of the first installment (which should be everyone) will no doubt enjoy this film and be left looking forward to the third.
July 24, 2006
its very good, i would like to see it again
July 21, 2006
This movie was awesome it has everything action romance freaky creature. and pirates pirates pirates. i loved keira knightly she was awesome johnny depp was evev better
July 15, 2006
Pretty Good
July 14, 2006
I love johnny he is the greatest excellant movie can`t wait for the next one to come out.
July 13, 2006
kewl movie love every bit of it. if u haven`t seen it or the dead mans cheast get a move on if i could i would rate it 100 out of 100
July 05, 2006
OMG i love this movie with all my heart johny depp is amazing and im sooo happy just even waiting for the next movie to come out its so awsome i watched it like 20 time the first week i had it ...i know like every word they pickied such good actors and such a great story.......I love pirates!!!!!!!!!!!!!!!!!!!!!!!!!!!!!!!!
June 27, 2006
2 much fun! Jonny Depp was amazing, can`t wait for Dead Man`s Chest.
June 12, 2006
Just gotta love pirate exploration movie. Johny Deeps did an excellent role in this movie. The movie from beginning to the end was such a great store line. Every minutes is worth watching. Looking forward to see the sequeal this summer.
May 13, 2006
i thought that johnny did an amzing job. the movie was great but johnny depp was excellent!!!!!!!!
May 11, 2006
the film was fantastic xx
May 04, 2006
I luv that movie it`s so good! It`s kind of romantic too, Orlando is so HOT in that movie and Johnny Too! I just luv pirate movies!
April 01, 2006
I was disappointed in this movie, which I felt was fluff. Johnny Depp was wonderful, but the story itself was too light fare.
February 19, 2006
this movie was ok, but johnny deep looks like a real pirate with scurvey.