Playing with Fire - User Reviews
Thank you for rating this movie!
Read your review below. Ratings will be added after 24 hours.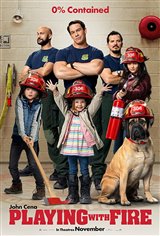 ---
Please rate movie 1 to 5 stars
Showing 1 to 50 of 64
January 27, 2022
You have to see it to believe it.
February 16, 2020
This movie was awesome! I suggest to all ages to watch this movie!
February 11, 2020
Trash. Kids enjoyed it but not for adults.
January 19, 2020
Cena really proves his acting mettle here. 4/5
January 16, 2020
Darn...wish I had read this before going to see this so-called movie.
January 11, 2020
Just plain stupid!
January 10, 2020
Trash and so bad that I walked out.
January 10, 2020
Why in the world would anyone want to see John Cena again in a movie? This guy cannot act, believe me.
January 06, 2020
I definitely want to see more John Cena movies now.
January 06, 2020
Still the best movie out there.
January 05, 2020
What a cute movie, great for all ages
January 04, 2020
This was really, really bad. Thank goodness I didn't pay to see this...a friend treated.
January 03, 2020
So ridiculous
December 28, 2019
Any way I can give this a zero? Terrible.
December 26, 2019
What was I thinking when I went to see this?
December 17, 2019
Didn't even crack the top 10.....I can see why.
December 11, 2019
Don't bother....I wouldn't ever see anything with Cena in it again.
December 10, 2019
If I could give it a 0 I would.
December 07, 2019
Was very bad.
December 07, 2019
Big laughs and a fresh and interesting story. Adults will find much to enjoy here, and kids should like it, too.
December 06, 2019
Very true...painful to watch as an adult.
December 06, 2019
Entertaining if you are between 6 to 12 but painful to sit through as an adult. This is basically a kids film or a family film lamely thrown together. Suggest skipping this one to go see Jo Jo Rabbit.
December 06, 2019
There is no comedic timing in this movie, this is not a nice family movie. This movie is very painful to sit through.......would have given "0" stars if it were possible.
December 03, 2019
There's a good reason this has been a box office disaster.
December 03, 2019
The best comedy since 9 to 5.
December 02, 2019
This was the perfect family movie for my 3 kids (4,10,17) and myself. It was good/clean comedy and held everyone's attention.
December 02, 2019
This is NOT funny.
December 01, 2019
Funny for all ages great family movie
November 28, 2019
Why do you think this has been rated so low? Because it stinks!
November 28, 2019
Totally agree with the last comment- worst movie of the year.
November 27, 2019
R u kidding me with these reviews- the worst movie of the year-please take my word for it- don't waste your time or money-
November 25, 2019
Just teaches kids how to misbehave. Poor acting.
November 25, 2019
If you like to laugh out loud this is a funny movie. Definately a family movie with fun for kids.
November 24, 2019
We thought it was a real good movie with really funny parts and emotional parts. Nice clean theatre too, friendly staff. I'd tell anyone to go see Playing With Fire.
November 22, 2019
I am surprised at some of the low ratings. I thoroughly enjoyed this movie and have told my friends that it one of the best feel-good movies of the year. I guess with all comedies, it's not everybody's humour, but it worked for me.
November 22, 2019
I took my grandkids and we all enjoyed the movie.
November 20, 2019
Boring, not entertaining, not funny, slow. Skip it.
November 18, 2019
Any adult will find this movie just ridiculous. Don't waste your money on watching a non talent like John C.
November 17, 2019
I loved it and enjoyed hearing the kids around me laughing
November 17, 2019
Almost all of the parts are really funny and cute for my kids! Also because my daughter is a fan of my little pony.
November 17, 2019
Cena is the worst. How embarrassing.
November 16, 2019
Poor story. Boring. Not funny at all.
November 15, 2019
The absolute worst movie I have seen this year! Myself and three friends left the theater after half an hour of waiting for it to get better but it only got worse!
November 15, 2019
Very boring. The premise/story line is sweet but wow... like watching paint dry. Predictable and painful. Kids might like it since there's a funny poop joke i there...
November 14, 2019
This is so awesome!
November 14, 2019
A laugh out loud family movie.
November 14, 2019
Yawn fest. Really?
November 13, 2019
Funny Movie! Fun, full of surprise, reminded me of Instant Family. Audience laughed out loud and most people can relate to situations that happen with kids. Good film if you like the lighter side of life.