Precious: Based on the Novel Push by Sapphire - User Reviews
Thank you for rating this movie!
Read your review below. Ratings will be added after 24 hours.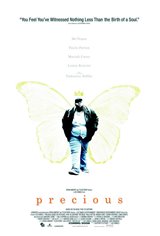 ---
Please rate movie 1 to 5 stars
Showing 1 to 35 of 35
November 24, 2010
gritty is a good word to describe the film - it was heartwrenching and shocking, but a riveting story.
March 13, 2010
good story
March 10, 2010
this movie was so depressing that it makes people happy when leaving the theatre because they aprecaite their own life a little more.
March 08, 2010
Wonderfully moving! Congrats to Mariah for bringing home Oscar! 5/5
February 21, 2010
It made me gag. Some of the acting was good, but some of the sexual inuendo's (especially with the mother) in this film were overwhelmingly disgusting. It is awful that situations like this occurr in some people's real lives, but in no way was this film enjoyable. It made me feel uncomfortable and grossed out the entire time. I've seen a lot of disturbing films, I'm not sure why this one bothered me so much. I can understand why some would think it was a good film, but I just didn't think it was worthy of all the hype.
February 14, 2010
who wants to see a movie about real life, depressing stuff. go to the movies to escape reality ppl.
February 09, 2010
Precious is gritty but when you see this movie, some parts are just horrifying but soon you realize that this happens to real people. Terrific acting. Terrific style. Terrific movie.
February 07, 2010
I did not enjoy this movie,the acting was vantastic but the cursing made the movie stupid and unwatchable...I was no impressed with the exploiting of those children in this movie it was unbelievable and should not of even been allowed. I'm shocked at the parents that allowed their down syndrome child to be used that way for a movie, you forgot what was important.What made you think that using the word mother Fuc*** a 100 times in a sentence would empress people and help this movie out any.I'd ask for my money back very disapointing... great acting but they were to good for this producer.
January 19, 2010
Inspirational film1 Along with The Blind Side,two of the best movies of the past year.Shows what Hollywood is capable of producing ! Films without zombies,car crashes,3D ,just good films with a message that people can overcome adversity.Please, no more films like The Hangover !!
January 15, 2010
A beautifully directed film! The actors and the acting was incredible. Monique is amazing.
January 10, 2010
This movie was absolutely incredible. It was very well acted out, and the story was so captivating! I had head to toe chills at times, and actually had to remind myself to breath at the end!
January 05, 2010
Inspiring young girl... To think people right now are being abused like that... you just gotta push yourself through it & believe in yourself, have that will stay strong! you can do anything... 1 thing, i wish the ending was more developped like about what happened to all her aspirations & dreams?
December 29, 2009
all men should see this movie
December 28, 2009
The abuse and language was real bad. I stayed for 90 minutes.
December 19, 2009
As hard as times are now, this movie lets me know that there is so much more we have to do. We as women, mothers, and just human beings must help each other. This movie was not just a Black movie, but a movie about the human condition going on in the world. If we just care for one person the girls facing these problems would be a thing of the past. this movie great and I am very proud of Precious and of all the girls that push themselves up.
December 13, 2009
I most say I thought this moive would just be another hood feel good moive but this was very well acted and so real. Real because I know so many young African American kids that face these problems with bad parents and broken homes and school system that does'nt work this movie was deep on so many levels. And it a wake up call for the broken black family. Thank god I had a two family house hold with parnets that loved me they where not perfect but they did there best but I know so many of my class mates and kids I grow up had jacked up familys just like that. Needs to get a oscar
December 12, 2009
Really didnt think this movie was that big of a deal. Its a renter.
December 09, 2009
Why me?...Why did I believe the Oprah hype.. The story is an " Ive seen it a million times before the story of the ghetto, of having the odds stacked against you, there wasn't any dialoge that stood out..the pretty teachaa sayin " ure baby loves you..pause..I love you ..I'd take a pass, don't believ the hype ppl.
December 07, 2009
I read the book before the movie, and the movie was excalty alike. Mariah was GREAT. It was emotional, yes! But it was heartfelt emotion. The movie was better then the book. I would love to see it again. This movie got to get a least a Oscar winning.
December 07, 2009
Mariah Carey is going to win Best Actress for this.
December 04, 2009
4.5 stars. Oscar-worthy
December 03, 2009
This was an Okay movies. It had way too much profanity in it. Kids in no generation, especially in the project, would talk like that around their parents. Not that they would be able to hear it. I was told by several people that there was a lot of cussing and profanity in the movie, but I had no ideal it would be that much. The foul language really was not needed. My parent got their point across to us without all the profanity. I would not recommend that anyone under the age of 21 watch this movies. I was sorta disappointed.
December 03, 2009
You will pay a price for seeing this movie and I don't mean the ticket. It is very brutal on your emotions, leaving you with a sense of hopelessness that this really does happen in our world. A wonderful movie that is painful to view but must be seen.
December 02, 2009
I absolutely loved this movie!!! The acting and the story was brilliant and would highly recommend it! Two thumbs up!!!
November 30, 2009
Excellent. I read the book first so I knew what to expect and I must say the movie stayed true to the book. The acting was so real. The story was so real. You won't forget the movie once you leave the theatre.
November 29, 2009
All I can say is WOW!!!the acting and story line are totally off the map. I have not been in a theatre in a long time where all the audience was hanging on every word no one made a noise.This movie blew my mind it made me realize how wonderful my mother is so Hugs to my mom!!!Mo'nique deserves an oscar for this role.
November 29, 2009
so sad but inspiring that this girl could dig out from the garbage and abuse of her life from people who were supposed to show her what love is
November 29, 2009
The realest movie ever!!
November 28, 2009
Mariah Carey's best since GLITTER.
November 28, 2009
This movie was exceptional! The acting was on point. Although the story was one that rocked you to the core, and left you thinking about it for days after, it was one that had to be told. Precious, can be found all over world, and hopefully this movie will not be viewed as an African American story, but a universal one that knows no creed or race.
November 28, 2009
I thought this movie had great acting, by all characters, but was incredibly sad and traumatizing. I left me feeling depressed, and almost hopeless with what goes on in the world. I also thought it perpetuated many common stereotypes that exist.
November 23, 2009
A Must See! really sad, compelling and truly unimaginable story that a child was treated this way by her parents, it's good her story is out. Definitely going to buy the book.
November 23, 2009
The girl that played Precious was awsome beyond words. I cried at everything she acted out and was magnificant at everything she did!!! It caused me to have more compassion & love for the African American People. I wanted to hug every african person I saw. It changed me. It's a life changing MOVIE!!!!!! Thank you GABOUREY SIDIBE you did an awsome job, I hope to see you in more movies!!!!! from Karen Austin in Minnesota
November 22, 2009
Wow. A must see. Oscar will be calling.
November 21, 2009
This movie was absolutely heart breaking, but also a very strong, inspirational and motivated one. It's the type of movie that you want to watch and don't want to at the same time because it's absolutely amazing but also very intense, painful and traumatic. I watched it in theatres not knowing what it was about and was blown away by the acting, but especially the story line. There are so many important life morals involved and I think this is a movie that definately will receive recognition. Everyone should watch this movie. It will open your eyes to a lot about what goes on in the world.