Rambo: Last Blood - User Reviews
Thank you for rating this movie!
Read your review below. Ratings will be added after 24 hours.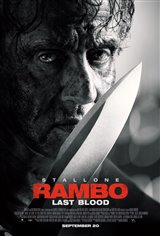 3.73 / 5
User Rating
Based on 1404 votes and 100 reviews
---
Please rate movie 1 to 5 stars
Showing 1 to 50 of 100
January 24, 2020
Horrible movie !!!
January 04, 2020
Unlike the fella that deleted the movie after watching 15 minutes, I watched this movie twice now, from start to finish! You know, how movies are meant to be watched. For starters, it's a Stalone movie! If you didn't know what you were in for prior to hitting play you've been securely tucked under a rock for the past couple decades. This movie was a fantastic addition to the Rambo trilogy. I thoroughly enjoyed it. A must watch for anyone who grew up watching these films. A+!
December 25, 2019
Slow start but does pick up,,
December 18, 2019
Deleted after watching 15 minutes. Sad. But what is really sad is all the paid-for shills posting the same schtick on this site; "fantastic" etc. Seriously?
December 06, 2019
The best war movie since Apocalypse Now.
December 02, 2019
LOVED IT !
November 27, 2019
I didn't expect much - got less .
November 27, 2019
STALONE MUST BE LOW ON CASH to put this garbage together , lot of symbolism in this movie but a plot and action that makes no sense
November 12, 2019
LOVED IT !
November 09, 2019
brutally bad
October 21, 2019
Great entry into the Rambo franchise, stays true to the character. The movie was even better than I thought it was going to be. Warning, though: if you're a wimp (as some of the reviewers appear to be), it might "upset" you too much. If you are one, just bring your teddy bear along to clutch during the more intense scenes and you should be OK. For the rest of you, this movie rocks!
October 18, 2019
Great movie but not long enough I am glad the next Rambo is already being considered.
October 18, 2019
If you are a radical racist then this is your cup of white tea. Make Racist America Great at blaming others for your stupidity and poverty.
October 18, 2019
Just when I thought these time we are living are pretty bad...here comes this movie. I can't wait for 2021
October 17, 2019
Should be -5 stars...about the same IQ Points I lost after the movie.
October 17, 2019
This is what it feels like when you have a mid-life crisis on the big screen???
October 16, 2019
Wow! Just when I thought I have seen it all. My life hit an all time low.
October 16, 2019
Stallone should just go to the light...and never make another movie again.
October 16, 2019
The camera shocked so much I thought that I had Parkinson's after 30 minutes of watching the movie. Left early and sneaked in to a better movie....which would be anything except this one.
October 14, 2019
What a fantastic movie !! I ONLY WISH IT HAD BEEN LONGER. Rambo started in the tunnels and ended in the tunnels. His adult daughters have to be very proud of him and this movie . I would go see it again tomorrow !! He is such a great actor and this movie kept us on the edge of our seats .
October 13, 2019
Excellent end to the story of John Rambo. This movie does an outstanding job of staying true to the franchise; it provides such a strong connection to the first four films and manages to avoid that nasty hollywood trend of feminization. There are too many details to review here, but for true fans of Rambo, this is an excellent movie.
October 13, 2019
Rambo entertains!! I saw First Blood.....about 10 times!
October 13, 2019
Action packed and a great movie. If you don't like gore I think you should beware.
October 12, 2019
We went to see this despite weak reviews but got a surprisingly great movie..true Rambo style! Great plot..high action...worth seeing!
October 09, 2019
I gave it a 5 stars not because it is the best movie ever made, but because I got exactly what I hoped for and more when going to see a RAMBO movie. This was another awesome sequel to this franchise. Stallone has still got it. The last 30 minutes of this movie was almost as insane as the 4th movie (not quite). Well worth the ticket price and definitely worth adding to my home video collection. One of the most entertaining movies I have seen all year.
October 09, 2019
Loved the movie very good story & action just a little to short of a movie. Movie is realistic cuz sex trafficking is happening & no need to pretend it's not.
October 08, 2019
Great movie but was way too short. Can't wait for the next sequel.
October 08, 2019
Loved this movie its about justice not playing w the court system just plain justice what most americans would like to see done to all crooked democrate politicians deepstate fools an drug cartels an himan trafficers. Getting even w crooks very bloody gorey but. U walk away w some american fight to u where these cowards have bullied people threatened them u feel the justice i give it 5 stars cause i felt justice was well seeved!!!!!
October 08, 2019
More of the same.
October 07, 2019
An absolutely great Rambo movie like all the other Rambo movies Worth seeing!
October 07, 2019
Stallone's still got it! Great Movie, saw it three times and would go again! Awesome sound track. Hope he does another!
October 06, 2019
Loved this movie. I thought it was a brilliant ending for a great character.
October 05, 2019
Felt slapped together. Didn't flow like a normal Rambo movie, had some good opportunity for one liners and good scenes but blew it! Very disappointed.
October 05, 2019
I did not expect much but I was pleasantly surprised with this movie! There was actually a credible story that showed Rambo's humanity and, that goes without saying, lots of action.
October 05, 2019
Keep America Great by seeing this movie.
October 04, 2019
If you were a fan of the Rambo's of the 1980's, you won't leave disappointed. I promise. It was gruesome but John Rambo wasn't playing. The action wasn't the only thing that was great. Rambo reliving his life and how what he experienced has shaped him presently. Loved it!
October 04, 2019
Wow. What an amazing movie. He truly captured the reality of human trafficking & the consequences from being drugged for young women. Great last movie of Rambo
October 02, 2019
Great action scenes! Exactly what I expected from a Rambo movie. I was NOT disappointed!
September 30, 2019
Meh... even by Rambo movie standards this was just "ok". Violent and gory as expected. But the plot holes are obvious and the poor CGI make it hard to watch. Even worse are the speeches that are supposed to be uplifting or portraying the pain and anguish... they just don't work. And again... another human trafficking angle... Would have preferred to see a return to the original with some interaction with Teasle's son (Good or bad) or a revenge thing by Gault's kin... Just turn your brain off and enjoy the violence
September 29, 2019
I went expecting a Rambo movie and that's what I got. Different villains being dispatched with military precision. The good guy won, the bad guys lost. No ambiguity about whether the bad guys are really good down deep and society made them bad. Good fun.
September 29, 2019
Some pretty violent stuff but those wastes of skin really got what they deserved!
September 29, 2019
A Rambo fan and know what to expect but this one was a little hard to watch. My least favourite.
September 29, 2019
I agree with others that last half of movie is much better than first half. Overall l enjoyed the movie and wish it lasted longer.
September 28, 2019
Well done!
September 27, 2019
In the other Rambo movies, I only seen glimpses of who he was, what he had experienced and what he always fought to control within himself. Rambo has a rage that is well deserved because of what was done. Even in my imagination did I ever expect this. Was a good story line. Well worth it as long as the viewer understands who Rambo is.
September 26, 2019
If you like Stallone, you,ll love this movie, Drags a little at first, but the ending is worth it. Go Sly.
September 26, 2019
This movie is for the dull witted, moronic and unintelligent movie goer. zero stars, zero......
September 26, 2019
One of the year's very best; this is what FIRST BLOOD should have been. 10/10
September 25, 2019
Rambo knows how to kill but forgot how to do CPR. To many things didn't add up. It could have been so much better.
September 25, 2019
FINALLY, a movie Trumpers and the NRA can really get behind.