Rango
Thank you for rating this movie!
Read your review below. Ratings will be added after 24 hours.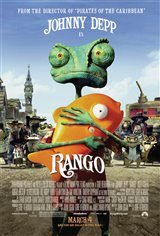 3.60 / 5
User Rating
Based on 418 votes and 135 reviews
---
Please rate movie 1 to 5 stars
Showing 1 to 50 of 135
March 04, 2012
come on already!!!!!!!!!!!!!this is an oscar winner
July 17, 2011
Visually amazing. Acting was great. Very funny. But I want watch it again untill its out for rental. Decent movie.
July 17, 2011
Funny and cute. Great story line.
July 17, 2011
Great kids movie
July 17, 2011
Enjoyed the movie. Saw it recently as part of the Open Air Cinema screening offerings. Always fun to see a movie outdoors on the big screen. Crowd seemed to enjoy it as well =).
July 14, 2011
Funny movie for the entire family
July 14, 2011
Rango was cute my goddaughter loved it she's 3 and just laughed and laughed I thought it was ok.
July 14, 2011
johnny depp is good as rango beans was very funny
July 12, 2011
This movie was awful! Way too long and not really funny. I get that it was like Fear and Loathing in Las Vegas but in cartoon form but the format change didnt really work.
July 11, 2011
Loved the cool stylings of this film. Amazing to look at and very entertaining.
July 11, 2011
entertaining, wonderful animation and story
July 11, 2011
It was a very funny animation, loved the story line.
July 11, 2011
Awesome, great story and the voices were cast perfectly.
July 10, 2011
Was okay but I fell asleep
July 10, 2011
the grandkids love this one.
July 10, 2011
This was one of the best animated films I've seen in a while. Very funny.
July 09, 2011
New fav quote heard behind me, "Did that bat just explode?"
July 08, 2011
We found Johnny to be just as funny and outstanding in this movie as any other he plays.
July 08, 2011
Not a kid's movie. Humour comes few and far between. Avoid if possible.
July 08, 2011
It was a surprising movie.
May 26, 2011
booooooooooooooring! this is the first movie ive ever seen that i actually fell asleep in the theater watching. skip it!
May 02, 2011
Total waist of time and money
April 16, 2011
Not for little kids but incredible characters, jaw-dropping scenarios, the exact dose of violence, language and action I've been looking for.
April 07, 2011
it was pretty cute..
April 05, 2011
My 72 year old mother , my 15 year old daughter , and me saw Rango tonight. So funny and well done.
April 05, 2011
Not a story line for children.
April 05, 2011
Great movie, lots of laughs but not intended for small children. I took my 8 and 6 year old, they liked it but didnt understand the more mature dialect (good thing)
April 05, 2011
Good for all ages, funny, good story line, huge fan of johnny depp, great movie, must see for all
April 04, 2011
loved this movie, love Johnny Depp
April 04, 2011
GREAT MOVIE!!
April 04, 2011
It wasn't at all what I expected it to be..the children were actually bored as the dialogue is intended for an older audience..and the villain in this film is just downright cruel and "bad to the bone"..not misguided or confused as in most child movies..there is no good to be found in this villain..it does have its moments but, again, appeals to an older audience, little people find it too long..
April 02, 2011
Great movie, although not for little ones. Animation is outstanding, just loved it - Johnny Depp was his usual talented self, as were the entire cast. Not for under 8 yr olds.
April 01, 2011
I loved this movie.
April 01, 2011
What a great movie
April 01, 2011
gr8 animation and this movie is not bad for kids.
April 01, 2011
I personally enjoyed the movie very much and the title character was perfect for Johnny Depp in his quirkyness and unique personality. I wouldn't recommend it for very young children but kids over 8 (especially boys) would really enjoy it. I took my 4 year old daughter and the snake was a little much for her. Great story, allusion to other movies and great voice talent.
April 01, 2011
Visually stylized (could just be the unfocused theatre) and a bit slow at the beginning but harkens to a classic western. The snake may be a bit frightening for some smaller children.
March 31, 2011
fantastic!
March 31, 2011
After "Legend of the Guardians" came "Rango", the second animation movie from Hollywood in less than two years not intended for little children. The difference is that "Rango" makes less concessions, that's a good step ahead and I find it very gratifying. Finally it looks like Hollywood is learning from anime and has started making movies for a different public, one very opened to animation no matter the age, the topics or the tone.
March 28, 2011
It was a fun movie and my granddaughter and I both enjoyed it very much
March 28, 2011
Definitely not one of the best animated films released in the last few years! Only a few funny lines. Found myself bored and hoping for the end several times. The plot needed some work.
March 28, 2011
This movie is great. The story line is easy to follow for both adults and kids. Johnny Depp is awesome as Rango, very hilarious. I would recommend this movie for young and old alike.
March 27, 2011
Did not like the movie, hated the part when when they asked the character who was imaging an "indian" when they asked "what is that dumb indian doing" very offensive, very disappointing.
March 27, 2011
excellent movie, great animation!
March 27, 2011
I found the movie very drawn out and definitely not suitable for younger children. While there were some funny parts, I was expecting a lot more from it.
March 26, 2011
Totally gross movie....did not like at all. Don't understand why anyone would make a movie like this.
March 26, 2011
This movie is not for kids of any age...there is a lot of sexual suggestions and some language. Only a couple of funny lines.
March 26, 2011
A total waste of time !