Ride Along - User Reviews
Thank you for rating this movie!
Read your review below. Ratings will be added after 24 hours.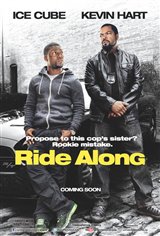 ---
Please rate movie 1 to 5 stars
Showing 1 to 19 of 19
November 23, 2014
It is a excellent movie, I love Kevin Hart, he is great.
May 12, 2014
VERY FUNNY MOVIE
May 09, 2014
very funny and highly entertaining movie
May 06, 2014
funnier than anticipated.
March 28, 2014
Beautiful comedy of a police initiation of a recruit. A new job, a new difficulty. The first day of a police officer is announced to be a big torment to all points of view. This is the real versus the fiction, a test? Who knows! The recruit passed all the tests of the day. He is really proud. So, he brought out his great weakness, the prattle! His trainer, in contrast, had to deal with this situation and also with his character. Finally, it has benefited from his weakness of his trainee for a technic of deviation and get out of a difficult situation. Beautiful scenario, it is a very good movie!
February 23, 2014
Same old ice cube... Hart is hilarious.
February 11, 2014
It was cool & it's been only a few days & now my hubby is going back with me today..to see it for his 1st time..must grab the dvd when it comes out...funny
February 07, 2014
Boring and more boring. boring.. Acting brutal, plot silly and just a waste of money! How did this get to be the NO.1 movie?
February 03, 2014
worth ur time.
February 02, 2014
The movie was a bit lame, I can't give it more than 3 stars.
January 30, 2014
Great movie!!! Really funny and not a good balance of action and plot
January 27, 2014
Funny....Cube and Heart are a pretty good team.
January 24, 2014
a very hilarious movie highly recommended for those with a sense of humor.
January 20, 2014
very much worth watching. pretty funny
January 19, 2014
Cube's best since Anaconda; Hart hasn't been this good since Grudge Match.
January 18, 2014
Awesome movie heaps of attention and lodes of unexpected comedy. Loved it.
January 18, 2014
great!!!
January 18, 2014
ok its obvious that the first review was done by someone who has not even seen this movie yet. It only came out yesterday & I just came back. My hsband and I found it a truly well acted film. With some funny things going on & a strong story line!
January 14, 2014
This movie is a fail. It has no plot and it makes no sense of seeing this one at the theatre. Just skip watching this movie. This movie is dvd rental.