Rise of the Planet of the Apes - User Reviews
Thank you for rating this movie!
Read your review below. Ratings will be added after 24 hours.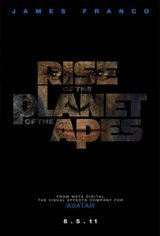 4.31 / 5
User Rating
Based on 888 votes and 221 reviews
---
Please rate movie 1 to 5 stars
Showing 1 to 50 of 221
February 02, 2018
Definitelly the best version of planet of the apes. The message against animal testing is so strong and well done! Just like in real life, the movie shows that substances don´t work the same way on humans and on animals, even so closely related like chimps. In our reality it led to many deaths or serious damage of the people, in the movie it leads to the beginning of downfall of humans. The CGI + motion capture is amazing! No real animals were used during the making of this movie, which tells one more story against animal abuse. Must-see for animal lovers and activists. Actually not only for them.
June 11, 2012
good movie with action and a look at what happens when a caged animal's intelligence is enhanced. you don't have to have watched the old planet of the apes movie to enjoy it.
January 16, 2012
This movie is garbage, anyone who states otherwise is of the same simple minded demographic that justifies the production of such horrible modern films
December 20, 2011
very enjoyable!!!
December 14, 2011
Stick with the Tim Burton version.
December 07, 2011
I loved the old tv series but hated the previous attempt at bringing the Apes to the big screen. This new movie restored my faith as it was well written and well made. The characters were interesting and the special effects fantastic.Looking forward to the next one.
December 07, 2011
I loved finding out how it all began.
December 04, 2011
good acting but the story line seemed weak even though I am aware of some of the research going on.
November 28, 2011
Never a dull moment! fantastic version and was definitely better than i anticipated.
November 28, 2011
liked how it wasn't so much based as a sci-fi movie
November 28, 2011
Loved this movie, it really bridged the gap between the original 60's franchise and the up to date series. Storyline was well thought out the apes were consistent with previous adaptations of their characters. I found it to be a clever addition to the Planet series
November 27, 2011
Nice to see a new idea come out of Hollywood. Was better than expected!
November 27, 2011
I didnt think i was going to enjoy this movie but i REALLY did! Good movie!
November 26, 2011
It was never boring throughout. Good plot throughout the movie.
November 26, 2011
The entire plot was written in an entertaining way. I was never bored throughout.
November 25, 2011
Great movie i have seen all the planet of the Apes movies and this is probably my fav,
November 25, 2011
Awsome!!! Liked it so much... good movie to watch..
November 25, 2011
an enjoyable, somewhat chilling film - it's depiction of profit over science is often far to real
November 25, 2011
I really enjoyed this movie - a much updated version of the Charleton Heston movies. Monkeys looked very realistic and story was almost believable.
November 25, 2011
As a huge fan of the planet of the apes movies I thought this would be fall short and be terrible. I was however pleasantly surprised that it was really good. Enjoyed it very much from start to finish.
November 24, 2011
i really loved this movie the apes seemed so real life& lots of action
November 24, 2011
An excellent precurser to the original movies. This movie hits home with our emotions about abuse, indifference, violence, tolerance, acceptance of intelligence in all forms of life, respect and joy that comes with the freedom of self expression. This is great Science fiction, the kind that is inspiring. And as an action movie, it couldn't get more exciting.
November 24, 2011
Good storyline ,however special effects is lacking.
November 23, 2011
excellent movie. just like human beings, animals don't like to be mistreated or taken advantage of. how would you feel, if all you were good for was to be used as an exiperment, beaten & treated like crap. eventually you're going to rise up & want revenge
November 22, 2011
Awsome movie, great story and tied in perfectly to the original in its own way.
November 22, 2011
Great pace and story telling.
November 22, 2011
Almost as good as the first one. A lot of CGI in this movie, but it looked realistic.
November 21, 2011
Really good movie !
November 20, 2011
I enjoyed the movie.
November 20, 2011
I was really surprised. It was a very good movie and I enjoyed it very much. It was a good story line and was done very well.
November 20, 2011
awesome twist on a classic
November 19, 2011
A good sequel to a classic.
November 19, 2011
Excellent remake!
November 18, 2011
Excellent movie, great directing and did a great job at telling the whole story from beginning to end. I saw it twice.
November 17, 2011
Not a bad "prequel". Some attempt to clear up questions of original.
November 16, 2011
It's a good movie. Hope there's a sequel.
November 16, 2011
Good movie and enjoyed it more than the original.
November 16, 2011
If you've seen the series and visited San Francisco,this is an excellent prequell! The confrontation on the Golden Gate bridge was thrilling. Ending up in the Muir Woods was a perfect ending! It was suspenseful and entertaining.
November 14, 2011
Epic movie. Really cleared up quite a bit from the old Saga. Recommend
November 13, 2011
Exellent film with a greatstory line, lots of exellent forshadowing for the next film. A true pleasure to watch
November 13, 2011
The best CGI effects ever in a very plausible plot about how apes will overtake humans in the future. If you wait to see the movie on your TV at home, you'll truly miss out on one of the best cinematic experiences.
November 12, 2011
Not what I expected - a total hidden jem. The movie is more drama than action, but it is extremely well written and the FX are very tasteful. 4 stars.
November 11, 2011
this movie was entertaining enough. Not great and not bad.
November 10, 2011
The movie was excellent except the end left you a bit unsatisfied...not a cliffhanger but certainly not a conclusion. It just seems like rather than finish this movie they figured we will happily wait for the sequel.
November 10, 2011
A nice reboot of the original series. I found some parts to be a little bit of a stretch (ie. what are so many apes doing in one city at a time?). It was also weird to see the protagonists destroying the human race. Other than these little oddities, the movie was a fairly decent action flick.
November 08, 2011
I really enjoyed this movie... much more than the last POTA movie, and eagerly await the next instalment!
November 08, 2011
The apes are more interesting than the humans in this movie, but overall I was surprised by how good this was. Its the little touches that do it -- the daughter of the neighbour looking on as a chimp attacks her dad, the leaves falling from the trees. Camp done well.
November 08, 2011
awesome movie tells alot about the other ones cant wait to see more
November 07, 2011
A great prequal. The CGI is very well done, and all actors present their rolls in great fashion. This movie really lets the audience get into the beginnings of the Planet of the Apes. I hope the next one will be just a s well done.
November 07, 2011
It was an amazing movie encompassing humanity lost by humans and found by apes.