Saving Mr. Banks - User Reviews
Thank you for rating this movie!
Read your review below. Ratings will be added after 24 hours.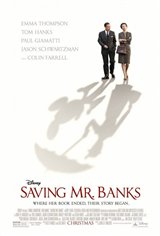 4.37 / 5
User Rating
Based on 260 votes and 109 reviews
---
Please rate movie 1 to 5 stars
Showing 1 to 50 of 109
March 03, 2014
I loved this movie. It made me feel young again remembering going to Disneyland as a kid in the 60's. The music and songs from the movie brought tears to my eyes. They don't make movies like Mary Poppins anymore and Saving Mr.Banks captured that. I'm very surprised it wasn't nominated for many awards, at the very least Emma Thomspson should have received recognition. She was excellent.
March 01, 2014
Gosh what a film...if this is what happen WOW! The patience was truly amazing. I love this show. I would own it for sure. Thank-YOU one and all! LOVE ALWAYS JOANNIE :):):)
February 11, 2014
good movie...not great, but good. Great performances by Thompson and Hanks!
January 22, 2014
An amazing story that really suprised me.
January 15, 2014
Outstanding - Emma Thompson is brilliant!!
January 10, 2014
Excellent movie. I didn't realize how much was involved in this story. Touches on adult themes, added with mild humour. Excellent job Emma Thompson!!
January 10, 2014
Very disappointed , we having been waiting since it was released and it still hasn't come to our theatre
January 09, 2014
I found everything about this movie enthralling although I was sceptical that Walt, so well known could be satisfactorily portrayed by even the great Tom Hanks. He did a great job as did Emma.
January 08, 2014
4.5 out of 5.0
January 07, 2014
brilliant !! emma thompson outdid herself. so touching and reminiscing. had a good laugh and a good cry. totally recommend it.
January 06, 2014
Lovely film. It has all been said over and over so I won't say more, except to add that in my opinion Colin Farrell gave the best performance. Vulnerable, compelling and sympathetic. Hanks and Thompson were great too, but they were well cast and delivered as expected. I hope Farrell gets a supporting actor nom for the Oscars!
January 05, 2014
As already stated, no swearing, no sex and no gratuitous violence. A must see for the whole violence.
January 05, 2014
I loved this movie. Really well done, Tom Hanks was fantastic as Mr. Disney. It was great how they integrated the lives of the characters. It was really nice to see a family movie without swearing, and violence! A MUST SEE.
January 05, 2014
This is my new fave movie. Loved every minute if it. Tom Hanks and Emma Thompson really great in this movie. Deserve golden globes for their preformances.
January 05, 2014
An excellent movie!!! Superb acting and an uplifting story.One of the best movies I have ever seen.
January 02, 2014
Did not expect such a powerful and authentic drama. Very realistic story about the human condition and relationships. Be prepared for a real original! By the way, this movie makes me want to see 'MP' again, cause I didn't like it when I was a kid.
January 01, 2014
A lovely film - the relationship between father and daughter in the flashbacks is incredibly moving. Colin Farrell is wonderful in the part and it's easy to see why his daughter worshipped him. An unexpectedly powerful ending.
January 01, 2014
A totally enjoyable couple of hours - great acting by both Tom Hanks and Emma Thompson. I want to see the original Mary Poppins now that I know the story behind making it.....
January 01, 2014
Absolutely fabulous movie. It made me want to see Mary Poppins again knowing the story behind it. Amazing performances by Tom Hanks and Emma Thompson!
December 30, 2013
We loved this movie. It made us laugh and cry. I also want to watch Mary Poppins again! Emma Thompson and Tom Hanks were wonderful in it.
December 28, 2013
I found this to be excellent movie and very uplifting.
December 28, 2013
Very slow moving
December 27, 2013
I found this to be a lovely movie. Great for older children and young teenagers, people of all ages. A wonderful story and great acting. I really enjoyed it and found it a wonderful way to spend an afternoon. Don't miss it.
December 27, 2013
Kinda creepy to be honest, and not just because Nanny McPhee's in it.
December 26, 2013
interesting, moving and funny
December 24, 2013
Not what I expected but enjoyable. Performances average. I have seen better. I have seen worse.
December 18, 2013
Thouroughly enjoyable movie
December 18, 2013
Emma Thompson and Tom Hanks are excellent in film and deserve award nominations!
December 16, 2013
Saving Mr. Banks was such an awesome movie - we thoroughly enjoyed it - we also had no idea of the history of Mr. Disney seeking the rights to the movie for 20 years and the struggle with the author to obtain them. We would highly recommend this movie!!!
December 16, 2013
I really enjoyed learning more of the back story to Mary Poppins and how the story came to life. It was a blast hearing some of the old songs that are as infectious today as the first time I heard them.
December 15, 2013
This likable & sentimental movie is full of great performances by its lead actors. The story, that follows his 20 year quest to a movie of his children's favorite book is well told.
December 14, 2013
This was an interesting and touching movie. Emma Thompson and Tom Hanks were great in their roles. Loved original Mary Poppins and thought this movie gave a wonderful perspective of past and history of the origins of the script. Truely enjoyable!
December 14, 2013
Adorable movie! awesome cast!
December 14, 2013
I love Mary Poppins and I really enjoyed this movie!
December 14, 2013
Entertaining movie. Disney usually makes movies for kids, but I think this movie is more geared towards adults.
December 14, 2013
A great story that provides insight into the personalities of the key characters- through effective flashback scenes and dialogue. Superb acting by all- as the audience is taken on a delightful, but emotional journey. I attended this movie with my father- without realizing the extent of the parent/child theme throughout. Well done!
December 14, 2013
This was awesome. Thanks for letting us enjoy this spectacular movie!!! Thanks Tribute!
December 14, 2013
amazing!
December 14, 2013
Walt Disney's (Tom Hanks) collaboration with P.L. Travers (Emma Thompson) is a delightful collision and glance back in time. With the masterful intertwining of the past and present, we are drawn into the heartfelt true story of these two renowned, yet vulnerable people. This is an entertainingly revealing glimpse into the making of Mary Poppins, one I would recommend to all who have fond memories of this beloved character, or to those who would like to become acquainted. Kudos to Tom Hanks and Emma Thompson.
December 14, 2013
Emma Thompson's performance was amazing. My son and I thoroughly enjoyed the movie.
December 14, 2013
Very good performance Of Tom Hanks, it's remember the old film of Walt Disney 40 years ago
December 14, 2013
I thought Saving Mr. Banks was an entertaining film.I remember watching Mary Poppins when i was younger and i thought it was interesting how they used animation with reality. Emma Thompson, who plays Mary Poppins' author, P.L. Travers was great in this role. It was interesting to see how the story of Mary Poppins became the movie loved by millions.
December 14, 2013
Absolutely loved it. Great story, it made me laugh and cry. Can't wait to get it on DVD. I will go see the movie again
December 13, 2013
Great story and great actors - big fan of Tom and Emma
December 13, 2013
It was good but I didn't go
December 13, 2013
A funny, charming and touching movie.Marvelous performances by Emma Thompson, Tom Hanks and Colin Farrell.
December 13, 2013
Clever how the movie moved seamlessly from the past to the present. Great casting; great story. Disney magic at its best.
December 13, 2013
Thoroughly enjoyed this movie. The peak behind the making of Mary Poppins was delightful. Walt Disney was a man of great patience and foresight. A good movie for the family to enjoy.
December 13, 2013
i was expecting more music and dance like mary poppins movie. the story was interested but not enough action .
December 13, 2013
We really enjoyed this movie. It was a pleasant surprise in that we knew very little about it other than it was about the making of Mary Poppins. I thought it would be difficult to make an entertaining movie about that fairly mundane-sounding subject. But the characters,the dialogue, and the acting were very well-done. One of the few movies I have been to where people applauded at the end.