Searching - User Reviews
Thank you for rating this movie!
Read your review below. Ratings will be added after 24 hours.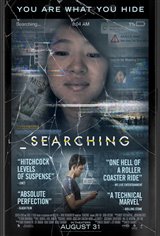 ---
Please rate movie 1 to 5 stars
Showing 1 to 29 of 29
February 04, 2019
Highly computerized investigation story, that changes direction as quick as it can in digital age.
January 08, 2019
Absolutely bored to tears.....
December 11, 2018
It would hardly take a junior detective to see where this movie went wrong. Without creating a spoiler - the most obvious looked over clue ended up being the 'big clue' that opened up the end result. This movie is enjoyable but obvious. Don't watch if you are expecting a surprise at the end
November 16, 2018
I highly recommend this movie. The actors, script and story line was right on. It kept me at the end of my chair. I will say no more. I don't want to give it away.
October 05, 2018
Great who done it.
September 30, 2018
Great writers and suspensrful
September 29, 2018
This movie was quite a thriller, intense, turns and twists. A must see for parents today, all about a missing teen and facebook/internet/messaging. Intelligently done, riveting. Great cast and acting. I would go again!
September 25, 2018
Decent original premise about a missing person. Told early on mainly through text messaging and video chat. Very well put together. Initially. The weak self conscious acting of the cop lady kind of lets the cat out of the bag, which is too bad. The father is great though in a tough acting assignment.
September 24, 2018
One of the better movies I've ever seen. With lots of twists. Highly recommend.
September 21, 2018
A number of "red herrings" constantly throw you off the trail of this good mystery story. Real story of movie is how easy it is to lose track of what is happening with your children even when a great deal of love is present in the family. I enjoyed the movie quite a bit.
September 17, 2018
Great movie, very original and with some excellent plot twists. Superbly acted as well.
September 16, 2018
Best who done it ive seen in awhile. Very entertaining. I guessed wrong on who the culprit was until the end. Very happy about that
September 15, 2018
These one-star ratings sound like plants...fake reviews. When everyone is giving the movie 4 & 5 stars these jokers give it one. Think,about it.
September 14, 2018
This suspense movie keep you guessing until the end. I really enjoyed it. I agree that most of the dialogue is through the computer, through messages , Skype and video clips but still keep you in suspense throughout the development of the story. What really happened to the promising student? Who did such an atrocious crime? Not who you thought all along!!!!
September 14, 2018
Terrible movie. Watching a movie on a computer screen. Stay home
September 14, 2018
The format was really annoying - watching a computer screen, instead of a movie.
September 13, 2018
This this movie sucks computer I can't believe I paid to see this horrible movies
September 12, 2018
A must see movie for all ages!
September 11, 2018
Loved every second of this movie!
September 10, 2018
Great movie, alot of twist and turns. Keeps you wondering.
September 07, 2018
First rate movie
September 06, 2018
This was a great thriller with numerous twists.
September 06, 2018
Excellent whodunnit, filmed as if you are seeing things from the father's point of view through the computer screen. It had a real Indie feel, only recognized the father (John Cho) who is not always likeable as he starts to fall apart as the movie progresses. Some good moments highlighting the devolving state of social media adds to the back story and sends the father even further over the edge.
September 05, 2018
This is the best who-done-it I've seen in ages. Had me sitting on the edge of my seat. Lots of twists and turns. I didn't guess the final outcome until near the end. And it's use of modern media to tell the story is brilliant. Can't say enough about this movie. Except, go,see,it.
September 03, 2018
"Searching" is a creative and riveting film which artfully uses the internet, Skype, tumbler, Facebook and many forms of social media to tell the story. This is a very original and exceptional film technique. Jame Cho's and Debra Messing's perfromances are excellent! Go see this one!
September 02, 2018
Suspense from start to finish with a twist at the end. Love it.
September 01, 2018
Excellent movie, great twist at he end. Didn't see it coming.
September 01, 2018
Should of stayed home and read my book instead of wasting my money on this crap
August 31, 2018
Good pace with some twists. Don"t favour the entire movie filmed via the Internet though