See No Evil - User Reviews
Thank you for rating this movie!
Read your review below. Ratings will be added after 24 hours.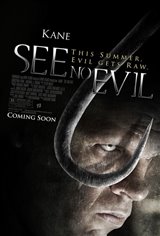 ---
Please rate movie 1 to 5 stars
Showing 1 to 45 of 45
August 26, 2008
Gene Wilder and Richard Pryor make comedy gold!
August 30, 2006
Im a huge WWE fan to begin with but this movie, perfect for Kane! It was great! I jumped, a screamed,I got simply scared!! It was great and i can`t wait till it is out on DVD so I can watch it over and over and over again!! GO BIG RED MACHINE!
July 14, 2006
Save your hard earned Money
July 10, 2006
The movie was awesome and in the true vein of the horror clasics like Friday the 13th and Halloween! The movie does not skimp on the chills, thrills or the gore! Who better to play the title character then WWE`s Kane nobody could have have pulled it off but him. Also the ending was cool and funny all at the same time.
July 08, 2006
A unique and entertaining movie-going experience. I loved the movie, but at the same time hated the characters in the story. Its the kind of movie where your actually rooting for the villian to succeed.
July 03, 2006
fantastic movie
June 26, 2006
wait for it to be released for t.v. viewing
June 17, 2006
We weren`t real fussy on this movie
June 15, 2006
it was scary and gross
June 15, 2006
it was gret
June 14, 2006
who gave the wwe the right to put out movies? this was utter crap! i bet my 8 yr old nephew could make a better movie than this. ADVISE=DON`T WASTE UR TIME OR MONEY!
June 13, 2006
who ever thought the day would come. that a wresting promoter-owner would get set to start his own movie production company. i used to enjoy the wwe, but now it just belongs in a landfill. this movie is a complete waste of time and obviously was made with no effort. two enthusiastic thumbs way down!
June 13, 2006
i have one thing to say, WHY?
June 12, 2006
It was a relief to see a good horror movie on the big screen. I have seen so many dissapointments lately... Thanks!
June 12, 2006
It was good, but didn`t meet my full expectations.
June 10, 2006
Stick to the WWE Kane. Dumb and not the least bit scary!
June 09, 2006
The opening seemed promising but then it just seemed really gory in the last 1/2 and the story wasn`t as good.
June 08, 2006
Many people like WWE entertainment. Sometimes I like it. However I myself cannot see spending any money to view something as moronic as See No Evil. Horror has always had its place in the film industry. Psycho is considered a classic. See No Evil is strickly for simpletons. Where are you Alfred Hitchcock?
June 08, 2006
I can`t believe that Cain only had about 10 lines and he was so SCARY!!!! He really played the part well. Also not many new horror movies that come out are actually scary but this on is definitely scary.
June 07, 2006
you`re kidding right? the wwe is planning on making more of this? what is the world coming to? i`m plagued by questions on to how such things could occur after watching this useless and mindless "movie", if you want to call it that. some advise to the folks that havent seen this movie, spend that money on a mcdeal at mcdonalds instead. you`ll get the same result (crap) but with more substance. this movie sucked!!!!!!!!!!
June 07, 2006
okay, first off i`ve read some of the comments written on this thing.i`ve also looked at the star rating and things don`t seem to be matching. i agree with the people that say wwe employees are presenting positive comments about this film. theyve also been instucted to repeatedly give this flick 5 stars without posting comments. PEOPLE! read the comments, thet speak for themselves! THIS MOVIE STINKS!
June 05, 2006
people say give kane an oscar? after reading that i almost had a heart attack due to severe laughter. you people on some medication? one fellow said that you must have been drunk to put out an opinion like that. i agree, this thing you call a movie is not even deserving of a tv spot for free viewing to the public. even then i would ask for my money back.
June 02, 2006
amazing movie
June 01, 2006
okay, first off i can see that there are alot of people(and i do mean alot)that are giving this movie a high rating. does this mean you people were drunk while watching this trash? your judgment was completely impaired. this was an awful movie! the people that though kane should get an oscar for this movie were definetly related to the mcmahon family. my advise is directed to 2 people, mcmahon you failed with the xfl, quit while you can. kane, go away! you suck!
May 26, 2006
this is he cheeriest, happiest movie i have ever seen
May 26, 2006
Okay, i`ve watched this movie last friday and i think it`s average movie for these reason, one the ending was the dumbest ending i ever watched in a horror movie. It was very cheap and cheesy, another nagative comment is that the movie is very well predictable and it wasn`t all that scary or suspansful i felt sitting there trying to feel suspanful and i was trying to hard to be on the edge of my seat. But i didn`t feel anything, i didn`t feel suspanse like i felt in wrong turn and hills of eyes i didn`t feel what i felt in those movies but the movie did have a moment of gore and pretty cool death. Which brings me to the positive side of the m
May 26, 2006
I THINK THAT EVERYONE THAT GAVE THIS MOVIE A HIGH RATING IS DEFINETLY ON THE WWE PAYROLL. THIS MOVIE WAS COMPLETE RUBBISH!
May 26, 2006
WHAT CRAP!!!! PEOPLE TALKING ABOUT KANE GETTING AN OSCAR FOR THIS GARBAGE! WHAT PLANET ARE YOU FROM? THE WWE IS GETTING VERY DEPERATE NOW. YOU CAN TELL, THEY ARENT DOING TO WELL WITH THIER ORIGINAL PRODUCT SO THEY RESORT TO PUTTING OUT COMPLETE TRASH LIKE THIS MOVIE. THEY SCREWED BRET IN THE LATE 90`S, MOST RECENTLEY LOST EDDIE, AND NOW PLAN ON WASTING OUR TIME WITH THIS NONSENSE. QUIT PUTTING OUT CRAP, SAVE YOURSELVES THE TROUBLE
May 23, 2006
Disappointing, B-movie slasher-fest. I was expecting something a bit more `Saw` and a bit less hokey & predictable that it actually was. The only thing that was scary was the acting. I`d go see the next WWE movie, and probably enjoy it better because I`d have lower expectations.
May 22, 2006
I thought the movie was very disappointing, especially with all the hype they gave it on WWE. My boyfriend & I had been looking forward to the release for weeks & even arranged for each of us to have the weekend off so we could see it. We went on Saturday & there were maybe six people in the theatre, even though it was the only theatre within three cities to have it. robin, Ontario, Canada
May 22, 2006
It was alright for a WWE Film but, could have been much more graphic.....It was still sick and twisted though......
May 22, 2006
Oh yeah, this movie was SOOO GREAT, Kane should win a grammy for BEST ACTOR, incase you couldn`t TELL, im being sarcastic.......
May 22, 2006
the movie was really awesome ,and it was really freaky and scary,alot of scenes jumped me and my girlfriend but im telling you all its worth your money to watch kane go krazy.......
May 22, 2006
A couple of people have said give Kane an Oscar. Should we then give Robert Deniro the WWE Heavy Weight Championship. This show is just gore and that`s all. The actors were extras. Kane actually speaks a few words at the end and you then know why he didn`t bother talking earlier. My three year old could have remembered her line better. Kane should go by this motto....If at first you don`t succeed NEVER try again!!
May 21, 2006
This is garbage. I suspect after this it`ll be straight to DVD for these chessy wrestler "promo kits". Nothing original, straight cookie cutter "insert name here" kind of script cast with a bunch of nobody second rate "actors". Rather shave my head with a cheese grater than see another one of these WWE "films".
May 20, 2006
this is one of the scaryest movie i ever seen and not many movies scare me hardly any do iam 42 and iv been watching scary movies since i was 21 and this is the first one to ever really scare me
May 20, 2006
"See No Evil" Best movie soo far! Loved it...it was soo scary but still was soo interesting! Wrestlers are good in the ring and on screen! I can`t wait for the WWE Champs (John Cena) movie the Marine to come out...fall so far, but soo excited! Go see Kane`s "See No Evil", award winning movie!I`m telling you im serious...you have to watch it!(P.S- I wonder what The Big Show thought about the movie? Was Kane angry at The Big Show after he said MAY 19...?)
May 20, 2006
GARBAGE!KANE JUS LOOKS SCARY THE MOVIE IT CRAP!DO DONT WATCH THIS MOVIE WASTE OF TIME AND MONEY!!!!!!!!!
May 20, 2006
I Loved This Movie
May 19, 2006
this movie was awesome oscar winning performance by KANE. i hope to see HHH in a movie soon... Great performance!
May 19, 2006
Tend to find scary movies not to scare me-----THIS ONE DID!!!!!!!!! R.E.
May 19, 2006
I loved This Movie See No Evil because it was cool,aweaome and so scary.
May 19, 2006
Kane (Glen Jacobs) had a Oscar Winning performance in his debut movie role. It just goes to show you how incredible pro-wrestlers are in the ring & on the screen. Way to go WWE Films! Can`t wait to see the Marine starring John Cena in the fall. Brutus Branyan