Sex Tape - User Reviews
Thank you for rating this movie!
Read your review below. Ratings will be added after 24 hours.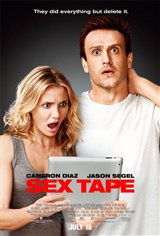 ---
Please rate movie 1 to 5 stars
Showing 1 to 40 of 40
January 03, 2015
Love Diaz, bad movie.
January 03, 2015
Soo funny!!!! A bit naughty but that was to be expected. Really great comedy!
January 03, 2015
We weren't sure what to expect with this one...but We LOVED it, laughed through the entire thing.
January 03, 2015
I had a great time , had lots of fun that night :)
January 03, 2015
Was OK, but when you have Cameron Diaz in a movie looking that awesome, you have to give it 5 stars...
December 22, 2014
Hilarious adventure!
November 24, 2014
a huge waste of time!!
November 21, 2014
Isn't Diaz a grandmother now?
November 19, 2014
Worst movie ever.
November 19, 2014
Some great laughs and Cameron Diaz is HOTTER than ever!!!
October 24, 2014
Thought this movie was quite commical and had many laughs. I would definitely recommend it to anyone.
October 22, 2014
not nearly as funny as expected
October 07, 2014
Trashiest movie I have seen in a long time. Don't waste your money.
August 11, 2014
Stupid in every way, don't bother!
August 08, 2014
If someone wants to have a good puking , just check out Cameron Diaz's bare ass in the beginning of the movie!! It's a flat and horrible as this movie!
August 07, 2014
BAAAD Do not waste your time or money on this one.
August 02, 2014
I thought this movie was really cute and funny. It had a lot of laughs. Cameron is always great in comedies.
August 01, 2014
I am a big movie goer and go to a lot of movies. This was the WORST movie I have ever seen. What has happened to movie makers these days? I left halfway through and still can't get the bad taste out of my mouth.
July 28, 2014
Horrible, absolutely horrible No chemistry between Cameron Diaz and whatever his name is, not believable as a couple that is why not funny at all do not recommend
July 28, 2014
A throwback to the great Hollywood comedies of old!
July 28, 2014
The operative word being 'few' good laughs which is not good for a 'comedy'. At best a rental, and at that even a waste of time ... not much here at all. Concept maybe was ok, but from there it all went wrong ...
July 28, 2014
we had a few good laughs..
July 28, 2014
I have saw the trailer of this movie an I couldn't stop laughing so I'm going to watch it right now thanks
July 26, 2014
We had the best time, and by the bursting laughter of the audience, so did they. It's a good time, funny script and we loved it!!
July 26, 2014
Horrible. Not funny.Don't waste your money.
July 26, 2014
Colossally Horrible. I demand a refund. Why is there no ability to give 0 stars?
July 24, 2014
No stars would be more like it...sure can't go to a movie anymore just because of who is in it! Total waste of money and time.
July 24, 2014
Don't waste your time or money.
July 23, 2014
My husband and I laughed out loud, what a fun movie...Cameron Diaz rocks at any age:)
July 23, 2014
Easy to see why this had such a big opening.
July 19, 2014
It's movies like this one that make aliens believe we're unworthy of contact.
July 18, 2014
Cameron Diaz is just embarrassing herself now.
July 17, 2014
Attended an advance screening compliments of KISS 105.3 Ottawa. Very funny! A lot of great jokes in this one. Cameron Diaz is so unbelievably hot!!! The only thing I found hard to believe is that she was married to Jason Segel??? I also find it hysterical when kids swear, soooo inappropriate which is hilarious to me. Watch for the great cameo by a super funny comedian too...
July 17, 2014
We all laughed out loud so many times during this film. Great script and a really good time. The whole audience was laughing throughout and really loud! Loved it for a good time.
July 07, 2014
40 is too old to play a married woman with kids? What a ridiculous thought. Some of these 'reviewers' are crazy and needlessly snarky.
June 25, 2014
Amy Adams? She's too old too..she's like 40. But yes..Cameron Diaz is too old..so is Jennifer Anniston. Lawrence is okay though. Wait is this a movie review or an actress review? And if it's a movie review how am I reviewing a movie that isn't out yet?
June 25, 2014
What is Cameron Diaz now, like 70? Leave these parts to the Amy Adams and Jennifer Lawrences of the world!
April 25, 2014
She's ten years too old for movies like this. Put your clothes on Cameron and make a real movie.
April 25, 2014
Cameron Diaz is so sexy? in this movie