Shakespeare In Love - User Reviews
Thank you for rating this movie!
Read your review below. Ratings will be added after 24 hours.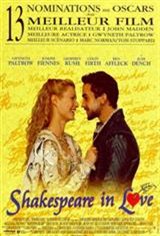 ---
Please rate movie 1 to 5 stars
Showing 1 to 16 of 16
July 25, 2006
may absolute fav movie. i luv it soooooo much its deff the greatest love story ever told
November 19, 2005
I REALLY THINK JOSEPH FIENNES IS !fine!!!!!!!!!!! I NEVER REALLY SAW HIM IN ANYTHINGBUT NOW I AM REALLY INTERESTED IN HIS WORK. I WAS IMPRESSED WITH HIS ACTING AND REALLY THOUGHT HE WAS WILL SHAKESPEARE AT THE END OF THE MOVIE!!!!!!!!! I FORGOT HE WAS JUST ACTING. I GUESS YOU KNOW BY NOW, I FELL IN LOVE WITH THIS MOVIE, AND CAN`T WAIT TO SEE IT AGAIN. I KNOWI AM A LITTLE LATE.
April 01, 2005
it was great but gwyneth paltrow CANNOT do shakespeare.
August 25, 2004
It was absolutely Enchanting,never has more love, passion, and true beauty been captured in one film.
July 08, 2004
Just beautiful. Gwyneth Paltrow really looks extremly b-e-a-utiful in this movie. You really Rocks!!!
May 07, 2004
I LOVED IT!!! Gweneth Paltrow as Shapere`s lover was the best part for her! Joseph finnes was awesome as shakespere! As a romeo and juliet fan Ben Affleck playing the part as Mercutio was perfect! And the ending for the movie was so sad and touching that i cried my eyes out! Definitly a 5 star!!!!
February 04, 2004
What an idea!Joseph is perfect as Will Shakespeare,but I also like the other characters like Lord Wessex./Thanks for the wonderful Colin Firth,who is always charming,sexy and so Cooooooooooooooool!!!!!
December 03, 2003
A lovely bit of storytelling and you can tell Tom Stoppard was involved from the terrific script.
August 31, 2003
I really loved it. Enjoyable from start to finish.
July 22, 2003
It`s a very lovely story, and the actor & actress really bring it to live.
January 20, 2003
excellent movie but if Ben is not there, it would be a perfect one.
August 30, 2002
Ben is such so COOOOOOOOOOOOOOOLLLLL in this film he is also really hot if you like you you must see this movie!!!!!!!!!11
August 25, 2002
This movie Was GREAT it was spectacular!!! any one who likes Ben WATCH THIS MOVIE!!!!!!!!
June 03, 2002
This was a GREAT movie! I think that Geoffrey Rush was awesome! Joseph Fiennes is a really good Will. The costumes and scenery were spectacular! It was a lovely, heartwarming, sweet movie. P.S. I think that, in my opinion, that Gwyenth Paltrow deserved her Academy Award. Two more words: Simply Beautiful.
May 29, 2002
This was a very funny movie. It`s not to girlie for the guys to enjoy and Geoffery Rush is hysterical to boot.