Shang-Chi and the Legend of the Ten Rings - User Reviews
Thank you for rating this movie!
Read your review below. Ratings will be added after 24 hours.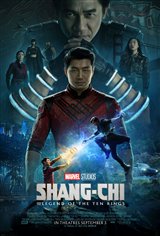 ---
Please rate movie 1 to 5 stars
Showing 1 to 50 of 55
December 22, 2022
the CGI is horrible the animals look like a joke as well as the scenes. Also don't know why they added his friend in there she was super annoying. way too many kiddish jokes just wasn't a good movie at all.
February 10, 2022
Not a very well thought out movie. It was kind of mindless. The original comics were much better.
December 28, 2021
This movie was really bad. However most of the reviews here on tribute are crap and probably originate from Marvel. The M She U is in big trouble if they continue on this path.
December 19, 2021
I am looking forward to the sequel You did good marvel I love you 😍
October 13, 2021
Loved everything about this movie: story, action, actors, writing, direction and so on! High powered!
October 13, 2021
Not bad at all. Good chopsocky action here, and that's been lacking in these superhero flicks. Awkwafina was awkward and she's the main debit here. Shang-Chi and the Regend of the Ten Lings is worth checking out.
October 11, 2021
Pretty good film is a new slant on the superhero genre.
October 06, 2021
MUST SEE MOVIE! Full of suspense and surprises. Plenty of action. Great acting, just may be best picture this year.
October 06, 2021
Awesome movie paired with great artistry, comedy and chemistry!
October 04, 2021
I loved this movie. It had so much action and a lot of funny parts. I was really laughing throughout. Some of the lines were hilarious. The actors were fantastic.
October 04, 2021
Really great action scenes, not to mention the comedy in this movie is actually really funny and not cringy at all. The story line is really good and i love a good super hero movie WITHOUT it revolving around a love interest. Overall, one of my favourite marvel movies! Main characters are not women, but the women in this movie kick butt which is nice to see.
October 03, 2021
A lot of action and surprised with the comedy. Highly recommend.
September 29, 2021
Exceptional
September 29, 2021
Better the second time around. Very entertaining, could be Marvel's best picture so far, learning of Asian culture very interesting. Plenty of action and empowered women, strong women. All about family.
September 29, 2021
I loved this movie. Kept me interested and entertained through out the entire time. Loved it.
September 28, 2021
We need more. So good.
September 25, 2021
Wasn't expecting this to be much but we were definitely surprised!! Any Marvel fan will love this movie! Great storyline, action packed, special effects, and so much more!
September 22, 2021
This was a great time at the movies. If you didn't like this action martial arts superhero flick then you went in there not wanting to like it because it's one of the best of its genre.
September 21, 2021
It's an wesome martial arts Marvel superhero movie. I loved it.
September 18, 2021
Loved this character in the comics when I was a kid, and love how they've updated him and his family for the big screen. Excellent kung-fu battles & stunts, especially the scenes on the bus and in Macao. Awkwafina brings great comic timing, Shang-Chi's dad and sister are much more interesting and sympathetic characters than they ever were in the comics, and the giant monster battle at the end brings some interesting Lovecraft and kaiju energy to the mix. A very worthy addition to the MCU!
September 16, 2021
Extremely bad , not sure what all the hype was about , wanted to leave half way thru but stuck it out til almost the end
September 16, 2021
Enjoyed this way more than I thought I would.
September 16, 2021
A great mix of myths and fights. We get to meet wonderful creatures who happen to live in a maze of a forest.
September 15, 2021
This movie was so much fun! It had the best of both worlds in it. The fighting scenes were awesome as well as the costumes. Entire movie was done so well. All the characters were great in it, so much action and humor at times made us laugh. There were seniors in the audience who loved this movie. Scenery and background scenes were beautiful. I enjoyed this more than Black Widow :) Can't wait for the sequel.
September 15, 2021
This movie is not worth the money. It's overrated. It is as bad as COVID-19.
September 14, 2021
I am 60 and it was one of the best movies before COVID!!!!!
September 14, 2021
I liked this better than Black Widow and Scarlett Johanson was hot.
September 13, 2021
Sit back and enjoy! This film is highly-entertaining and filled with humor and heart.
September 13, 2021
This Movie is WOW! Marvel studios film at it's best. Incredible filming and special effects. Some parts funny, lot of action and drama. Love that Aquafina who played the dragon in Raya. Number one movie everyone is talking about.
September 12, 2021
So many holes and contradictions in the plot. I left early it was so B.A.D. Is this what Hollywood calls entertainment now a days? Movie hype doesn't work any more.
September 11, 2021
Overall, too unreal and ethnocentric. It did not go well trying to imitate Bruce Lee.
September 11, 2021
Overall, too unreal and ethnocentric.
September 11, 2021
Great story, good actors, wonderful performances, super entertaining, 7 stars !
September 10, 2021
We finally got time away from our kids and this was totally worth it! There actually were some unexpected moments and the fight scenes were top notch, like close to the elevator scene from Captain America Winter Soldier. The bus fight was very well choreographed. My wife actually really enjoyed this Marvel flick which says a lot. Go see it for some great escapism.
September 09, 2021
I really loved this show. It was a very physical movie for Simu, but he looked good with it all. Awkwafina did a great job of taking on how she could help out and she quickly mastered her task. Plus the Aunt. Took me a bit to recognize the voice/face. She played on Star Trek Discovery as the Captain from the alternate universe. I think it was a great job by everyone and really glad to see that there will eventually be a sequel as well. Might go see it again.
September 08, 2021
I loved the story line, the choreography, and the visual effects were awesome. I also liked the humor injected at just the right times.
September 07, 2021
I thought it was a very good film. I thought it was more than just about god and evil but about the good and evil in us and is about the choices we make
September 07, 2021
I enjoyed this movie so much. I love how all the characters are fleshed out with good motivations that you can even empathize with the bad guy. And it was such a great blending of martial arts, superhero and fantasy genres. So stylish and dramatic. Good Job Marvel!
September 07, 2021
I was hard pressed to really like the movie, the story line and intro was not done well. Simple good versus evil. Ying-Yang. The training was way to fast, and history.
September 07, 2021
Meh. All Marvel movies are stunning technical achievements, but the story on this one is kind of meh. Too much Basil Exposition. Too much explaining.
September 07, 2021
Great great movie! Very entertaining. Although I have to agree with another reviewer, Awkwafina seemed to phone it in at times, she kinda just stood there when she didn't have a line. When she had a line, she was good. But good actors keep acting even when they're not the focus.
September 07, 2021
Best. Marvel. Movie. Ever! And Simu Liu was outstanding. I've never seen Kim's Convenience but maybe I will now.
September 07, 2021
Some real good actors turning in an outstanding Performance....This movie had good guys worth rooting for and the bad guys were fearsome....there is just a enough comic relief to lighten what could have been 2 hours of biting fingernails.....and there was plenty of action but thankfully not the entire movie....
September 06, 2021
Although quite different with the excessive amount of oriental style fighting. it's 'unreal' presentation made the brutality acceptable. Surprises were fun and made the movie entertaining. Have not been to a movie in years and was surprised when I broke out laughing a couple of times.
September 06, 2021
This was good versus evil-Ying v Yang Taiji Quan with humour. Jacky Chan.
September 05, 2021
I love how the movie was made also that the fight scenes looked real great background settings I loved it.y
September 05, 2021
Not bad. Gets bogged down too much. Awkwardfina was bad. Some okay chopsocky but won't make anyone forget Bruce Lee. The protagonist was just a little too fey.
September 05, 2021
Awesome martial arts movie.
September 04, 2021
Usually character development happens at the beginning of films. Well, Shang Chi had character and situational development all the way thru the movie which extremely slowed it's progress. It lacked a sense of urgency to get to a climax. There were connections to other MCU movies that lacked excitement. The acting was good though. I wasn't expecting anything special either. That's what I got.
September 04, 2021
This movie from the start was really good, marvel did shang chi justice. They introduced him perfectly, and the end credit scene made me lose my mind because it took me by surprise. Any marvel fan should go see this movie forsure. If I could I'd rate this movie a 10 cuz it was both funny and good.