Smokin' Aces
Thank you for rating this movie!
Read your review below. Ratings will be added after 24 hours.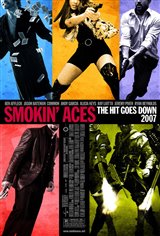 ---
Please rate between 1 to 5 stars
Showing 1 to 50 of 57
November 09, 2010
There was potential there...The action scenes are really nice.
June 14, 2008
Good movie. mostly because of Chris Pine, but yeahh. he's veryyy cute! :]]
June 25, 2007
Awesome. 5 stars.
June 25, 2007
Pretty dumb
April 23, 2007
Bang, bang, bang, bang bang, bang. Boom. Oh, my god, look at that bang and bang. There you go, bang! The ending was just as stupid. 1 *.
April 22, 2007
This Movie is bloody incredible, i am so buying the DVD.
April 18, 2007
I thougt it was a horrible movie. Made me feel sad and depressed. To much misery.
February 18, 2007
Terrible plot, empty violence.
February 13, 2007
This movie was so awesome that the only thing that didn`t feel right about it was Ryan Reynolds...Which is a shame, since I want to support Canadian actors...But he really shouldn`t have been in this film.
February 12, 2007
wow this movie was sweeeet =D. definatly a movie to go see with the dudes. Filled with violence, swearing, and prostitutes, don`t expect too much of a story, but there was a lot of anticipation leading towards the final showdown-like battle at the end. The ending was also very well done. One of those endings you need to talk more about with a bunch of people to understand. 5/5 XD
February 11, 2007
If little shiny objects impress you then you'll love it. I can't believe this has a 59% approval rating! When did mediocrity become good entertainment?
February 10, 2007
Among the worst movies of the year. Nothing original, nothing interesting, nothing to make you want to know what will happen next, except how many people will leave the theatre either disappointed or disgusted. On the other hand, this might appeal to viewers of high school age who will watch anything.
February 10, 2007
fun ride
February 10, 2007
I must have watched a different movie - this movie was ridiculous. The actual stars in this movie must have been under contract or knew the producer, they must be embarrassed. I have no talent in writing but I could write and produce a movie that was better. In fact it was so bad it compelled me to go home and write this comment after watching it. It was so bad it does not deserve a rating.
February 09, 2007
It was dreadful. For a group of reasonably good actors we should have expected a better story line, characterization and thought put into this. It was difficult to follow and had no real point.
February 09, 2007
meh, wasnt the best movie. IT was a little confusing at times and Kinda dragged at the beginning.
February 07, 2007
It was OK but could have been so much better with better character development .
February 06, 2007
IT was OK, nothing special. Good fights but that was about it.
February 04, 2007
Tarantino-esque and wicked amazing!
February 03, 2007
This was an intense movie. Gory at times, but enough action to keep things rolling. Ryan Reynolds turns in another great performance. It`s one of those movies that you really can`t compare it to the usual shoot `em up movie. Highly recommended.
February 02, 2007
WHAT A TOTAL WASTE OF TIME AND MONEY; BOORING, AND NO REAL PLOT THAT WAS OF ANY INTEREST, IF YOU ARE INTO BLOOD AND SHOOTINGS THEN THIS IS THE MOVIE FOR YOU! GOOD LUCK ......AND DON`T FORGET I TOLD YOU SO!
February 02, 2007
Great film, great actors. Piven had an outstanding character, along with many of the main actors. Reynolds continues to deliver. Definately a 5 in my books.
February 02, 2007
Mindless anything goes killing and very demeaning to women. Thanks for the tickets, I would have felt gyped if I had to pay. If people would go to such extremes for a million dollars, why don`t they go after Bin Ladden? I hear they`d pay 50 million.
February 02, 2007
A strange movie! I thought I understood the underlying plot in the beginning, but by the end I had no idea (and still don`t) what the "true" reason was that one group wanted to kill this guy while the other group was trying to save him. Despite, my confusion, I kind of enjoyed this kinky, bizarre movie; kind of reminded me a little bit of the "Kill Bill" mentality. R.A.N.
February 01, 2007
All style no substance. What a bore. Put the trailer on a loop and you have the movie.
January 31, 2007
great action! Great actors! Loved the movie through in and through out. Great story line
January 31, 2007
Had great action scenes as well as comedy, great combo. Jeremy Pivon did an awsome job in my opinion. Highly recommend this movie to any who likes darkish comedy, sweet action sequences and great acting.
January 31, 2007
this moving was amazin so much action and jus amazing. you should watch it for sure
January 31, 2007
Hasn`t been a movie like this in a while, i liked how there were no main characters, just random people doing what they want to, no bias on the feelings and emotions o any one individual. i also liek how there was practically no suspense.
January 30, 2007
a rockin`, raucous, balls out guns blazin` guy movie...lots o bulletts, affleck has the funniest cameo ever, bar none !! definitely as good as the trailer makes it out to be...see it with a buddy, keep a sense of humour, and u wont b disappointed.
January 30, 2007
amazzzzing.. some girls might find this movie a bit repulsive..i found it FLAWLESS.. it`s hilarious how they gave affleck such a minor role though...and garcia, i would have expected better from him
January 30, 2007
Maybe people should watch trailers before they go out and see movies,if youdon`t like the trailer, don`t see the movie, if it looks like action, it will be action, "Smokin` Aces" was exsacly what the trailer showed. 5 stars for me. The movie delivered.
January 29, 2007
Good action and entertaining but the ending was a let down.
January 29, 2007
Definitely a dark (emphasis on dark) comedy - fans of Fargo will love it - a little on the violent side, but anyone who saw the trailers for this movie would know that.
January 29, 2007
a decent movie, it had all of the makings to be a 5 star but just didnt deliver. I would say a solid 3*. holla
January 29, 2007
For those who enjoy the typical action movie!! Filmed great!!! Story (could use a lot of work)!! Characters were great but story and theme was short!! Overall a 3.5!!!
January 29, 2007
Anyone who thought this movie was anything greater than a bomb, has extremely low standards for a movie. Characters no one cares about, actually no main character, just a bunch of goofs put together with a half thought script and guns. No logic no plot no point to this dude.
January 29, 2007
Apart from a few too many song and dance numbers from Alicia Keys, this was a solid night out at the pictures.
January 28, 2007
Excellent 5/5 - Sick, twisted and funny. Excellent blend of humour, great action, and really twisted up characters in a messed up world. Very refreshing ; excellent movie.
January 28, 2007
It was Wicked, loved it
January 28, 2007
I was an idiot to go see this, but then again I`m a girl whose all smiley and stuff. Probably wasn`t a good idea for me as a person to see this. Didn`t enjoy it but if you`re a guy you might. My bf liked it.
January 28, 2007
I dunno.... I guess I was expecting more!!! Don`t waste your money on this
January 28, 2007
This was the most fun at the movies that I hav had in a long time. Great cast, great action, and it was nice to see Afflec being cool again.
January 28, 2007
The story makes little to no sense, but overall it`s entertaining and worth seeing. Good cinematography and innovative action scenes.
January 28, 2007
great movie .. love the plot ... awesome to c with the guys
January 28, 2007
Its one of those movies with tons of brand names and bizarre characters in outlanding situations. It was funny and violent. The only thing was following the storyline at times. I found some things hard to hear and the storyline when spoken was a little too fast. But a very enjoyable movie.
January 28, 2007
Great Movie.Great Acting must see
January 28, 2007
awesome from beginning to end!! go see it!!
January 27, 2007
This movie is amazing keeps you interested with humour good plot crazy characters and great action definitely going to see again
January 27, 2007
A dude movie. Lots of violence and an unpredictable ending. Yet, there are moments of comic relief. Andy Garcia still looks great.