Spider-Man: Far From Home - User Reviews
Thank you for rating this movie!
Read your review below. Ratings will be added after 24 hours.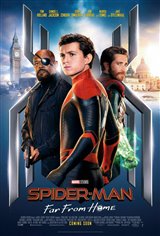 3.99 / 5
User Rating
Based on 1230 votes and 55 reviews
---
Please rate movie 1 to 5 stars
Showing 1 to 50 of 55
April 02, 2022
Great movie. Far From Home is my favorite out of all three of tom hollands spider man movies 5 stars
February 24, 2020
tom Holland is not the best spider man
October 18, 2019
As stand alone superhero movies go, this is awesome. Tom Holland is THE best Spidey. He completely exemplifies the teen superhero angst that Stan was going for. And his movies are fantastic. Keep them up.
October 01, 2019
ONE WORD...................................MYSTERIO!!!!!!!!!!!!!!!!!!!!!!!!!!!!!!
August 24, 2019
f**k this stupid movie, holland is hands down the worst Spider-Man, just a whiny little sh*t, mysterio was butchered, Wasn't funny had no action cgi was god awful and why the f**k does he not wear his mask, even the poster has him not wearing the mask, we don't care about the actors face we all know who he is, so promote the movie in full costume assholes
August 21, 2019
Slow and extremely boring
August 16, 2019
i think it was really great I loved the movie sadly the grave of Anthony Edward stark aka tony stark was there as one of misterio's illusions but yeah other then that far from home was amazing
August 12, 2019
Interesting twists and adventures, finally the hero gets the girl,...!
August 11, 2019
was a good movie but the peter parker was not like the real one and the girlfriend not at all the same could have made the characters a little closer to the original
August 06, 2019
I liked everything about this movie. One of if not the best movie I have ever seen. It's a movie you can go see more than once and still love it.
August 04, 2019
Another Marvel Movie with tons of CGI, more Sammy Jackson, and the usual story line drama. Viewer fatigue is a real thing people. Hollywood has no ideas. We're in sequel hell.
August 03, 2019
Fell asleep 20 minutes in, woke up and walked out before the end. I can't believe this was made by a major studio....Wow
August 02, 2019
It was SOOO BAAAD, we walked out before the end.
August 01, 2019
Best movie ever!!
July 31, 2019
The worst piece of garbage i have seen in years!
July 27, 2019
This movie was sooo good! There is so much action going on and it was just amazing!
July 26, 2019
Typical Spiderman stuff - entertaining - light hearted fun
July 26, 2019
Unlike the earlier Batman and Spiderman movies I have seen this one is clearly aimed at the young teen set. Not interesting for me as an adult just too much cg and not enough story.
July 23, 2019
The collection of different forms of talent put together was most impressive. The directing, acting and especially the special effects and the other contibutors brought together a really great entertaining experience. I needed to see it twice.
July 21, 2019
Amazing best spiderman movies and hilarious with an amazing twist
July 21, 2019
What a crap summer it's been for movies. :(
July 21, 2019
A W E S O M E ! ! ! ! ! ! ! ! ! ! ! ! !
July 19, 2019
Most annoying part of this movie is the girl playing Mary Jane. She is not Mary Jane! She is annoying! She ruins the whole movie with her SJW antics.
July 18, 2019
It's soooo good!!! You wouldn't regret spending your money on this movie
July 18, 2019
2 good things about this movie . Jake Gyllenhaal and the fight scenes he has with spiderbutt . That's it . Rest is complete garbage
July 17, 2019
I really prefer Bill Murray in this role, but then he couldn't be SPIDER-BOY, could he...
July 17, 2019
I dislike that the name of Spider-Man was revealed.
July 16, 2019
i give this movie a 7 and half out of ten....,not bad, i thought the beginning was cheesy with the Whitney Houston song and some other thing that i cant say with out spoiling it, but i will just say the guy with the 90s green jumpsuit look quite on the light on the loafers side, but thought they did a good job on the acting and plot as it twist and turns....i would have to watch again to get some things, but remember when u go see it their two Easters eggs specially right at the very end of the credits ....will see it again for sure as spider man is one of my favorite superheros
July 15, 2019
Awesome movie
July 15, 2019
Great move for kids of all ages. They did a great job of Mysterio. Peter is still a boy who just wants to enjoy his summer vacation but this is the movie he grows up in. The character development is great. Its funny, cute and action packed. Its different than the comics but its not a comic. Its a movie. A really good movie.
July 14, 2019
Peter Parker seems stuck in adolescence.
July 14, 2019
Kids flick. Like a video game full of explosions.
July 14, 2019
This should be Spiderboy. Way too child like to be acting like a grown serious superhero.
July 11, 2019
T W O T H U M B S U P ! ! ! ! ! ! ! ! ! ! !
July 10, 2019
This movie was terrible popcorn was ok
July 08, 2019
Too child like to be an impressive super hero.
July 08, 2019
I loved this movie, the spins and wows were good for me. I enjoyed it right from the start , stay till the very end for extra
July 08, 2019
Very good movie I enjoyed it
July 07, 2019
Mysterio was an OK character. He was a SFX artist in the comics. Bubble head was laughable. Liked Spiderman without the tech in the mask as in Homecoming. JJJ was good to see again too. Nice cliffhanger. Can't wait for SP-3 "Staying at Home".
July 06, 2019
I really liked this movie!! Just go and have fun with it,,don't over analyze it and you will love it!
July 05, 2019
The teenage angst love tryst with Spidey and MJ is pretty entertaining. Will they? Wont they? The special effects in some scenes are quite dazzling and Mysterio is a nice addition to the film. But, the plot is totally outrageous and contradicts the action scenes in the film. Kids will like the film but I really did not like the movie because of the story.
July 05, 2019
I like this movie
July 04, 2019
Wow! That was so entertaining! This film rocks!!! Go see it!!!!
July 04, 2019
I loved this movie!! My husband and daughter said it was better than the first time Tom Holland played Spider-Man!! We truly felt it was a great story line and the ending really showed us what was to come!! It looks like it is going to be epic with his identity blown!!!!We all can't wait for the next movie and Tom Holland you were exceptional!!!!!!! You were born to play Spider-Man!
July 04, 2019
Been a SM fan over 50 years. Read the comic as a kid. However what they done to SM now is ridiculous.. Nothing like the real Peter Parker. His secret. his pictures. his spider sense. all gone. Mary Jane ? Well I wont go there.
July 04, 2019
Seriously guys, it's time to let it go.
July 03, 2019
Enjoyed the movie, both my pre-teen kids decided it was their favorite superhero movie so far. I found it a little drawn out in the middle, and the relationship between SM and Mysterio a little more superficial (and thus weaker impact with the twist) than they were going for but overall, solid sequel...
July 03, 2019
Loved this movie...........Jake Gyllenhaal did a great job as Mysterio and ONE WORD...............AWESOME!!!!!!!!!!!!!!!