Step Up Revolution - User Reviews
Thank you for rating this movie!
Read your review below. Ratings will be added after 24 hours.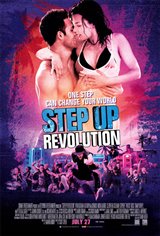 ---
Please rate movie 1 to 5 stars
Showing 1 to 42 of 42
January 12, 2013
terrible.........
January 12, 2013
worst movie ive seen in a while. moves were very fake, storyline seemed far- fetched, sub par acting. few cool effects but COMPLETE waste of time...and money
January 01, 2013
Unique concept
November 30, 2012
Not hard to see why STEP UP has become one of the most beloved franchises in movie history. 5/5
November 29, 2012
Same muggy **** posting 5 stars.. Fuck off you mug!
November 29, 2012
it was ok.
November 11, 2012
It's the best franchise out there.
November 10, 2012
Horrible Movie
October 13, 2012
best step up ever!!!!
October 01, 2012
Inspiring.
September 30, 2012
Don't wait for the blu-ray, this is one of those movies that has to be seen on the big screen!
September 25, 2012
this year is the only year i've given so many 5 stars to movies! i'd give this a 10 stars if i could. the depth of feeling i had when the dancers did all those dance steps, was undescribable. they should be very proud of themselves for doing such a phenomenal job!! i just wanted to get out of my seat and dance right along with them!! please have another sequel. sadly i never saw the other movies and was reluctant to see this one but i'm happy i went anyway! get it on dvd if you miss it...
September 23, 2012
one must always be cautious when it comes to hyperbole, but this truly is the best step up ever!!!!
September 13, 2012
quite possibly the best film ever made.
September 03, 2012
the one sequel this summer that was absolutely necessary.
September 03, 2012
if you like step, this is a good movie to see.
September 02, 2012
someone in the theater refused to stop farting so i walked out.
September 02, 2012
love it
August 31, 2012
i really hoped by the end everyone would die.
August 31, 2012
this movie is pure drivel
August 25, 2012
energetic, fun , great dance moves, beautiful couple , best place to be when your love is dancing, spirits will join
August 25, 2012
who farted, and why?
August 21, 2012
hopefully the next one is in imax.
August 21, 2012
good dance flick
August 16, 2012
great music, awesome choreography and a great cast. nothing to complain about!
August 15, 2012
step up revolution is by far this summer's best and must-see dance movie...it's got dance, romance, drama, attitude, swag, and an intriguing story line/ plot that will keep viewers interested from the start of the movie to the ending credits.after watching this, will most definitely put you in a dancing mood!! i highly recommend it!!
August 14, 2012
thought it wasn't going to be that good, but it was! great dance scenes!!
August 14, 2012
i love this movie it was better then the other 3
August 11, 2012
i adored the latest step up movie. it's the best one yet, with better dancing than the previous ones and a nice plot.
August 05, 2012
excellent dancing in the movie and great storyline.
August 05, 2012
the dancing in this movie was simply breathtaking. the visuals were incredible. well worth the money and the time.
August 01, 2012
best step up ever -- and that's saying something!
August 01, 2012
my kids can't believe that i want to watch these movies with them, but i absolutely love the choreography. this flick was mind-blowing and the dancing is simply incredible. the best of the series yet. a must see.
August 01, 2012
was never that much into modern urban 'break dance' genre, but do enjoy acrobatic athletic physicality of it, so this movie caught my attention. it's a nice way to showcase a lot of dance and have it story-lined in a dance-adventure, dance-romance, and dance-culture vs corporate interests. i enjoyed the conflicted romance thrown in to round it off. enjoyed quite a bit. worth the see. plenty of it can be re-watched just for very numerous dance numbers. nice visuals.
July 31, 2012
fantastic hd cinematography and phenomenal dance routines make this film a must see for dance fans. the two leads have great chemistry together and the plot, while highly predictable, advances the action through all of the well choreographed set pieces. this is a popcorn movie you can watch over and over again. a real feel good movie.
July 30, 2012
best step up movie the 3d was amazing now put lmfao songs in step up 5
July 28, 2012
loved it. i would see this twice
July 27, 2012
entering, fun, great dancing story was a bit hum?? but overall great movie to watch with the family even my 2 year old was watching.
July 14, 2012
quite possibly the best "step up" ever!
June 20, 2012
the most incredible "step up" yet! very clever how they worked classic rock songs like the beatles' "revolution" into the mix!
June 20, 2012
please step down. what a waste of my time.
February 08, 2012
can't wait!