Still Mine - User Reviews
Thank you for rating this movie!
Read your review below. Ratings will be added after 24 hours.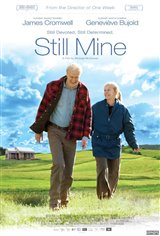 ---
Please rate movie 1 to 5 stars
Showing 1 to 31 of 31
November 12, 2015
Great movie. Would love to buy the DVD... However very difficult to find and Family Video says they cannot get it!
February 01, 2014
Fabulous movie
December 28, 2013
What a beautiful love story. As a daughter of a parent with advanced stage Alzheimer's Disease, this tale completed resonated with me. The portrayal of a person with dementia was among the most accurate I have seen. My father's struggle mirrored that of the James Cromwell character. Perfect script, wonderful performances. What can I say, I loved this film...even though it was extremely emotional for me to watch.
November 29, 2013
Absolutely one of the best non-fiction films that Ive ever seen and Ive seen many. A must see for anyone who believes in compassion, courage and the ability to stand up for what you believe in.
September 17, 2013
Why is this so hard to find on DVD
July 30, 2013
Best of the year
June 25, 2013
awesome, perfectly played
June 24, 2013
Absolutely awesome movie..so well done. Cast,especially the two leads were powerful..highly recommend it.
June 18, 2013
Wife and I both in 50s loved this movie. Acting by the two leads was phenomenal. One of us is a briit, the other is NB born. Having lived in NB now for more time than in UK the Brit felt the story resonated deeply with feelings of home and tradition. We live in a rural area and have in-laws that could have played aupporting roles (and a father that could have been the lead!). This is movie making with a real heart.
June 02, 2013
Wonderful pull at your heart movie
May 28, 2013
Great movie and Canadian eh
May 24, 2013
Know your property rights. Landowners Associations all over Canada can help you. This is happening all over.
May 20, 2013
I saw this movie yesterday, it was outstanding! Such great acting, so proud to know it was filmed in NB and ON. Very well done!
May 18, 2013
As an expatriate New Brunswicker I went to the movie hoping for a taste of home. What I received was so much more. Cromwell and Bujold had me riveted. What great performances. A story or both the young and old.
May 13, 2013
I see a lot of movies. Maybe I would give movies a 5/5 rating 1:50 or 1:100 times, and this is one of those cases. The acting and plot are both so real/credible/amazing!
May 12, 2013
I just saw this movie and can't wait to see it again. I was somewhat apprehensive because of the subject matter but it was handled tastefully and beautifully done. The acting was superb. It really put things into perspective what so many are facing today. It is incomprehensible to add the incredible lunacy of a bureaucracy that keeps itself employed by inventing problems. Sometimes the rules just don't make sense and this was a situation for logic to prevail. Well done.
May 10, 2013
i really loved the movie.the scenery was great.i love st.martins,n.b. Great food in St.Martin's, N.B. MARGIE
May 10, 2013
James Cromwell's character puts "this younger generation" to shame on so many levels. It also points out the flaws in our modern system of governance, surely these paper pushers have more to do with the taxing us than protecting us. A little bit of power in the wrong hands and all reason goes out the door...we have so few freedoms left, did we put up a fight?At least this guy does, maybe because he is old enough to remember a more reasonable and self reliant time. We need more people like this! Good story. Great acting from whole cast.
May 06, 2013
Utterly charming and delightful. Don't miss it if you have a chance to see it!
May 05, 2013
A friend and I saw this movie last night and both of us totally loved it. The acting is superb, the story line is so simple and believable. I've already recommended it to others.
April 28, 2013
I have seen this movie twice and loved it both times and will see it again and buy the DVD. The only complaint I have is that my hometown, in which the majority of the filming took place, is not named. The new house was built on our property in GOLDEN VALLEY ON and other locations in the town were also used in the filming. We in the area are justifiably proud to have been hosts to the cast and crew and enjoyed the experience tremendously. We are glad the film has been received so well. Congratulations to the lead actors for their performances they were so beautiful and believable.Hello to all the fine people we met while they were in "the Valley".
April 16, 2013
My wife and I just have just viewed this wonderful film. We were overwhelmed by the performance of Crawford and Bujold -beautiful, A poignant love story that a growing number of folks will relate to. The setting in St Martins NB was not only the natural location but it was spectacular and the inclusion of other Canadian sites like North Bay ON and Port Loring ON in the Almaguin Highlands were appreciated. Another Canadian Classic for future generations.
April 05, 2013
LOVED IT!!
April 04, 2013
CAN NOT WAIT TO BE ABLE TO BUY THIS MOVIE SO THAT I CAN WATCH IT OVER AND OVER AGAIN.
April 04, 2013
We saw this movie last evening in Saint John, an excellent picture telling a true story. The acting was superb. The feeling of love, anger and frustration were overwhelming. A must see.
March 03, 2013
Excellent movie. Teaches us about unconditional love. It is also a metaphor on the continuing bad habit of society to dictate to people, in this case older people, how they will live their lives, particularly the last chapter of their lives. The building department's sanctimonious rigidity is just one example of how our society needs to change, substantially and rapidly. Great movie. We enjoyed it enormously and hope that it receives the recognition that it deserves. Incredible acting.
February 08, 2013
Could relate to the independent common sense attitude of the leading man.Currently doing a bathroom at home with zero proper paperwork.Location was a real treat."Cows on road"and "old girl freind"were a real hit with the Kent County screening.New theatre was full.Need the director's autograph.
January 17, 2013
A sensitive insightful film exploring the dilemmas of the elderly living in a bureaucratic society that has lost sight of humane consideration. Well acted, beautifully filmed and topical for the boomers....and so Canadian.
January 07, 2013
a very touching movie showcasing unconditional love & devotion
October 13, 2012
Filmed in our local area.. A wonderful love story and shows the lunacy of generic government regulations?.. Anxious to see it again.