Stuck On You - User Reviews
Thank you for rating this movie!
Read your review below. Ratings will be added after 24 hours.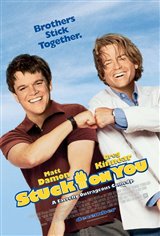 3.74 / 5
User Rating
Based on 1033 votes and 40 reviews
---
Please rate movie 1 to 5 stars
Showing 1 to 40 of 40
June 29, 2005
Greg Kinnear gave a most outstanding performance in the Bonnie and Clyde Musical scene in "Stuck on You". I can`t hardly go a day without seeing him perform that song. Excellent entertainment!!!!
June 09, 2005
matt damon is the hottest guy on earth . funniest movie in hollywood history. i LOVE matt damon
June 07, 2005
very hilarios!!!!!!!!matt damon is the best actor on earth !!!!but the bourn identity was better!!!love matt damon
April 21, 2005
Thought "Stuck On You` was an excellent movie- very funny
September 15, 2004
loved it. it was hilarious
August 08, 2004
Great movie. This is a great movie to see if you want to laugh! Very well put together. I love this movie. Matt Damon is so sexy!!!!
July 06, 2004
i think the idea of making a movie about conjoined twins was a good idea, but the way this one was done was very poor. it became very boring.it wasn`t even funny.
July 05, 2004
I think the movies great its got Bob(matt dameon)&walt(greg kenear) tenor are really like dumb&dumber.
February 20, 2004
about 2.7 stars, it was okay, but not great
January 09, 2004
I heard this was a true story. I just dont remember hearing that much about it in the media. It`s too bad because these two guys sure are brave for going through with the surgery. Bob is my favourite, I sure would like to meet him someday.
January 06, 2004
Horrible movie with great actors. I am proud of those siamese twins for being able to poke fun at themselves. How difficult it must be for those two guys to have acted in that movie. It looks painful to have to be stuck to someone like that.
January 06, 2004
This movie was brilliant, Matt Damon is an astounding actor, hehe, he should win an oscar for this masterpiece, 4 thumbs up.
January 05, 2004
Holy smokes!!!! I was the most middle of the road movie since Ice Age. I think it wanted to be a funny movie but it wasn`t. The Farrely Bros. are one a very bad down slide, and need to go back to the beginning and remember what is funny.`
January 04, 2004
i just wnt to comment back tok the person that said we shouldnt be making fun of ppl with problems,,,, although that is ture didnt u know what the movie was about b4 u went to see it????
January 01, 2004
It was so good. You all must go and see this spectacular movie!!! WOW! - - I almost creamed my drawers!!!!!!!!!!!!
January 01, 2004
that was the so stuiped i hated it.. it was not funny
December 31, 2003
Very Very BAD...disappointing.
December 26, 2003
This movie was horrible. I wanted to walk out half way through. Was it a comedy?, I couldn`t tell. It was 2 hours long and not funny. You didn`t care what happened to any of the characters and all you could think about was hopefully it would start to wrap up soon.
December 23, 2003
wow ive never wanted my money back so badly in my life... shame on you matt damon, if you needed money so bad, you should have asked ben for some.
December 23, 2003
Don`t bother going.... way too long with not enough laughs. I started looking at my watch hoping it was over after just 40 minutes. Some people even walked out of the theatre before the movie was over. If I was watching it on video I would have turned it off half way through. Go see something else, anything else, or catch up on your sleep.
December 22, 2003
Great movie. It made me laugh a lot.
December 22, 2003
i thought it was more funny than austin powers goldmember
December 22, 2003
I thought this movie was fun and evtertaining. It Showed a bond between 2 brothers that would have done anything for eachother. I have to say.. this is one of my favourites !
December 21, 2003
I think Lord of the Rings is better than this film.
December 20, 2003
It had potential....but couldn`t make up it`s mind.
December 20, 2003
I think this film is insensitive. We shouldn`t make fun of people with problems. Their last film made fun of schizophrenics . . . no dice. I found this film to be very unrelaxing.
December 20, 2003
i thought it was funny
December 20, 2003
it was a feel good movie but its not as funny as i hoped for....wait for it on video
December 19, 2003
OMIGOD IT WAS SOOOOOOOOOOOO BAD. I DO NOT RECOMEND IT. DO NOT GO AND WASTE YOUR MONEY LIKE I DID!!! One of the worst movies I have ever seen.
December 18, 2003
THE WORST FARRLLEY BROS. MOVIE YET! NOT WORTH WATCHING!
December 17, 2003
THOUGHT IT WOULD HAVE BEEN BETTER,INFACT THE WORST FARRELLY BROS. MOVIE YET!
December 16, 2003
Absolutely awful. I don`t think I would have watched this movie if it was on cable, let alone getting suckered paying ten dollars to see it. Please heed my warnings and if you want to watch it, wait for it to show up at the 99 cent bin.
December 15, 2003
This movie was funny yes, but I still think it could have been better. I am a big fan of the Farrelly Bros.
December 14, 2003
it had a few very funny moments, where I was laughing well into the next scene , but itwas not the complete farce I had thought it would be.
December 14, 2003
silly, funny, smart and entertaining!!!
December 13, 2003
Very Funny.....good humour!
December 13, 2003
very very funny i loved every second of it
December 13, 2003
It was terrible, I laughed once when I saw them play hockey. It was long and drawn out. Almost 2 hours of my time was wasted at this movie.
December 12, 2003
This movie has one a hack of start but starts to go down hill hour after hour. But fans of Matt Damon will like his comic turn after his dramitic/actin flick earlier this year. Overal a good relaxing movie.