Terminator: Dark Fate
Thank you for rating this movie!
Read your review below. Ratings will be added after 24 hours.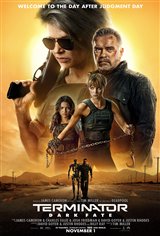 2.66 / 5
User Rating
Based on 1264 votes and 253 reviews
---
Please rate between 1 to 5 stars
Showing 1 to 50 of 253
January 15, 2020
Very disappointed
January 14, 2020
Still prefer T-3, but this is the best of the rest.
January 11, 2020
A collection of "Has Beens" and Nobodies, and of course a Transgender. By FAR the Worst Terminator Movie, By FAR !!!
January 06, 2020
5 Star reviews are bought and paid for. This movie was terrible.
January 04, 2020
I hope Arnold's CONAN franchise can go out on such a high.
January 03, 2020
This is up there with Judgement Day..pure action and entertainment from the get go. Should you be a Terminator Franchise Fan this will NOT disappoint..anyone calling this boring is on Valium or Dead or likes "Little Women". Unfortunately ,Arnold will likely not be back!!!
December 29, 2019
We went to see this for one reason, Arnold, the Terminator. Waited 10 minutes, 20, 30, are they kidding, still no Arnold, we got up and left. Movie version of click bait, should be illegal.
December 28, 2019
Bad and Bland, no good parts
December 27, 2019
Bad and Bland, no good parts
December 26, 2019
FAST PACED BOREDOM
December 25, 2019
Have enjoyed all of the T films for their entertainment value. There was a lot of hype for this movie with Linda H & Arnold. The effects did not disappoint. The new T's ability to split freaked me out. The enhanced human was a surprising element. Loved seeing Linda H reprising her role but was not impressed by the acting - or - maybe she was really just that good at showing what losing loved ones unfairly, then being forced to live a life in hiding, and holding onto anger will do to someone. Arnold talking interior design choices - pure comedic scene. This film did not make me want to say I'll be back to see any future releases but I am enough of a fan of this franchise to know that ... I will be back.
December 19, 2019
The only TERMINATOR sequel you need to see.
December 18, 2019
Wonderful time was had by all! DF is the "Crocodile Dundee in Los Angeles" of the Terminator series.
December 16, 2019
Spectacular entry in The Terminator series more than stands the test of time.
December 16, 2019
If Jingle All The Way 2 had been this good, Arnold could have retired.
December 16, 2019
Seriously focused and packs a punch ! Terrific - flat out terrific
December 15, 2019
Everything about this movie is state-of-the-art. It is a masterpiece.
December 15, 2019
Bad plot , miscast actors
December 15, 2019
Welcome back, James Cameron!
December 13, 2019
We haven't had an action movie this good since Fantastic 4.
December 13, 2019
Everything you want in a Terminator movie. 5/5
December 12, 2019
Jim Cameron has crafted another masterpiece.
December 12, 2019
Oh I loved it! If you're a fan of these movies, T-DF puts all the rest to shame! A great film you'll want to watch again and again!
December 12, 2019
The early Terminator movies were fine for their day but they don't hold up particularly well when compared to what's being done today. Hamilton is great here, as is Arnold. The new characters are solid additions who will take this series to new heights in the coming years. This movie is the coolest.
December 12, 2019
Anyone that thinks this is Linda's best work has never watched T-1 or T-2. She was painful to watch like a pageant winner from days gone by that doesn't realize time has long since passed them by.
December 12, 2019
Linda and Arnold should go up against The Rock in the next installment.
December 12, 2019
This is Linda Hamilton's best Terminator movie.
December 11, 2019
Absolutely must be seen on the big screen! The scope of this movie is just incredible!
December 11, 2019
Terrible movie. We disliked it
December 11, 2019
Totally snubbed by Golden Globe voters!
December 10, 2019
The best movie of the year.
December 09, 2019
Action-adventure on a gargantuan scale! The year's most talked about movie and it isn't hard to see why.
December 09, 2019
After four mediocre sequels the series finds its footing.
December 08, 2019
Who says they don't make 'em like they used to?!
December 08, 2019
This movie rocks! It makes you believe in the magic of movies again!!!
December 08, 2019
An honest to goodness blockbuster that has audiences cheering!
December 07, 2019
TERMINATOR: DARK FATE is the movie Terminator fans have been waiting for! On a scale of 1 to 10, it's an eleven!
December 07, 2019
just more blinky lights , lets some real writers to write a real story with some interest
December 07, 2019
AWESOME!
December 07, 2019
The most fun I've had at the movies in years! I like that it keeps you guessing to the very end...
December 07, 2019
Boring and predictable
December 06, 2019
It's really quite a lovely movie.
December 06, 2019
My favourite film in the series, and also the best.
December 05, 2019
A big improvement over the previous films in the franchise. A 10!!!!!!!!!!
December 05, 2019
A sad sequel to once Great Movies.T-1 and T-2 are where it should have ended.
December 05, 2019
This and Irishman are the best movies of 2019.
December 04, 2019
T-3 is always going to be best but this was perfectly fine for a sequel.
December 04, 2019
This one's kind of fun on it's own terms, but also has to end of this franchise. It's the same thing over and over. Arnold is fun. I like Linda Hamilton (as one gal I talked to about this put it: "Aging like fine leather"). Everybody plays their parts well. But as follow-up to the first two movies and effectively sabotaging them at the outset ... not so good. I have T1, 2, ... and 3 which is not too bad. Those will do nicely from now on for this older moviegoer.
December 04, 2019
T3 was the best Terminator movie...until now.