Texas Rangers - User Reviews
Thank you for rating this movie!
Read your review below. Ratings will be added after 24 hours.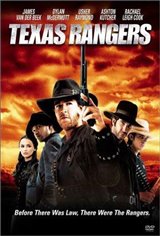 ---
Please rate movie 1 to 5 stars
Showing 1 to 9 of 9
January 05, 2006
AMAAAAAAAAAAAAAAAAAAAAZNG!!!!!! SOOOOOOOOOOOOOOOOOOOOOOOOOOOOOOO GOOOOOD
November 09, 2004
HEY USHER DIS YO #1 FAN YOU HAVE BEEN DOING GREAT ON EVERYTHING SO KEEP UP THE GREAT,WONDERFUL WORK!!!! HOLLA BACK AT YO GIRL!!!!
October 20, 2004
Awesome! Ashton`s first funny and serious role. Its too bad that it didn`t come to Courtenay theaters. Anyway, another reason that I enjoyed it alot is because it is the true story of how the texas rangers gathered and brought law and order to the wild west. If you like the idea of the combination of Ashton Kutcher and westerns, you will enjoy this but it isn`t just about Ashton.
February 18, 2004
I think it was a OK movie. Ashton Kutcher and Usher Raymond were really funny and cute in it. Even though it was supposed to be a serious western Ashton still made it funny and brought it to life. My favorite parts with asthon is "Don`t move and I`ll shoot!!" lol. and "I`m Fast!! I`m fast,I`m fast,I`m fast!!!!!!
May 20, 2002
Good old fashioned western, I really enjoyed it.
May 15, 2002
Don`t go unless you go alone. It`s cheaper to buy the DVD (which is out at Futureshop for $26.99) than go to the ticket on a date to watch this movie. It`s also hard to justify buying such a poorly done movie but you might as well own it if you intend to watch it.
May 10, 2002
I think it will be great!
May 10, 2002
Numerous problems during filming, ranging from accidents to production problems, delayed the release date for at least two years.
February 21, 2002
Cool shooting and stuff!