The 5th Wave - User Reviews
Thank you for rating this movie!
Read your review below. Ratings will be added after 24 hours.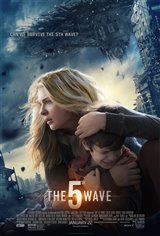 ---
Please rate movie 1 to 5 stars
Showing 1 to 27 of 27
May 27, 2016
Action movie of the year! I left the theatre feeling I really knew these people.
May 26, 2016
I only give three stars for the effects, cool stuff to see but the movie trailer looked much better than it was. The story is stupid and it starts good and you wait for something better and it only gets worst.
February 27, 2016
love it
February 20, 2016
it looked good but It sucked and to much love in it you need more action and I was told it was a child movie well so childish if they happened to have sex and say the f**k word this movie was the worst The 2015 Fantastic Four was better then the crap
February 18, 2016
Everyone that's giving this movie 5 stars must be under 14. This is not good, don't bother sending your money to see it.
February 13, 2016
Whoever gives this childish movie 5 stars should be KO.
February 11, 2016
Really bad movie. Even at the cheap theater I felt I spent too much money. The aliens take over the world story line was poor. If the movie was trying to create a metaphorical message, that was lost also. I would advise to avoid this movie all together. What a stinker.
February 10, 2016
I enjoyed this movie it was different, plus evan was really hot!!!
February 06, 2016
Pathetic movie that had the potential to be good only to have so many unanswered pieces. Thank goodness for scene points!
February 06, 2016
Catch a Wave and this spectacular motion picture.
February 05, 2016
I laughed at how terrible this was.
February 03, 2016
I did enjoy this. It was very interesting how they used the different waves to thin the herd. There are a couple teenage angst moments, though I feel that it wasn't overly draining. Good movie all around. I would recommend seeing it.
January 31, 2016
I was abit disappointed as the story didn't have a lot of substance overall. This movie is aimed at teenagers. Wait for this one to come out on DVD.
January 31, 2016
Greatest thing ever
January 29, 2016
Just go see the finest hour people. It's 100x's better and isn't a child movie.
January 29, 2016
Another terrible kid movie... :/
January 28, 2016
The best movie of the year.
January 28, 2016
Script was very weak and it was more of a CW teen show.
January 27, 2016
Child movie.
January 24, 2016
This is defintly a teen movie. Poor acting, poor producing, and poor writing! Enough said
January 24, 2016
talk about a slow movie and it took its story line from other movies it is crap
January 24, 2016
A worthless pile of cow dung.
January 24, 2016
Beyond awesome!
January 24, 2016
I gave it 5 stars for entertainment value. It's pure Hollywood but heck Justin Trudeau is pure Hollywood also and people are fickle over him...
January 23, 2016
Chloe the main actress was very impressive in her performance for such a young actress. The movie was entertaining and kept you interested with lots of action and special effects.
January 23, 2016
I enjoyed the movie and my husband thought it so-so. Some good special effects.