The Belko Experiment - User Reviews
Thank you for rating this movie!
Read your review below. Ratings will be added after 24 hours.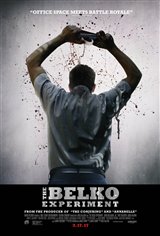 ---
Please rate movie 1 to 5 stars
Showing 1 to 7 of 7
May 21, 2017
Very intense movie, though it is very violent and gruesome/graphic. I really enjoyed this movie, and how a lot of the characters tried to make startegies or plans to possibly limit the death. The ending was a little meh, which took away that 1 star.
April 05, 2017
Highly entertaining and original. Was on the edge of my seat the whole time. The ending could have been better. I think it was all wrapped up a little too quickly. Other than that I really enjoyed it.
April 02, 2017
Left after grown adults started killing each other randomly in this awful excuse of a movie. SAVE your money. SKIP this bloodbath. Turn on the news if you crave violence.
March 29, 2017
Never mind the naysayers here. This is a really good flick that delivers intelligence along with thrills.
March 19, 2017
Since statistically there are more morons and low IQ people than intelligent folks, this type of genre-movie should do very well in a society totally amoral and tattooed-out....trailer says it all.
February 20, 2017
Unbelievable! This film hasn't been released yet and there's already a bad review from some prudish idiot! \/ \/. And depiction is not the same thing as promotion. I wish these uptight losers like the person who wrote the review below would just die off already.
February 19, 2017
one of thousands of movies promoting violence, brutality, selfishness and callousness