The Big Sick
Thank you for rating this movie!
Read your review below. Ratings will be added after 24 hours.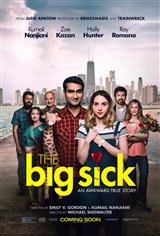 ---
Please rate between 1 to 5 stars
Showing 1 to 50 of 64
January 27, 2018
Loved it!
November 11, 2017
A very funny movie, while managing to deal with a few serious issues. It was a wonderful role for Holly Hunter!
October 06, 2017
Loved it. Funny, topical, innovative, good stuff!
September 17, 2017
I adored these characters. Could have spent another hour with them!
September 16, 2017
Amazing, I live the same story ,I'm muslim girl with Chinese guy, I live the best life on this earth, I hope We can marry with our family's blessings .
August 22, 2017
very real and down to earth, Love is love and given challenges the truth shines bright.
August 03, 2017
Terrible actors/actresses
July 29, 2017
made me cry ... still bowing my nose at the end while the credits rolled.
July 24, 2017
very good movie i enjoyed it
July 24, 2017
I thought it was very enjoyable! Really a delightful romantic comedy that one should go to. Acting was great too!
July 23, 2017
great movie. loved it. at first i thought it would be predictable little mosque on the prairie fare, but no. totally different, very funny, believable (it is a true story), and relevant. Some classic scenes ... Go see it!
July 23, 2017
Very relatateable story line.
July 23, 2017
Horrible not funny at all. Don't know how it was rated 4 stars!! Only a few people in theatre even chuckled!
July 22, 2017
A must see! Wonderful story of relationship told with humor and depth!
July 22, 2017
Shows how different cultures are. And Love always is strong.
July 21, 2017
Have not laughed so much at a movie !!! Went with a girlfriend and both thoroughly enjoyed this movie. I loved it so much I will probably go to see it again
July 21, 2017
A must see! This was an amazing movie. I laughed and cried through the entire movie. Well worth seeing, don't listen to the negative comments - you'll love it!!
July 20, 2017
It's nice to go to a comedy that has more than a couple of laughs that you've seen already in the trailer. This one has dozens and dozens of funny moments. The comedy plays out against the backdrop of a touching love story. Very good film...93/100..guru Bob
July 20, 2017
I loved the movie
July 18, 2017
the big suck errrrrrrrrrr I mean sick sucks
July 18, 2017
Best more real depiction of multiracial dating I've seen in a while. Amazing true story. Wow
July 18, 2017
Boring! Nothing great in this movie! Don't rush to see it.
July 17, 2017
I enjoyed the movie with the stupid title. I still don't get how people have sex the evening that they meet, although I know they are telling their own story.
July 16, 2017
Good story. Lots of laughs and some tears too.
July 15, 2017
A beautiful story, and true, how someones love for another can't be broken even for cultural or religious reasons. Loved it!!!!
July 14, 2017
This movie was overrated dump, boring and stupid. Don't waste your money for this movie
July 14, 2017
Someone asked "Who writes this crap?" If you did a little research you would know that it was written by the two people who were actually telling their story. Everyone's story is different, and what you experienced was your story. Maybe you should write your own movie.
July 13, 2017
Awesome movie. Funny, heartwarming and great story line.
July 12, 2017
Absolutely hilarious! I went with my boyfriend and two 72 year old ladies and everyone was laughing out loud throughout. This is the best romantic comedy I've seen in a very long time.
July 11, 2017
Very funny and smart, original.
July 10, 2017
Total stereotyping...
July 08, 2017
Wonderful movie. It will make you laugh, and cry, and cheer for the good guy. The importance of family and culture and love. I loved it. Great script , great acting.
July 08, 2017
It was very funny and very sweet
July 07, 2017
Very enjoyable movie!
July 07, 2017
Excellent story.
July 07, 2017
Really sweet with true-to-life and complex characters. I love it when I can genuinely laugh and cry in the same film and walk out feeling challenged and refreshed. Everyone gives an incredible performance.
July 07, 2017
Great characters.
July 06, 2017
I really liked this movie. It was a love story that was surprisingly sweet & about how important family is. Not what I was expecting. Liked that it was funny, but not laugh track type funny.
July 06, 2017
Pleasantly entertaining.
July 06, 2017
It was a funny movie with a good message and relevant for today.
July 06, 2017
I did enjoy it, but thought it would be funnier. Maybe I was so tired going to this movie that I missed a lot. My friend thought it was really good though.
July 06, 2017
This movie has everything - laughs, tears, fears. Best part is that it is based on real life events. Go see it!
July 06, 2017
Funny and sweet.
July 06, 2017
In spite of that terrible title (which seems to be designed to drive people away), it's surprisingly good. Unfortunately it introduces several characters who are quite interesting; but, it can't seem to resolve how to deal with them. And it kept stumbling into promising situations that it didn't have the wherewithal to explore further. For instance, I would've liked to know more about all those prospective Pakistani brides who were smart & funny & elegant. And those poor kids slaving away hopelessly with tired & terrible routines in the comedy clubs. And why did the hero absolutely need to have a blonde white woman who was written as being a bitch anyway. I would've liked an explanation.
July 06, 2017
I'm so very glad I was able to this movie. It is everything promised and more. The actors were well chosen and the chemistry was obvious. I really enjoyed learning something from this. Absolutely a must see.
July 06, 2017
I found it was really funny. I enjoyed how it emphasizes cultural differences in a funny way and it was not shy to poke fun at issues facing society today. The ending was predictable but cute
July 06, 2017
Saw this movie with three friends. We all agreed it is a 5 star movie. Good mix of comedy and real life issues. Loved Holly Hunter's comedy club meltdown!!
July 06, 2017
I enjoyed the movie. I like learning about different customs and traditions. I wish there were more movies like this one. I think what we understand takes the fear of out guessing. Thank you for picking my name.
July 06, 2017
Very funny and heartwarming! These characters were so sweet together. I was pleasantly surprised by this movie! I recommend!
July 06, 2017
My friend and I loved this movie. It was touching, funny and heart-warming. A real life love story complicated by cultural impediments and a severe health crisis sensitively portrayed. Highly recommend!