The Black Dahlia - User Reviews
Thank you for rating this movie!
Read your review below. Ratings will be added after 24 hours.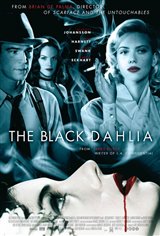 ---
Please rate movie 1 to 5 stars
Showing 1 to 50 of 67
March 04, 2007
The majority of the movie had nothing to do with the case.
February 03, 2007
although very well acted, the movie lacked spark and the storyline was a little difficult to follow - De Palma, as usual, forgets to let the story tell itself adn seems wrapped up in making the pic look pretty
February 03, 2007
really boring and weird
October 27, 2006
The book was alot better. The film version came within inches of capturing the pacing, settings and feelings of the book. But it fell flat on its face within those few inches. Thanks for the Josh Hartnett "buff" shot though, woo hoo!
October 18, 2006
Slow, boring, one of the worst movie I`ve seen this year.
October 11, 2006
I found this movie to be brilliantly crafted, making the audience feel like they`ve been transported through time to late 40`s Hollywood, California. The colours, the language, and the overall look, was very nostalgic. As for the murder mystery aspect, I found the artistic embellishment of the real facts to fabricate a very believable story, very intuitive. I know the crime has remained an unsolved mystery for more than fifty years, but the brutality of the crime, still leaves me bothered.
October 11, 2006
I was excited to see this movie for the interesting murder in the storyline. But the movie wasn`t much about that. I was really disappointed in that aspect of it. But all in all it wasn`t a bad movie.
October 08, 2006
in my 50 years of movie going I had only walked out of one movie,"Casanova" waaay back in 1976,this boring mess of a movie gets the honor of being the second, not even the gorgeous Scarlett could persuade me to sit through this torture.
October 06, 2006
I thought this movie was a huge disappointment. They story line was dragged out and uneventfull. Save your hard earned money and rent this on video!!!
October 06, 2006
Waited half an hour for the film to pick up and start to get good. Decided not to torture myself any further and got my money back.
October 02, 2006
One of the most boring film I`ve seen. I left in the middle, I had already wasted enough time.
October 01, 2006
I`m 28 years old, and I like this movie. Easy to follow and very interesting story.
October 01, 2006
This movie was amazing. From start to finish... complex plot combined with breath-taking performances by Josh, Hilary and Scarlet... everything was too good to be true about the film. The creative team did a very well job... carefully thought out screenplay mixed with tru story that haunted Hollywood... TWO THUMBS UP!!!
September 30, 2006
An awful use of film....went on a first date to see it...luckily she still wants to see me...
September 30, 2006
not much entertainment with this one
September 29, 2006
When even the lesbians fail to titilate, you know there is something wrong. I found the plot too hard to follow, the twists went way over my head, and the characters too carboard to care about. About the only good thing going for the movie was the art direction, but other than that I was very disapointed.
September 28, 2006
Juding by the trailer, it looked very good. After reading bad reviews, I decided to wait for the rental, but I stil went to see it even though. This movie was not that great. The movie is intresting, it`s just I found the acting and some of the dialogue a bit cheezy. I think Scarlet Johanson is gorgeous it`s just the way she acted was kinda cheezy. I`m not even sure if people should rent this. I wasted ten bucks...3 stars
September 27, 2006
This movie was well thought out, superbly acted, and an absolute winner in my opinion. I was looking forward to this movie, and after reading the reviews before going to see it, I did not build my hopes up. However, after watching the Black Dahlia, I am shocked at people`s bad reviews. I have come to the conclusion that you need to be prepared to watch, and follow the movie, and perhaps those that didn`t like it couldn`t keep up with it. Definitely for the more mature mind, I believe most of the bad comments are probably from younger viewers. If you like thrillers, this movie will not disappoint. (Opinion from the eyes of a 27 year old.)
September 24, 2006
the trailer for the black dahlia looked really good and alot of my freinds agreed with me..so we deicded to go to see it...however the movie is not how it is shown int he trailer...the movie was horrible...it was confusing...and it almsot had nothing to do with the black dahlia...waste of time and money..go see a better movie
September 24, 2006
The movie is disjointed, implausible, poorly acted and extremely disappointing. It is difficult to figure out who everyone is and what exactly they are saying. Save your money for a good movie.
September 23, 2006
This is a bad movie
September 23, 2006
Terrible, Terrible, Terrible movie! We walked out. Couldn`t understand what was going on, couldn`t understand the dialogue. The directing and scrip were pathetic. Do not waste your money on this crappy movie! asf
September 23, 2006
Oh my God!! Could this have sucked any more? NO. Worst movie ever second only to Miami Vice.
September 23, 2006
I love Scarlett Johansen, but this movie was just too confusing for me. A week later, and lots of thought....I still cannot figure it out.
September 22, 2006
very poor entertainment
September 21, 2006
after reading all these bad reviews, i had to make my way into the theatre and see for myself...judging by trailer,i was in for a treat...in a way,i was...only a different kind of treat....i have never seen more people walk out of a movie than in this one...terrible movie...if you can`t tell a story,maybe you shouldn`t be directing a movie mr.palma
September 21, 2006
bad, boring, bad story, cheezy acting, it was nothing like the trailers
September 21, 2006
It was BAAAAADDD!!! to the bone. /sheep
September 20, 2006
this movie was terrible. doesnt even deserve a 1. I have never walked out of a movie. But I walked out of this one!
September 20, 2006
If the trailer intrigued you then go see the movie, everyone has different interests and different tastes so it`s silly to take advice from people you don`t know, and i wouldn`t advise listening to someone who was trying to say "i was lost from the beginning" but instead wrote "i was lost from the begging"
September 20, 2006
james ellroy is probably my favorite author.... but this movie was embarrassing. sadly I have to say skip it.
September 20, 2006
bad....terrible....need i say more?
September 20, 2006
Was an ok movie. not as bad as most comments say. could have had more with Betty Short though. some pretty kinky sex scenes. Scarlett is sizzlin!!!
September 20, 2006
It was gooooooooooooooooooooooooooooooooooood!!!!!
September 19, 2006
It was baaaaaaaaaaaaaaad!!!!. it should have been called something else as they had very little to do with the name of the movie The Black Dahlia. please don`t keep your hopes up for this one people, save your money for the better days or a better movie.
September 19, 2006
Absolutely horrible! Not even worth a rental fee!
September 19, 2006
What an amazinly sexy noir thriller. great actors. SUPERB! dont listen to bad comments!
September 19, 2006
A very good Movie even though a lot of it was fictional even though it was based on a true crime story it does make you wonder who really killed the Black Dahlia. Overall not bad and good acting.
September 19, 2006
It goes to show that you can not always go by the opinion of others. I almost dodn`t go to see this movie because of the ratings on this site. I found that the movie was well done and entertaining. You had to follow every action to understand the plot. It is not a movie that you could leave to refill popcorn but took every minute of your attention. If you`re willing to pay attention then it is a very well done picture with a number of subplots that all come together at the end.
September 19, 2006
good acting but difficult to follow the story. it could`ve been so much better.
September 18, 2006
its a real stinker!....please dont spend ur money on this....go see something else....
September 18, 2006
I was really excited to see this movie but ten minutes into the film I was asking myself if I was in the right theater watching the right movie, "The Black Dahlia" ofcourse. My point is that the movie had nothing to do with the story of what actually happened to Betty Short. Sure, they made some reference to her throughout the movie but not what I had anticipated to say the least. The acting was good but the movie itself was terrible and a waste of time.
September 18, 2006
commercial for cigarette smoking good acting baaad movie
September 18, 2006
i`d rather see a porno staring Robert Montgomery then have to sit through this load of crap again.....TERRIBLE!!!!!
September 18, 2006
it sucks sooooo bad ... half the people left the half emptied theater !!! Some stupid boxing match in the beginning that has nothing to do with the story. Countless sex scenes with nothing to do with the story. Although is based on a true story, it totally waste such a good storyline with a sad history to back it up. I am soo piss of I kick two dogs on my way home (kiddin) Is not much of a thriller, you will not be scare at all, but instead you will feel like you want to punch the director and watch some other crappy movies instead. Hell man even baseketball or orgazmo or Doom was better than this piece of crap. Stayyyyy away from this film,
September 18, 2006
The movie sucked, it was the most boringest movie I have ever seen. I was lost from the begging to when I got up and left half way through. Don`t waist your money. PLEASE!!!!!!
September 17, 2006
this movie is supposed to be good.. what the hell happened??
September 17, 2006
WHAT?!?!.....how could they do this?!?....they turned a perfect story into a DISGUTSING MESS!!!!!.....poor acting....bad directing....lame setting.....and i thought this was about an unsolved murder...not 50,000 different love stories!...I HATED IT! IT WAS TERRIBLE!....ONE OF THE WORST MOVIES I`VE SEEN IN A VERY LONG TIME!.....
September 17, 2006
It makes you wonder how can a director take a group of good actors and a decent book and come up with such a terrible film. Perhaps the actors were concentrating too hard on how to smoke and hold their cigarettes that they didn`t realize how bad their lines were. Mia Kirshner as Betty is the highlight of the film, unfortunately her part is too small to salvage it. For the last 45 minutes of the film , by the audience`s reaction, you would have thought you were at a comedy, it was so bad, so overdone that you couldn`t help but laugh.