The Call of the Wild - User Reviews
Thank you for rating this movie!
Read your review below. Ratings will be added after 24 hours.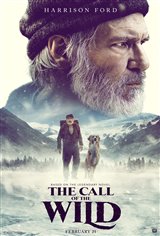 4.24 / 5
User Rating
Based on 644 votes and 111 reviews
---
Please rate movie 1 to 5 stars
Showing 1 to 50 of 111
March 12, 2020
I wasn't sure what I was in for judging by the reviews . I was expecting a fake looking CGI dog but I was pleasantly surprised . I wasn't bothered one bit by the imagery , looked pretty real to me . I found the story line very entertaining with a good mix of drama and humor .
March 12, 2020
Loved the movie, funny and entertaining
March 12, 2020
Just use real animals and treat them well. Not all movies abuse animals. Do some research people. Besides the fact that working class dogs (and MANY other breeds) love to do what people consider work. Maybe if you have a tiny chihuahua you don't understand, but if you have many other breeds you know that these dogs love to be challenged and get bored quickly. Herding dogs love to herd. My St. Bernard is happiest when pulling a sled full of kids through the snow. The rules for animals on movie sets are stricter than rules for people.
March 11, 2020
Even though it was animated,the story line really hits home about the relationship we have with our dogs! How (at times as shown on the movie)are not appreciated as they should be! Very refreshing movie for the whole family(which you dont see very often) Would see it again in a heartbeat!
March 10, 2020
the dog looked so real and i cried a lot it was so good n a great movie for kids
March 10, 2020
Great wildlife adventure. I loved everything about it.
March 09, 2020
Loved it and it inspired me to read the book again. Made me cry, beautiful scenery. Can't believe the dog wasn't real at times!
March 09, 2020
It is a really good adaptation of one of the books I read as a child. My wife and I really enjoyed it.
March 08, 2020
very good story. Very relaxing little theater.
March 07, 2020
Good movie. Took my son who is 10 and we had a good time. We realized beforehand there would be a lot of cgi. No different than a lot of other movies we've enjoyed, from Marvel to Star Wars, Jurassic Park, etc.
March 07, 2020
Animation was great, scenery was fantastic Loved Omar Sy, saw the movie twice
March 07, 2020
Great Movie for the entire family
March 07, 2020
Have seen it once and going again on Sunday. Absolutely loved it,best movie ever
March 06, 2020
Great storyline, enjoy it for what it is. A movie for Kids and Seniors.
March 06, 2020
Just a good movie from a good book
March 05, 2020
Truly, a wonderful movie; the dog Buck, together with Harrison Ford giving a comical, yet also, deep meaning to the relationship between people and animal. People that recognize, respect, and value the enduring true friendship a dog has to offer. The movie plays during the gold rush in the Yukon, Alaska. For Harrison - the role is a perfect fit. And, Buck is priceless to watch...I loved the movie, and will see it again.
March 05, 2020
Disappointed with all the CGI. The dog and other animals looked fake for the first half of the movie. I was hoping it would be more realistic such as Iron Will. That being said, it is still a good movie for the whole family - even kids as young as 5 yrs old.
March 05, 2020
I like many others thought this movie was great and love to see it again!!! I did not care about using animated animals as long as the story was good and you really couldn't tell that Buck wasn't real!!! We had women in our audience who were exclaiming out loud when Buck was being hurt or he had certain emotions such as sadness!! It was a very heart warming and endearing movie. It is good for the whole family and it even had a couple of lessons for anyone who watched it!! I loved that they put so much humor into Buck's personality and we all cheered for him in the end!! Love, Love, Loved it!!!!
March 05, 2020
beautiful, heartwarming, emotional movie
March 05, 2020
I was able to take my 9, and 10 year old Grandsons.....we all loved the action, humor.....very well done... great cast too.
March 05, 2020
One of the best I've seen in a long time!
March 04, 2020
It was a wonderful movie. Yes, the dog is animated, but you will forget about that as it looks very realistic. There is no way a real dog could have played this role. I recommend as a great feel good movie and great for kids.
March 04, 2020
Loved the limited animation worked into movie and fell in love with Buck!
March 03, 2020
Grt movie for all ages. Thoroughly enjoyed it
March 03, 2020
Good story for the whole family. Visuals and CG were amazing !
March 03, 2020
Agree lighthearted version of the book. As an adult I did not focus in the least that the dog not real.
March 03, 2020
Love Harrison Ford. Love dogs. But I would not recommend this a 'must see'. I am not sure who the movie is for...young children would be bored I think. Adult dog lovers...dog isn't real so? Anyway...
March 03, 2020
The movie was a very lighthearted version of the book. Although it deviated in many aspects from the original novel it stayed true to the general story line. It provided many comedic moments with warm fuzzy reminders of man's extraordinary bond with fellow creatures. It is a wonderful feel good movie for all age groups. I loved it.
March 03, 2020
Kudos to the filmmakers for not abusing a dog by putting it in this movie. Because making a dog perform is abuse. Anyone who gives over autonomy of their helpless dog or child to the hands of directors who can yell at them and smack them, make them work long hours, should be ashamed. A CGI dog can also do more, show more expression, and can't be mistreated, or be under the "care" of a trainer who keeps him in a caged run when he's not working rather than a member of the family. This is such a huge step towards having rights for animals, who cannot speak for themselves. Thank you Disney!
March 02, 2020
Awesome,well wrote never know what is next, I had happy and sad tears must see
March 02, 2020
Well, the movie is nothing more than ok. The CGI just ruins the movie itself. Understand, the movie is ok but the cgi just sucks when you compare it to reality. But after all it is a movie.
March 02, 2020
A great message. Harrison Ford and a dog -- cannot go wrong. Heartwarming in this cynical climate we are in. Go with the flow and you will not be disappointed.
March 02, 2020
A purely good movie....delightful story!
March 02, 2020
Finally a movie suited for family. Both young and old will find something to connect with and discuss together.
March 02, 2020
pretty corny but good if you have the mindset of an 11 year old ... a disneyfication of Jack London's novel ... absolutely nothing really authentic in this
March 02, 2020
Movie was very good. Be prepare that it is better suited for kids and for them it would be 5 stars. Acting was good.
March 02, 2020
Great movie, worth seeing more than once
March 01, 2020
An enjoyable family movie. It was a treat to see Ford act and also narrate in the film. Wonderful scenes of the people walking on foot in a cold landscape and then finding warmth in receiving a simple letter from a loved one. Hard to imagine in our world of social media.
March 01, 2020
Very clean. And children friendly!!
February 29, 2020
Excellent movie!!!
February 29, 2020
Absolutely a fantastic movie. Great acting by all. Worth every penny I paid to see it. Beautiful scenery as well especially loved the dog. Highly recommend this movie to all especially dog lovers like my wife and I.
February 29, 2020
VERY GOOD FILM! Different, exciting, better than I thought. Really holds your interest. Absolutely love the way the Spirit Guide animal was incorporated in this picture.. Great family movie and recommend for all Dog lovers out there
February 29, 2020
A SWEET STORY , CLEAN AND FAMILY QUALITY..
February 29, 2020
The only reason I went to see this movie because of Harris Ford and I'm glad I did. Love, Love Love it. Good family movie.
February 29, 2020
Excellent background story. I don't care if they used animation for this movie.
February 28, 2020
Excellent story, excellent acting from Harrison Ford to "Buck" the Dog ! One of the best movies I have seen in a long time !
February 28, 2020
I loved this movie. As always, Harrison Ford was great.
February 28, 2020
Expected more. Good movie for a child.
February 28, 2020
Uncanny valley dog finds hope in drunken Han Solo while in exile in the far North. Yeah... it's that bad. Harrison Ford has NEVER been in a picture this bad.