The Commuter
Thank you for rating this movie!
Read your review below. Ratings will be added after 24 hours.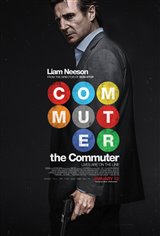 ---
Please rate between 1 to 5 stars
Showing 1 to 36 of 36
April 22, 2018
Good movie. interesting plot
April 19, 2018
Really good, suspenseful, good acting. Worth it to see it in the theatre.
April 17, 2018
I thought it was great. The ending was perfect. I saw it twice.
April 14, 2018
Anything with Liam Neeson on is always entertaining.
February 03, 2018
I liked this movie very much. It seemed like an Alfred Hitchcock genre . It kept me guessing and wondering who the enemy really was. Nelson is perfect and believable as the main character.
February 02, 2018
Liam Neeson rules.
January 30, 2018
Very ordinary. Never was able to care who the unknown was.
January 27, 2018
Ugh... I like Nesson but I can't stomach this drivel.
January 26, 2018
Kind of slow at the beginning, but ends up getting better, pretty good movie!
January 26, 2018
Starts slow. Great movie. Keepsyou on the edge of your seat.
January 23, 2018
Story line, characters, acting - kept my attention. Although it wasn't my first pick, really enjoyed it and glad I went.
January 23, 2018
PRETTY GOOD
January 23, 2018
Good movie, not great, if you love Liam neeson he is great. It's good for first half even a little intriguing but quickly becomes unreal showing scenes that no human would survive. Like I said good not great, I might even give three and half if I could.
January 21, 2018
Excellent acting and suspenseful. A very good Movie.
January 21, 2018
Excellent movie -the comment - don't waste your money - everyone has a chance to read the critics review before going to a specific movie - this way one saves their money and time if the reviews are unfavourable.
January 20, 2018
Despite the few plot holes, Liam Neeson does NOT disappoint.
January 20, 2018
I like Liam Neeson but setting is just inside the train they could have added more settings. I like the suspense 👍
January 19, 2018
This was such a good movie. My husband loved it too. Totally enjoyable and we did not figure out the ending at all. You will not waste your money on this movie. 5 Stars
January 18, 2018
Great movie Liam Neeson was great held my attention full of supense action
January 17, 2018
Great movie!
January 16, 2018
Loved it.
January 16, 2018
good action, and acting. However! falls short in the story and the predictability of the movie is almost cheesy. Could almost have been a made for TV movie. Just poor execution.
January 15, 2018
very interesting,
January 15, 2018
My husband didn't want to see this movie, but he decided to come along and he really enjoyed it.This movie is very entertaining and definitely not boring. It has plenty of action, some thrilling scenes and most of all suspenseful.
January 15, 2018
It's Liam Neeson. It is what you expect...an action movie that delivers.
January 15, 2018
Awesome movie .
January 15, 2018
Stupid, violent, far-fetched, disappointing garbage. DO NOT WASTE YOUR MONRY OR TIME ON THIS STUPID MOVIE. Almost empty theatre. People must know ...
January 14, 2018
Absolutely great movie. Enjoyed it thoroughly, beginning to end.
January 14, 2018
The best ,,,
January 14, 2018
very poor premise for a movie with minimal reason for the story line to unfold as it did. Unrealistic!
January 14, 2018
The storyline was a bit slow developing but once it did you were on the edge of your seat the rest of the way. Non stop action. Perfect role for Liam Neeson
January 14, 2018
Saw this move in Dolby theater and it was great. The screen and the sound were great. The seats reclined and the isles were wide. With this said the commuter was a great movie to see in this kind of theater because of all the action. Acting was great and the seats even viabrated in the action filled parts on the train. Kept your attention the whole time. Full of suspense
January 13, 2018
Liam - rules. Awesome movie.
January 13, 2018
Awesome action, mystery, thriller, keep makin' em Liam!
January 03, 2018
HELLO GOOD AFTERNOON MOVIE FANS. THIS MOVIE THE COMMUTER IS VERY GOOD ACTION AND IS GOOD .