The Dark Tower - User Reviews
Thank you for rating this movie!
Read your review below. Ratings will be added after 24 hours.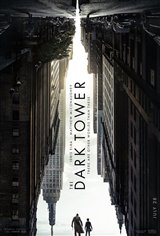 ---
Please rate movie 1 to 5 stars
Showing 1 to 50 of 79
November 03, 2017
Holy demonic plague Batman! I don't usually like young actors in any film but they weren't annoying in this one. Never read the books so apparently this may be an advantage. Understood the premise but the character development was not deep enough, so no able to empathize. Enjoyed the ending but it made me wonder where it would go from here as it seemed Alpha male vs Alpha male. Guess we'll see.
October 10, 2017
Follows the first book very well can't wait for the next movie
September 16, 2017
I enjoyed the movie, story line and action scenes.
September 11, 2017
When you walk out, you'll be trying to figure out all the loose strings. The movie is uneven, detached, and superfluous. Everything that is has no explanation, and the bad guy has no story. It's pitiful to say the least. Stephen, get a ghost writer.
September 09, 2017
Of all the 2 hour sequels out now, this is one of the few that could have constructively used 2 hours and a couple sequels. It just didn't get it. I came in with no preconceptions and enjoyed the movie, but it's obviously a cut down version of the real story. In what might be a back-handed compliment, it caused me to buy all the novels right after I saw the movie. Steven King is an amazing writer, but rarely sees his work translated to movies with the brilliance of his original work.
September 09, 2017
A surprising twist and great acting, yes even from the young stars. Well worth seeing 8 stars but the don't allow that many. An avid movie goer.
September 07, 2017
I enjoyed the movie, story line and action scenes.
August 31, 2017
The Dark Tower movie is a continuation of the Dark Tower books. People who have read the books and are looking for the movie(s) to depict the events in the books will be disappointed. This movie has taken elements of four books in his series. The movie has also changed some important elements in the book that hard core fans will hate. Was the movie good? The movie seemed rushed. This hurts the development of the characters. i also think the changes in the movie don't help the movie or the characters. This movie could have been 2.5 hour event.
August 29, 2017
This movie is OK. Wait for it to come on Netflix, it's not worth getting a babysitter so you can go see it.
August 28, 2017
The only thing in common with the books.. were the character names and a very slim relationship with the storyline. Any continuation of the story would be out of some screenwriters fantasy world and not Stephen Kings.
August 28, 2017
Loved it! Felt too short. But all awesome actors and acting, storyline was great.
August 26, 2017
Went to see it because Idris Elba was in it but enjoyed more than I thought I would. Good movie, will suggest it to others.
August 24, 2017
It was a great movie. Super interesting and different then other movies. Action packed and a great story.
August 20, 2017
Good movie, Matthew McConaughey play the Good evil villain.
August 19, 2017
If you are a fan of the dark tower series and have read all the books, do not go see this movie. So disappointing on so many levels.
August 19, 2017
Pretty entertaining but way too short. Of all the new boy actors this summer Tom Taylor does an excellent job. McConehey as usually was pretty bad but Elba very believable. Story line kinda corny but i was entertained!
August 18, 2017
After seeing this movie I didn't feel anything. I wasn't blown away by the CGI, the story was old, the acting consisted of a lot of staring. I wasn't moved in any way.
August 17, 2017
I have read The Dark Tower series more than once. It is a beloved world that I love to visit. My mistake with this movie was looking at the "star" rating system and not reading the actual reviews. That being said... This movie is the absolute worst movie I have ever sat through. Waste of money, time and intelligence. If you Love the books DO NOT SEE THIS FIASCO!!!!! If you still just have to see it for yourself like I did .... All I can say is... I told you so.
August 16, 2017
As a #1 King fan there was Just soooo much missing from book. It was expectef tho cause no way can all that is told in the book can fit into a movie time span. I am hoping for sequels. What was there was interpreted very well. Loved loved loved all the images inserted thru out the Dark Tower movie from other King books/movies that only a fan would spot!
August 16, 2017
The movie was too hokey. Just a way to get out of the heat.
August 15, 2017
I never read the books but will now. The movie was great and the three main characters were well cast. I have talk to friends who have read the book and it sounds like the movie deviated from the story but what's new. I recommend people see this one on the big screen.
August 15, 2017
Too short for the story it is trying to tell. Rushed arcs, hurried development, and rapid resolutions. It should of been at least two and a half hours but they crammed it into 95 minutes. It will leave you wanting.
August 14, 2017
Knew it couldn't capture all of the books. They did get the spirit of Jake and the gunslinger. I actually enjoyed the movie despite some bad reviews.
August 14, 2017
I didn't read books, but I thought the movie was fantastic! HIGHLY RECOMMEND!
August 13, 2017
It was awesome!! Just the start to more stephen king!!
August 12, 2017
Boring and slow. I actually fell asleep at one point. Very little character development and back story. I think Ron Howard fell asleep when he was producing it. Stephen King's epic story was botched here and I am very dissapointed with this result.
August 12, 2017
Loved it! I hope to see sequels to help scratch the surface of what the books offered.
August 11, 2017
we enjoyed the movie it was very very good
August 11, 2017
I loved the movie it was an amazing film !
August 11, 2017
THAT WAS AWESOME AND AMAZING
August 11, 2017
Always liked Stephen King, this is one novel I didn't read, but it is a fantastic movie, action packed, good special effects, total fantasy sci fi.
August 11, 2017
I love anything Idris Elba is in. A must see
August 11, 2017
Excellent story and effects.
August 10, 2017
This movie is very very cool!!!!!
August 10, 2017
Wonderful job capturing the feel of the book.
August 10, 2017
This movie was really great and awesome!!!
August 10, 2017
Enjoyable non-stop action.
August 10, 2017
Most excellent in every way...will see it again.
August 10, 2017
I enjoyed this movie, was not boring. actors fit their characters well..
August 09, 2017
Junk movie see it on the $6/day.
August 09, 2017
I love the Stephen King's book, but a lot different when it comes to the movie, and love how the kid and Matthew play their characters.
August 09, 2017
I haven't read the books but I've looked into them enough to have a sense of them. I am pretty sure anyone who read the books isn't going to think much of this movie. And that is totally fair. As someone who hasn't read the books, I thought it was not bad at all, and will probably watch it at least once more when it's released on dvd. And I loved Idris Elba as the Gunslinger and hope they proceed to do a television show with him followed by movie sequels as they said they were interested in doing.
August 09, 2017
This series is the most amazing thing i have ever read. This movie is probably the furthest thing from what the books are. Aside from a few cheesy lines and Roland loading his gun super fast, it didn't have anything to do with the actually books.
August 09, 2017
Absolutely terrible, Mr. King and Howard should feel very guilty cashing the $$$ they were paid for this waste of time. Read all the novels in the series and the title is were the movie stopped being based on them.
August 09, 2017
Good movie. I might end repeating the movie again soon.
August 09, 2017
COOL MOVIE WITH GREAT ACTORS!!!!!
August 09, 2017
WHERE DID THEY GET THIS PIECE OF sh*t. THE STORY HAS NO RESEMBLANCE TO THE GREAT WRITINGS OF STEVEN KING. THE GUNSLINGER IS A VISUAL EXTENTION OF KING HIMSELF. I WAS GREATLY DISAPPOINTED WITH THIS REDICULOUS ATTEMT TO TELL AN EXCITING RENDITION OF A GREAT SERIES.