The Disappearance of Alice Creed
Thank you for rating this movie!
Read your review below. Ratings will be added after 24 hours.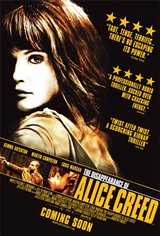 ---
Please rate movie 1 to 5 stars
Showing 1 to 27 of 27
July 29, 2015
One of the all-time best thrillers!!
December 06, 2013
a fantastic movie, with a super-smart script, great acting and directing. Loved every minute of this little gem of a film!!
May 03, 2013
One of the smarter thrillers I've seen. Gemma was great in this film.
February 26, 2013
awesome movie...smart and creative script
July 18, 2012
wow, what a movie! although the content is extremely disturbing, it is without quiestion one of the best thrillers i have ever seen. hollywood should learn a lesson. superb!
June 19, 2012
fantastic thriller!!!
May 24, 2012
loved this original, smart movie. one of the best thrillers i've seen in years.
March 29, 2012
great movie. gemma artratan was fantastic in it. gave me goose-bumps.
October 14, 2011
A fantastic thriller!!!!!!!!
May 20, 2011
Really good movie that still gives me the creeps when I think about it.
March 15, 2011
Fantastic thriller!!!!!!!!
February 01, 2011
I thought this movie was excellent. Very creative storyline and concept. I was at the edge of my seat the entire time. Great performances.
January 18, 2011
Outstanding movie....loved the story and the acting. AN original thriller. I can't wait to watch it again.
January 04, 2011
Amazing thirller. Very well crafted and told with precision. Strong performances.
January 03, 2011
Great thriller!!!! kept me glued to the screen from the first second to the very end.
December 13, 2010
Wow - an incredible thriller/suspense movie. A very sharply written movie and very wellexecuted by the director and actors. It grabbbed my attention fromt eh first minute and I was glued to my seat thereafter. An excellent movie.
October 13, 2010
Excellent thriller with many twists and turns.
October 07, 2010
Tight. Well done kidnapping suspense thriller. There is a part of the plot about a gay relationship. If you object, skip this movie. If you're a fan of great thrillers, this is it!
October 04, 2010
Great thriller - so many twists and turns!
September 29, 2010
Great acting... but only 3 people... and 2 rooms for 2 hours... good for live theater.
September 15, 2010
not bad
September 08, 2010
brilliant!
September 03, 2010
enjoyably!
August 26, 2010
Great thriller - so many twists turns, always keeps you guessing!
August 21, 2010
An intriguing abduction of a wealthy business man's daughter. Full of twists and turns.Great direction made by writer and director J Blakeson. Throwing in gay element and a boyfriend/girlfriend element made worth a hard nose thriller, that have guessing who get money in the end. An unexpected suprize for me.
August 19, 2010
Much better than expected--definitely not for the very young! great cast with an unexpcted ending!
August 15, 2010
a well done and very suspenseful film, with a great trio of actors, keeps you on the edge of your seat throughout and it doesn't leave you when you go from the theatre, it stays in your mind for a long time Clair Sedore