The Divergent Series: Allegiant - User Reviews
Thank you for rating this movie!
Read your review below. Ratings will be added after 24 hours.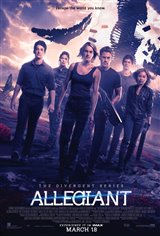 ---
Please rate movie 1 to 5 stars
Showing 1 to 21 of 21
July 03, 2016
Clearly the writers for this movie did not like the way the book ended/went either... Doesn't mean they can/should re-write it...
May 27, 2016
The first movie in the series was the best but I liked this one slightly more than the second one (Insurgent). Look forward to the next one as I have enjoyed the Divergent series at least as much as The Hunger Games despite never reading any of the books.
May 18, 2016
a so so movie, a bit lengthy
May 17, 2016
Movie was okay, Insurgent was definitely better. A lot of action as usual, storyline kinda dragged on at certain points. Never read the books, but I watched the 1st two movies.
April 22, 2016
Not even close to the book. Made for teens not for fans of the actual story.
April 10, 2016
Reviews were so Wrong! Great action and story line.
April 08, 2016
Came in not expecting much, but was pleasantly surprised. Reviews were much too hard on this film. it is one of an ongoing series, and is great popcorn fun. I would say a definite 3.5 out of 5. You'll leave feeling satisfied. Warning, if you haven't seen the previous movie, you'll be lost.
April 06, 2016
I really enjoyed the first two films but this one didn't really cut it. The Sfx were something out of the early 00's and the story was so flat and predicable that it's just sad. Some cool points, but really, a total let down.
March 31, 2016
too bad they hadn't read the book before they made up this fairy tale. It has little to do with the book. This was awful.
March 29, 2016
EPIC! Best movie series EVER!
March 24, 2016
This movie was filled with surprises! I have watched it many times already. A great movie, in my opinion, better than Divergent and Insurgent! The special effects were very different and kept me engaged throughout the whole film!
March 22, 2016
The movie was okay in itself and entertaining, but if you have read the books, you know that it does not follow the story line of the books very closely and has been seriously "Hollywoodized". All the toxicity and high tech stuff has been added, and major changes made to the ending. Each movie has diverged further from the original books.
March 21, 2016
The movie was action packed, surprisingly good as it is part of the sci fi trilogy. It is well worth seeing, a complete fantasy action escape movie.
March 20, 2016
Boring. Stupid people trusting same old villains. Poor, poor story with average acting. Didn't care if heroine/hero lived or died. Won't watch again.
March 19, 2016
Waste of money.
March 19, 2016
I'm a newcomer to this series but I liked it. Thought action, special effects and scenery were good. Liked the characters and actors too.
March 19, 2016
Best date movie ever. Mark and i go to the movies every week hoping to enjoy a new exciting totally believable story, that allows us to feel better about our lives and the society we live in. Everything that happens in this flick mirrors life in Toronto, we need to embrace the entire human race and make our world a much better place. Thank you for exceeding all expectations, we were both awestruck, luv Suzy.
March 18, 2016
Spectacular from beginning to end. Stellar acting, awesome special effects, very well developed characters with very credible authenticity. If you have an intellect like Barrack Obama, you will rate this movie 5 stars, needless to say, the opposite is very much a given fact as this movie is very Cerebral.
March 18, 2016
This series has gotten worse & worse. Feels like a movie rushed off the assembly line. You could have taken actors from a highschool play that would have injected more emotion & feeling into their performances. It felt like everyone was phoning it in just to collect a paycheque. I realize that this is the first part of 2 movies but it has to have one of the worst final scenes I've ever seen. Shailene Woodley might have well just have turned to the audience & gave us the finger & walked off. Can tell they were working with a reduced budget as well horrible CGI. Listless action scenes, what these movies could be with a good action director. Will wait for the final part on my Android box. YAWN!!!
March 18, 2016
It was ok, not the best one in the series. I think I still like the first one the best. I was kind of disappointed with this one, but hey, if you like the series and read the books, you'll want to see the conclusion anyways.
March 18, 2016
It was very entertaining and the actors were great. One of the best movies in the series in my opinion. It kept your attention the whole way through. Loved it!