The Eagle - User Reviews
Thank you for rating this movie!
Read your review below. Ratings will be added after 24 hours.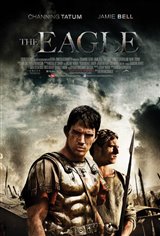 ---
Please rate movie 1 to 5 stars
Showing 1 to 50 of 52
September 17, 2011
Okay. Good action scenes.
August 07, 2011
Unbelievably long, waiting for something to happen. Boring period piece
July 18, 2011
sad that i wasted both time and money. you know a movie is bad when you desperately hope both main characters die brutually.
June 29, 2011
one of the best movies of this year, if not the best. This movie is about honor, loyalty and sacrifice.Channing Tatum's best role yet.
April 04, 2011
My husband liked it but I was so absolutely bored with this movie. I usually like period movies
April 04, 2011
It was a good movie.
April 03, 2011
enjoyed it
March 31, 2011
Hubby and i really enjoyed this movie. We don't pick movies apart, we watch them to enjoy them...great plot, great actors...great movie!
March 27, 2011
I thought this movie was a great movie, so I gave it three stars.
March 27, 2011
First half hour was good then it was boring beyond belief.
March 26, 2011
enjoyed it
March 22, 2011
Typical hisorian film. If you love history in the era and fighting.
March 18, 2011
I enjoyed the storyline and the action. Good job acting job for newcomer, Tatum Channing.
March 17, 2011
Well done - terrific acting - loved the story
March 14, 2011
It was okay. I am not sure why but I was expecting more. It was okay, but not great
March 13, 2011
It was a pretty entertaining movie. I was surprised by Channing Tatum's acting being up to par. Though, if you look deeper into the movie certain historial prejudices and sterotypes are heavily played into...
March 10, 2011
I enjoyed the movie.There was alot of action.
March 07, 2011
enjoyed it
March 07, 2011
This was better than I thought, I was afraid it would be too slow but it was actually very nice.
March 06, 2011
Great acting ,good historical equip.plot was far fetched near end Scots dancing on the beach ????? . Should have given Sutherland BIGGER role he still has it.
March 04, 2011
I was so excited to see this movie but was disappointed with it. Accents were an issue and made it hard to get into because it was un-believable. But it wasnt horrible. It was worth it just to see Channing Tatum for 2 hours ; )
March 04, 2011
entertaining
March 02, 2011
Entertaining.
February 28, 2011
This movie was very well acted and had a great stry line that was a nice change from the usual "gladiator fights for girl". A must see.
February 26, 2011
nice movie
February 26, 2011
Much better then I expected!!!
February 25, 2011
I don't understand how you can claim that there were "colonial stereotypes." You obviously don't know history, the movie is just portaying how the Romans viewe the "barbarians."
February 25, 2011
Great movie. This movie was not made to be a crazy action film like 300 or Gladiator. It was more like an adventure.
February 25, 2011
I loved it and my husband loved it as well.
February 25, 2011
Fabulous movie. I had my heart right into this movie. Gets you into it and is exciting. Story line was very good. You gotta see it. LOVE this show and loved the ending !!
February 22, 2011
loved it
February 22, 2011
Excellent! Very good acting and interesting story line.
February 22, 2011
very interesting view of the native english much like the native northamaericans 1000 years later. The view of Rome civilization in britan was only good for the romans that came there is clear that the natives were exploted and that the natives were less structured but as brutal as the so called civilized romans
February 22, 2011
Bad film! Do not go and see this one if you are looking for an high energy action film. Also there was some serious colonial stereotypes flying around in this movie. I cannot believe the use of the savage image in the attempt to justify colonialism and colonial behaviours! I was really offended by this movie and would recommend not going to see it. This movie pretends to show two sides to the story, but is ultimately pushing the colonial images of good vs. evil, civilized vs. savage, competent vs. incompetent, and so on!
February 22, 2011
A very good action movie
February 22, 2011
Very Good Action Movie
February 22, 2011
Wow ... and not in a good way!!!! This film plays into every stereotype there is surrounding Indigenous Peoples. For example in it we saw the noble savage (Jamie Bell) and the wild savages (Northern Britian. This film creates the image that colonization was a positive act. Also there was very little to the story line in general.
February 20, 2011
A great movie.
February 20, 2011
Enjoyed the action scenes and it was a very good historic drama.
February 20, 2011
If I was ten years old, I would have loved this movie. Not enough action and fighting.
February 17, 2011
Hubby loved and said to give it 4 stars, me not so much
February 15, 2011
It was an interesting movie that is really about the development of trust and the changing of one's attitudes between the 2 main characters. There was a bit of a lack of development amongst the characters as it came off of the screen but if you enjoy your "swords & sandals" it is a decent film.
February 15, 2011
enjoyed
February 15, 2011
Terrific story, well told, I enjoyed the performances, particularly Jamie Bell. Great historical drama, the two stars play well off each other. Worth seeing on the big screen.
February 14, 2011
very anti climatic the entire movie was slow horrible compared to king arthur or gladiator.
February 14, 2011
This is no 300 or even cloe to Gladiator but its not bad. A renter for sure or a tuesday movie for the free popcorn and drink.
February 12, 2011
terrabad.
February 12, 2011
Fantastic!!
February 12, 2011
Ranks up there with 300 and Gladiator