The Expendables
Thank you for rating this movie!
Read your review below. Ratings will be added after 24 hours.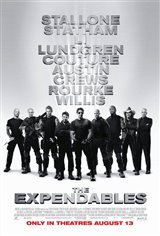 3.97 / 5
User Rating
Based on 1171 votes and 301 reviews
---
Please rate between 1 to 5 stars
Showing 1 to 50 of 301
February 08, 2012
arnold's back and better than ever!
August 22, 2011
Lots of action & lots of great action stars in this one!
February 22, 2011
Lauren Jones hot and sexy !!!!!!!!!!!!!!!!!!!!!
February 05, 2011
a good action move to watch
January 10, 2011
wow, that was one of the worst movies in 2010...maybe in the last decade.
January 10, 2011
One of the worst movies I have ever seen. I never thought it could be this bad.
January 09, 2011
awful....it was painful to watch...especially seeing stallone trying to run.
November 28, 2010
Waste of time and money
November 27, 2010
I actually liked the movie. I usually not big on action adventure.
November 27, 2010
Nice special effects, but that's about it.
November 24, 2010
it was pretty good...always one man left standing sort of!
November 23, 2010
this movie is really bad!
November 20, 2010
soo good to see all these guys together, it was great for guys with all the action and great for girls for eye candy lol
November 19, 2010
Amazing cast! Great to see them all in the same movie!
November 17, 2010
great action also good acting i really enjoyed this movie
November 16, 2010
Action-packed!
November 16, 2010
Wow, Sly getting old, and so is Mickey Rourke, and - oh wait they all are getting up there... All in all I enjoyed this - the premise was about what you expect and, of course, the elite troops all have Stormtrooper syndrome (can't hit the enemy). It met expectations so I can't complain.
November 15, 2010
Love action movies, this movie has good action scenes and lots of action starts but no substance! But it was great seeing the older action heroes!
November 10, 2010
Great movie
November 10, 2010
A complete waste of some good actors, the story is uninteresting, predictable, the acting is mediocre at best. The action scenes are excellent, but with little substance, it gets boring. Don't bother watching this.
November 10, 2010
This movie was action packed from the start and had alot of my favorite actors in it!
November 09, 2010
Sexy, strong and action packed =P
November 06, 2010
love the stars
November 06, 2010
good action
November 05, 2010
awesome lots of action
November 04, 2010
Fun movie, action packed. Best part is having all these guys working together in the same movie,makes up for some of the cheesy moments!
November 04, 2010
Very exciting! Lots of explosions!
November 04, 2010
Awesome!
November 01, 2010
Good action packed movie!!!
October 31, 2010
i loved it lots action
October 26, 2010
To list Schwarzeneger & Willis as being in the movie is quite the ploy...they were in one scene and it was a few lines...that's it. Way too much gory killing violence. Disappointing for an "all-star" cast.
October 13, 2010
LOVED IT! WILL BUY IT! SAW IT 3 TIMES AT THE THEATRE! LOVED IT! tee hee
October 13, 2010
Enough, good plot but we need some new actors.
October 12, 2010
The Expendables was an absolute terrific movie, filled with the best actors and action; it couldn't have been better. I mean seriously, who doesn't like Sylvester Stallone, Jason Stathom, Bruce Willis, and Mickey Rourke? There were the perfect combintation of action heroes put together in the ultimate movie that ruled my top movie list. Why don't they make more movies like these?
October 12, 2010
Great action, enough story, nice vehicles, poor cameo's by Arnold & Bruce, well woth full price admission.
October 12, 2010
Jet Li gets beat a few times but get the kill of the movie n terry crews omg wat a tank. GREATTTTTT movie better be another one with Jet li Killing everyone ha
October 10, 2010
this movie was rotten tomatoes it had a very weak story line, a bunch of old guys from movies in the late 70's and long periods of boredism
October 08, 2010
Did not fully utilize the talents of the all-star cast.
October 08, 2010
good cast
October 08, 2010
like the casting
October 07, 2010
Same old boring story... Good actors but too old to keep doing the same roles they played when they were younger... and Arnold's message of running for president : poor choice of publicity. Action sequences are good though, keeps you interested enough
October 06, 2010
an good action movie with a some of the older actors.. a little bit of comedy mixed in..
October 06, 2010
Good action, poor acting. Just a bunch of old dudes and buddies blowing stuff up and shooting each other. Where's the fresh young blood of actors for these movies?
October 06, 2010
Kinda weak story line but excellent mindless action!
October 04, 2010
weak storyline stellar actors
October 04, 2010
OMG so boring. stupid storyline. the only reason people will watch this is because of the actors in it. but not worth your time and money
October 03, 2010
THE BEST ACTION MOVIE PERIOD!
October 03, 2010
A star packed blockbuster that overcomes a weak storyline with non stop thrills and action.
October 03, 2010
Lot's of great action !!! I loved seeing all those actoin stars in one awesome movie !!!
October 02, 2010
great action