The Grand Budapest Hotel - User Reviews
Thank you for rating this movie!
Read your review below. Ratings will be added after 24 hours.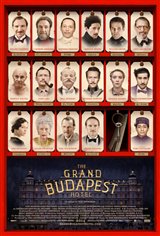 ---
Please rate movie 1 to 5 stars
Showing 1 to 39 of 39
September 02, 2014
Entertaining off-beat comedy.
July 19, 2014
This movie was painful to watch, sooo boring. A major disappointment. Watch the trailer, it shows the most amusing bits. Huge waste of my time.
July 01, 2014
Great and funny story. Wonderful cast and many of them! Well worth seeing.
June 23, 2014
Worth the watch. Not typical comedy, but it had a story line, and had humor. 5/5
May 31, 2014
was a scream with a great cast.
May 26, 2014
In all honesty I didn't care what was playing. I just wanted to sit in that cool old retro theater and eat their "can't be found anywhere else" original theater popcorn with REAL butter. I was really glad I went. I was cracked up by the entire movie. It is Pink Panther style humor so if that is not your cup of tea the comedy will be lost to you. Grand Budapest has a star studded cast that makes you really feel at home with the movie. Others whom I know that have seen it didn't enjoy it like I did but as for me...it was a riot and i walked out happy.
May 12, 2014
This movie was a major disappointment. I went to see this movie because there are a lot of well known actors in this movie. Also, it was supposed to be a comedy. This was a very boring movie. Thank goodness it was only 95 minutes. I'm sure I fell asleep at some point. Not at all what I expected.
April 24, 2014
Astounding movie. I saw it twice and was mesmerized both times.
April 21, 2014
We saw this movie and I hated it, but, my Husband loved it So this only get 3*
April 18, 2014
ok. not great
April 18, 2014
Lots of dry wit, a silly story with a great cast, one of the best movies I've seen lately
April 18, 2014
A wonderful quirky, intellectual comedy, for a select few.
April 17, 2014
Loved it! Not what I expected and uniquely funny. A great diversion from the bullshit action movies of late.
April 17, 2014
Absolutely brilliant. Not the "hollywood" type for sure
April 14, 2014
I would have given this no stars if I could have. It is a movie that drags on and on. If my companion had suggested we leave, I would have. Throughout much of the movie I looked at the time, wished I could text, or sleep. It was awful. Total waste of money and time.
April 13, 2014
The most bizarre movie I have ever seen. I kept waiting for the movie to start. My friend and I laughed for an hour after to think that we wasted the time to see it.
April 09, 2014
I missed the last Wes Anderson outing, Moonlight Kingdom, but word has it he's no longer a underground secret, which is good. The Grand Budapest Hotel, is a delightful addition to his roster, a Andersonian romp or eloquent dialogue, gorgeous sets, and intricate detail. His regular cast is back in action, either in cameo or the forefront, and Ralph Fiennes is a perfect addition to an already booming roll call of favorites. Tony Revolori is a great find, going to toe-to-toe with Fiennes, hopefully he will pop up in future Anderson films. If you delight in Anderson's beautiful cinematography, dollhouse-like detailings and wordy yet flowing dialogue, then you're in for a treat.
April 09, 2014
Off the wall - very different comedy - great cast with beautiful costumes, lovely sets and scenery. A fun-filled and enjoyable afternoon escape!!
April 02, 2014
We hated this movie, thought it was boring, not very funny, acting was ok. We were very disappointed in it. Thought with all the well-known actors that it would be good, don't know why they would have agreed to be in it??
April 01, 2014
It was an excellent movie and I swear at times I was the only one in the theater laughing, for those who missed the humour may find it a tad boring, but for those of you like me it was priceless
April 01, 2014
Ralph F. delivers a great performance. Although classified as a comedy it is of a type that may not appeal to everyone. It was entertaining as it provided a temporary escape from the daily routine.
March 30, 2014
What the hell did I just waste my time watching? What a complete moronic movie -no idea what it was about...save your money...just nose in the air critics could make any sense of this....y'know ..like modern art...makes no sense.
March 30, 2014
Funny, zany movie. Maybe not for everyone, but true to what is advertised. Great cast of characters.
March 30, 2014
A "critics" movie...they loved it...you won't. Not very funny,some "slapstick" comedy. Save your money.
March 29, 2014
The story line lacked; in some parts it dragged on. Would have preferred more comedy and less violence.
March 29, 2014
Oh, what a delightful movie. Great work by Ralph Fiennes and all of the ensemble. So funny. Beautiful cinematography. Wes Anderson is a brilliant man!
March 29, 2014
Fantastic movie. Loved it.
March 29, 2014
It is elegant, funny, it has a subtle irony and depth, it is full of "crazy" action and dark humor. R.F' fantastic performance!Loved it.
March 29, 2014
Some funny moments but for the most part really silly. Didn't enjoy this film at all and I am a real fan of most of the stars.
March 29, 2014
Ralph Fiennes & Jeff Goldbloom are hilarious .I you like Pythons you'll like this.
March 27, 2014
Dead brilliant. If you love THE BIG LEBOWSKI, the Pythons and the screwball comedies of Capra, with some PRISONER OF ZENDA thrown in, this is for you. Superb filmmaking, amazing performances, utterly memorable storytelling. I saw it twice in one week and took my hard-to-impress 15 year-old son the second time. He loved it.
March 26, 2014
We were extremely disappointed after seeing the Marigold hotel a few years ago. The scenery was fake , the dialogue predictable, the car, ski and motorcycle chase reminded me of a cartoon , the violence was not needed or appreciated. This movie would be great as a video game for teenagers who don't care about dialogue but enjoy speed and violence . All in all it was a waste of our money.After the review we were looking for a pleasant evening at the movies. What a shame. Claudine Reme
March 25, 2014
Tony Revolori reminded me of the young apprentice starting out in life to make a name for himself and family at one of the top 10 hotels in the world back in 1982 at Inn on the Park Four Seasons. His compassion, loyalty and unending perseverance enhanced Fiennes bromance
March 24, 2014
WAS SO IMPRESSED BY THIS MOVIE THAT IN MANY WAYS REMINDED ME OF THE PRINCESS BRIDE. RALPH FIENNES GAVE THE BEST PERFORMANCE OF HIS LIFE. WILLEM DAFOE ADDED SUSPENCE AND TENSION TO THE PLOT. ADRIEN BRODY WAS THE PERFECT HEIR TO BE. NICE TO SEE BILL MURRAY AND OWEN WILSON AS WELL
March 24, 2014
AMAZING MOVIE FROM START TO FINISH, GREAT A=LIST ACTORS, ALL STELLAR PERFORMANCES. WAS ON THE EDGE OF MY SEAT THROUGH-OUT.
March 24, 2014
WAS EXCITED TO SEE THIS MOVIE ON MY DATE NIGHT, PERFECT CHOICE. IT HAD ROMANCE, COMEDY, DRAMA, SUSPENCE AND KEPT ME GUESSING TILL THE VERY END AS TO WHO WAS RESPONSIBLE FOR THE CARNAGE THAT ENSUED. THX SO MUCH RICHMOND HILL C. CUDOES
March 24, 2014
RALPH FIENNES WAS SPECTACULAR IN THIS REAL TO LIFE STORY. JEFF GOLDBLUM AS POWERFUL, POWER OF ATTORNEY WAS AWESOME, WILLEM DAFOE WAS A TRULY FIERCE VILLIAN TO SPARK TERROR IN HIS SOON TO BE VICTIMS, ANOTHER STELLAR JUDE LAW PERFORMANCE AND EDWARD NORTON WAS THE PERFECT HIGH RANKING INVESTIGATING OFFICER.THX R.H.CINEPLEX
March 21, 2014
A quirky "English-humor" movie. Crazy, fun and incredibly well acted by Ralph Fiennes and his side-kick. Many famous other actors pop up in this film; watch out for them. e