The Hangover - User Reviews
Thank you for rating this movie!
Read your review below. Ratings will be added after 24 hours.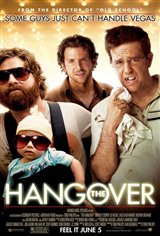 3.96 / 5
User Rating
Based on 2454 votes and 589 reviews
---
Please rate movie 1 to 5 stars
Showing 1 to 50 of 589
October 22, 2010
Not my kind of a movie. Kinda funny in parts but it was a specific type of humour. So you either loved it or hated it.
September 28, 2010
I'll already seen this movie twice and still laugh when I think about it. Well written, cautionary tale about everyone's worst nightmare. Set in Las Vegas is worth points, but it's the crafted, situational absurdity. Perfected cast - best movie baby, ever! And, all is explained but the chicken.
July 28, 2010
Oh man, I've seen this film four times and I've yet to get sick of it. It's a story refreshing in its simplicity: three buddies have to piece together the events of the night before in order to locate thier missing fourth buddy. I think my favorite element in this film are the things that remain a mystery even after the film has ended, like how did Phil get concussed? How did the chair get burnt? Why is there a chicken in the room? I like to assume that they procured the chicken to feed to the tiger, but I guess we'll never know. This movie is a really admirable debut for Zack Galifianakis, who's got some sort of hilarious Ralph Wiggum-esque deadpaness going on. I also especially liked Stu t
July 17, 2010
Excellent movie, its actuallly worth a second viewing. It was hilarious. Good movie to add to a collection.
April 13, 2010
FUNNIEST MOVIE I'VE EVER SEEN.
February 24, 2010
the bestand funnyest movie ever
January 11, 2010
This was a funny movie!! The pictures from the lost camera were hilarious. To guys who comment that there are holes in the plot, give your head a shake its a comedy, an escape from reality even if it just for a couple of hrs
January 07, 2010
terrible i shut it off half way through.anyone who finds this stuff funny. should have a look at our world. we are in big trouble. wheres our values?
January 03, 2010
I heard that it was hilarious...It wasn't even that good ...:s
December 21, 2009
This movie is over rated, there was funny scenes but its not 5/5 or the "funniest movie ever" as many of the people said. 3.5/5
December 17, 2009
maybe im missing something, or maybe actually have too much i.q. but i watched this movie tonight, and thank god i did not see it in theatres, the most i laughed was chuckles here and there, not even close to what i would call hilarious. Then i know its a comedish movie but there are so many stupid holes in the plot which made it even less tolerable. but to each their own.
November 14, 2009
Very very funny. The funniest movie I have seen in a long long time. My face ached by the end. If it comes out in DVD before Christmas, a few people I know will be getting it in their stocking!!
October 31, 2009
could'nt stop laughin from the beginning to the end..................... very entertaning and bradley cooper is the best
October 16, 2009
BEST MOVIE OF THE YEAR. SAW IT SEVERAL TIMES. VERY ENTERTAINING.
October 02, 2009
Haven't laughed this much at a movie in along time. Well written.
September 17, 2009
I Agree!!! It was So funny/Hilarious; I almost laughed from the beginning to the end of it!! It wasn't too raunchy but they did it in a mostly tastefull manner, except at the very end of it. What was the man nude for? I thought that was sickening!
September 17, 2009
I just submitted a comment and forgot to rate it. I would have given it 5 stars if there was no nudity in it and the raunchiness at the very end. Thank you. VERY GOOD PLOT..PLEASE DO MORE INVISIBLE MAN MOVIES!!
August 31, 2009
Even funnier the second time around!
August 30, 2009
Best movie ever!!!! You will laugh from the beginning to the end.
August 29, 2009
FUNNIEST MOVIE I HAVE EVER SEEN!!
August 26, 2009
this has to be the funniest movie i have ever seen
August 23, 2009
Nothing compares to how funny this movie is. Best ever.
August 19, 2009
I'm still in shock about how funny this move was !!! They better win all movies awards on this one!!!!
August 14, 2009
Verrrrrrrrrry Funnnnnnnnny!!!!!!!!!GO SEE IT!!
August 11, 2009
One of the funniest movies I have ever seen. I still laugh when i think about it.
August 11, 2009
Very funny with many unexpected twists.
August 09, 2009
Absolutely loved the movie. Had not seen a such a funny movie in so long. My high school boyfriend and I had just reunited after being apart for 27 years and we could not have pick a better movie to go see, showed us that we both keep our great sense of humor. Unbelievable Thanks
August 09, 2009
Silly, so silly made me laugh so much! Loved it!
August 07, 2009
Hilarious... a must see. I can't believe it was only a 14+ movie with all the stuff in it. Anyway, very funny. 5/5
August 06, 2009
easily the funniest movie i have ever seen. I'm seeing it again tomorrow and I have recomended it to all of my friends....However, i think it should have been rated 18A...but still a great movie.
August 05, 2009
Funniest flick since Friday!!!!!!
August 05, 2009
Great movie! I was expecting it to be "stupid funny" but I loved the plot and have never laughed so hard before. Definitely one I will purchase and watch again and again!
August 03, 2009
Funniest movie I've seen since Anchorman
August 03, 2009
This sounds like a movie I should bring my 2 daugthers too.
August 03, 2009
best movie ever..!!! i havent seen afunny movie like taht in a looong time.. worth to wacht it...
August 02, 2009
Awesome Movie, it is only topped by the credits...it is worth sticking around at the end...talk about "leave em' laughing"
August 01, 2009
great cast, soooo funny
July 28, 2009
HILARIOUS!! I couldn't see the screen 2 minutes into it because my eyes were watering so much from laughing. It's been years since I've gone to a theatre twice to see the same movie!
July 28, 2009
One of the Funniest movies ever Absoulutly loved it
July 27, 2009
the funniest movie i've seen.. extremely funny because every age can relate to it! maybe not that extreme, but pretty close! I'm going to buy it as soon as it comes out.
July 27, 2009
good! 3.7 stars
July 23, 2009
this movie is the funnest movie i have seen in a long long time i dont think i stopped laughing the whole time. some parts i was the only one laughing in the theater and then people laughed at me lauging HAHAHAHAHAHA
July 20, 2009
Started laughing 2 minutes in, and didn't stop until after most of the credits had run. Definately a MUST SEE!
July 20, 2009
I see quite a bit of movies and I found this movie to be one of the funniest I have seen in a while. I loved it!!
July 19, 2009
so funny made me laugh so much i am going to see it again today :D
July 19, 2009
I started laughing from the minute it started. Best movie so far!!
July 19, 2009
awesome movie laughed from start to end :):):):):):)
July 19, 2009
Best comedy I have seen in a long time!
July 18, 2009
Typical trite crap