The Happytime Murders - User Reviews
Thank you for rating this movie!
Read your review below. Ratings will be added after 24 hours.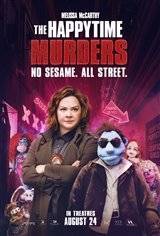 ---
Please rate movie 1 to 5 stars
Showing 1 to 47 of 47
October 13, 2018
Terrible lol, all the funny stuff was in the trailer.
September 23, 2018
The year's #1 comedy!
September 20, 2018
It tried too hard, a few laughs, but not too many. Was very disappointing.
September 07, 2018
I plan on watching this a few more times, so let me know if you'd like to see it.
September 06, 2018
A few funny one liners , crude and crass , Good thing I only paid $5 , watch it showtime next month if you have to.
September 06, 2018
This movie is so bad they couldn't get real actors to play the parts. A sad attempt at humor or whatever this was !!! This movie is a fail , Big time
September 06, 2018
Sad, sad , sad, sorry Melissa I love you but this movie is just BAD . Maybe 13 year olds might find this funny. Lame sex jokes and swearing with muppets ????? Jim Henson's rolling in his grave.
September 06, 2018
Don't waste your time and money. This movie sucks.
September 06, 2018
That's a chunk of time I'll never get back. In spite of a few funny lines, there aren't enough "stupids" to describe it. Who would have thought that a script written for muppets would be so raunchy and quasi porno? Melissa McCarthy must be desperate to lend her name to it. I can only speculate on the demographic who thought it was a 5 star.
September 06, 2018
My partner and I decided short-term to go and see "Muppets for Adults". I must say we laughed from the beginning to the end. The jokes kept coming and coming (reference to the PI and his client intended). I recommended this movie to colleagues of mine. They also fell in love with it. It's one of those movies that will divide the audience into two groups, the ones that enjoy it and the ones that don't. If you don't like it "all street", then don't go! Otherwise you will be in for a treat.
September 05, 2018
I suppose you either love it or hate it; not my cup of tea, and I struggled to not walk out. I am not a prude....but this movie sucks; literally.
September 05, 2018
Demand a REFUND , or save your money
September 05, 2018
1st Movie I ever walked out of. FFFFFFFFFEN SUCKED !!!!!
September 05, 2018
Yes it's crude, but it has its share of tender moments, too.
September 04, 2018
It's still the best movie out there.
September 04, 2018
A couple funny spots,It wasnt quite what I thought. I consider this a Filler movie. Something to watch when youve already seen everything else.
September 03, 2018
Uh, not even worth my time rating it....raunchy adult trash.
September 03, 2018
Go see it, Worth it! I've gone twice already and still laugh.
September 03, 2018
The best who done it? in years.
September 01, 2018
Great acting and loved the twist at the end,
September 01, 2018
It's hard to make a long entertaining movie with puppets alone, well almost.
September 01, 2018
Slightly left of puppet pornography. Does have some off color fun humor. Twist at the end. Hopefully Melissa cashes her checks quickly.
September 01, 2018
Best movie she made to date!
September 01, 2018
Hilarious, Loved it. Would give it more stars if i could
August 31, 2018
Worst acting and plot from this movie.
August 30, 2018
A mystery worthy of Chandler and Christie.
August 30, 2018
Arthur Conan Doyle would be so jealous.
August 29, 2018
Her role was terrible. Movie was boring.
August 29, 2018
I was shocked at the preview and loved it even more when i watched it. Great movie!
August 29, 2018
Great role for her, she keeps getting funnier. Nice to see a movie that is not catered to babies who are offended by vulgar language or porn. Seen it twice and going a third time.
August 29, 2018
Terrible! Just, terrible!!
August 28, 2018
Unbelievable to see this good actress star in a vulgar showing like this. Pathetic. Crude. Crap. Too bad I can't give it MINUS five stars :(
August 28, 2018
I was not so sure which movie I was watching. Lol She is so vulgar and loud. Her new role did not work for her.
August 28, 2018
Excellent movie, going to see it again.
August 27, 2018
A cantankerous puppet and an annoying whale team up to solve a series of murders. A few vulgar laughs are scattered here.
August 26, 2018
Great movie, very funny. Laughed a lot. This movie is for adults, not whinny babies who have no sense of humor. Even after leaving the theatre this movie still put a smile on my face, go see it.
August 26, 2018
Lame. She is already getting boring.
August 26, 2018
I'm just rating it 5 stars because I feel bad that it got 1 stars from a bunch of wimps.
August 26, 2018
Don't waste your time and money
August 25, 2018
I loved this movie ,I laughed like crazy till my sides hurt .The politically correct anal police wont like it ,but who cares what they think. Go see it have a good laugh . If you are easily offended stay home and let the rest of us have a good time.
August 25, 2018
Offensive, crude humor that would only make a 6th grade boy laugh
August 24, 2018
One easy lesson on how to ruin a real comedy. Funny as a porn movie? Have seen nothing but previous and will NOT GO!!!! Would give it less that one star if possible...
August 24, 2018
A hard-boiled detective yarn.
August 23, 2018
Good reviews on IGN and bad reviews on Rotten Tomatoes... so you know it's good
August 23, 2018
Slammed by sjw types but praised by normal people who just wanna laugh
August 18, 2018
What a stupidity