The Illusionist
Thank you for rating this movie!
Read your review below. Ratings will be added after 24 hours.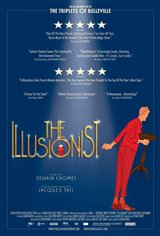 ---
Please rate between 1 to 5 stars
Showing 1 to 13 of 13
April 15, 2011
That's way the btseest answer so far!
April 04, 2011
We don't see very many animated features like this anymore. It truly is a dying breed of art, and the medium echoes the focus of the plot. The story is so simple, yet incredibly entertaining. Don't miss it.
March 21, 2011
I thought this movie was well put together and kept my attention till the end
March 17, 2011
Beautiful animation and sparse dialogue makes The Illusionist a worthy entry into the Oscar fold. It wasnt going to win, but it's use of colour, sound, and the characters themselves are put together in a unique package with a clear love for Scotland. Quite sad and melancholy, but worth the watch.
March 17, 2011
A bit melancholy, visually beautiful, sweet story.
March 15, 2011
boring to the max!
March 14, 2011
If Toy Story 3 hadn't come out this year, The Illusionist would have won the Oscar® for best animated film in a walk. It's a poignant, nuanced film that may be too gentle and measured in its pacing to entertain younger viewers, but holds a wealth of wonderfulness for the more mature audience. The Illusionist is a brilliant, brilliant film.
February 28, 2011
Brilliant and touching film, offering a true feeling of old Edinburgh and a nostalgic and bittersweet look at innocent relationships.
February 17, 2011
amazing film!
February 12, 2011
awesome show everyone should see it
February 07, 2011
touching animation.
February 05, 2011
Compelling story & beautiful animation make for an awesome movie.
February 02, 2011
I really enjoyed watching this movie, and woul definately recommend it to friends and family