The Last Song - User Reviews
Thank you for rating this movie!
Read your review below. Ratings will be added after 24 hours.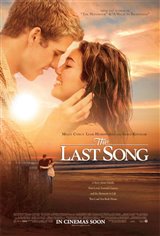 3.70 / 5
User Rating
Based on 784 votes and 197 reviews
---
Please rate movie 1 to 5 stars
Showing 1 to 50 of 197
November 22, 2010
Nice to see some acting real acting chops on Miley Cyrus...and the actor who played her younger brother.Having lost both parents and a sister to illness I can relate to the emotional pain these characters felt.The "save the turtles scene was pretty cute too."I would definitely have this in my library.
November 15, 2010
Not bad at all... I wasn't expecting much from Cyrus, but she was actuallt cast quite well for the role.
August 29, 2010
Very touching movie . It was beautiful.
July 30, 2010
I took my seventeen daughter with me to see this movie and we both liked it very much. we were very impressed by the actor that played the brother. He was exceptional. Some parts predictable, but still a decent movie.
July 29, 2010
Cute movie.....even the 4 or 5 guys in the theatre liked it, I'm sure!
July 29, 2010
touched my heart
July 29, 2010
good movie, bring kleenex
July 29, 2010
Miley Cyrus' debut movie is surprisingly good, she brings a good teenage aura. a bit of a tear-jerker, but expected for a movie about first love and family.
July 28, 2010
Like all movies based on Nicholas Sparks novels..bring your kleenex. It is a sweet story of a young girl discovering herself, her first love and forgivness. A "clean" movie, no gratuitous violence or sex..refreshing.
July 22, 2010
This movie lacked some details that I would have liked/expected to be included (from the book). I was worried that Miley wouldn't do the character justice but I thought she did a good job. An overall good movie.
July 20, 2010
Miley and Liam are so cute in this movie
July 19, 2010
type-casting miley as disney fluff Hannah Montana will get you no where. miley did great for her first breakout role. and this just proves she can carry emotionally charged films such as The Last Song
July 19, 2010
my guilty pleasure
July 18, 2010
A touching and romantic story. I was actually pleasantly surprised. I wasn't sure how I was going to react to another Miley Cyrus movie.
July 15, 2010
Sweet and romantic - one of the better Nicholas Sparks movies :)
July 15, 2010
surprisingly touching, i cried at the end
July 14, 2010
True love story. Awesome
July 14, 2010
it was just fantastic
July 14, 2010
Loved it. The book was better, though.
July 14, 2010
I loved this movie
July 13, 2010
Miley doesn't pull off this type of character. When I look at her, I still see Hannah Montana. Not this rebelious young teenager that found love on the beach. Not a fan of Miley's acting skills either. However, the leading young man in this movie is very good.
July 10, 2010
Miley Cyrus can't act. Miley Cyrus can't sing. Maybe someone should tell her pimp daddy that she should get an education! Pathetic.
July 08, 2010
This movie was pretty decent. Mostly faithful to the book. Nothing too much to nag you. I do recommend to read the book to get the real reason behind some of the things that did happen.
July 08, 2010
Decent movie.. not great by anymeans. The novel is MUCH better
July 08, 2010
I really enjoy the movie,very touching,emotional.I still prefer the book,one of my favorite part wasn't it,the part where Galadriel gets burns by Marcus.
July 08, 2010
Horrible love plot
July 07, 2010
The only reason anyone would enjoy this movie is because they are insanely obsessed with Miley Cyrus...it is plain as day that she cannot act for XXXX!
July 07, 2010
I thought it was a very good movie. One of Miley's better acting jobs. It had me in tears.
July 05, 2010
Loved the movie, but didn't like Miley as a actress.
July 05, 2010
Pleasantly surprised that the movie didn't stray too far from the book. A good adaptation. The acting was a little weak without the presence of a great lead, but overall the movie was worth seeing once.
July 04, 2010
Miley Cyrus was a horrible actress in this movie. When things got to be serious the emotions didn't seem real.
July 02, 2010
Unfortunately this will not be Miley's last song.
July 02, 2010
Great storyline yet again by Nicholas Sparks. Another typical chick flick. I definitely enjoyed watching, but there was nothing extraordinary about this. Glad to see Liam Hemsworth on the screen. Hes definitely a great actor.
July 01, 2010
Great story line it was not very well executed.
July 01, 2010
I liked the storyline, however Miley Cyrus' acting wasn't good at all, and I thought that really effected the movie :(
June 30, 2010
A little slow. Good movie for a young audience. Had everyone crying.
June 30, 2010
I hear good things about The Last Song. I still have yet to watch it. I MUST! I love Miley Cyrus! :)
June 30, 2010
A great chick flick. Loved the story line. It had everything that I was looking for in a good movie. I related to having a dying father and it brought back memories and a few tears too. Loved it.
June 30, 2010
Did not want to see this movie at first due to Miley Cyrus. Went anyways and actually enjoyed the movie. Miley's performance lacked quite a bit in the begining but made up for it by the end.
June 29, 2010
Such a good movie
June 29, 2010
it looks awesome and filled with drama and love
June 29, 2010
Miley Cyrus needs to go back to playing a role more suiting her capabilities. Hannah Montana, anyone?
June 29, 2010
Miley Cyrus was a nice surprise
June 29, 2010
I really liked the movie and I thought it did a good job of staying with the book. I also thought the acting was really good.
June 07, 2010
Too good, and too sad for words!
May 22, 2010
Miley, you were awsome!
May 18, 2010
Story line was weak.Save our money and maybe watch when comes out on dvd.
May 16, 2010
wrost movie ever bad acting Miley Cyrus stop acting
May 11, 2010
This movie was BEAUTIFUL i'm not a fan of miley but i have to admit she was fantastic in this movie i cried, i laughed i LOVED it