The Man With the Iron Fists - User Reviews
Thank you for rating this movie!
Read your review below. Ratings will be added after 24 hours.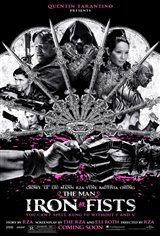 ---
Please rate movie 1 to 5 stars
Showing 1 to 16 of 16
November 15, 2012
Roger Moore will ALWAYS be James Bond.
November 15, 2012
It's so cheesy it's good! A nice dose of nostalgia from imitating old HK action films. I find it light and comedic, but not for everyone. You either hate it or love it.
November 11, 2012
verry good
November 09, 2012
My favourite Bond movie!
November 08, 2012
Underrated Bond film! Christopher Lee makes a great adversary for 007!
November 08, 2012
Lucy Lu lesbian scene well worth the price of admission. Russel Crowe's gay warrior character is hilarious.
November 07, 2012
poor movie for Russel Crowe.
November 07, 2012
corny dialogue that seemed merely read out, as though reading a graphic novel, but fun to watch the antics and fight action, except too many fight scenes were shot too close-up and often too blurry to tell what's going on. only about two girls were nice to look at, but at least the other east asian girls got work as well as the east asian guys. their dialogue inexperience in front of the camera shows, except for Russell-C, he did his role/dialogues most realistic except a few mumbling parts. hilarious hair on some of the barbarian east asians.
November 06, 2012
It was not awful, just alright Lucy Lu and her girls were worth watching. The fight scenes alone are worth it, props to RZA although I would have cast the lead role to someone else and just stuck to writing and directing the movie coz bro was emotionless.
November 04, 2012
Reminds me of a 70's style movie, except the dubbing and moving lips
November 04, 2012
Not even worth watching on DVD
November 04, 2012
Really over the top but still a great movie with lots of actions!
November 03, 2012
Thank You RZA!!!
November 03, 2012
I wasted my money and my time warching this movie.
November 03, 2012
Just aweful, this the first movie I've walked out of in years. I can't believe Russell Crowe agreed to be in this. Dom't waste your time or money.
November 02, 2012
This was the cheesist movie I have seen ever. The best part of this movie is that after 30 minutes you find the movie to be crap, you can get your money back. I got my money back.