The Matrix Resurrections - User Reviews
Thank you for rating this movie!
Read your review below. Ratings will be added after 24 hours.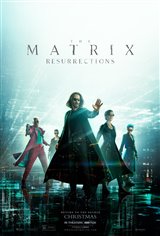 ---
Please rate movie 1 to 5 stars
Showing 1 to 50 of 68
June 27, 2022
It was already terrible, then that odious piece of garbage Jada Pinkett-Smith showed up. A celebration of amorality and dissolution.
March 08, 2022
The mayest Gaytrix of all.
March 02, 2022
Was waiting to be awoken from this nightmare simulation, but never was.
March 02, 2022
The writers should be buried alive along with the entire cast of this movie WHO SOLD THEMSELVES FOR A PAYCHECK. This movie was sequence after sequence of poorly filmed, amateur imagery that provided the illusion that only a D minus Broadway show could offer. I would rather eat a pack of cigarettes than watch this again.
March 02, 2022
Pretty sure they used this film as a front to funnel money.
March 02, 2022
Cult Classic. As bad as the movie "The Room". Maybe one day James Franco can write a movie about how it ever got made and the delusion clinically insane lunatics that made it.
March 02, 2022
RED PILLED me big time. Wildly bad. Like Unbelievably bad. Not a good scene. Not a good moment. Useless characters taking up screen time to say non sense, good actors not given a hope in hell of pulling off a good performance. Lighting like a primetime romantic sitcom. SOOOOOO bad!
March 02, 2022
Captures the pathology of our times. Culture in crisis, literally sabotaging legitimate art.
March 02, 2022
BEYOND imagination. BIGGEST FAILURE OF HOW TO SPEND $300 MILLION DOLLARS!
March 02, 2022
The words 'utter disappointment' come to mind. Also, 'refund'
February 20, 2022
This is what happens to an iconic franchise when you let a liberal transvestite told by studio heads that it will be a 'good idea' to make another movie ($) only to end up sabotaging it. No need to talk politics. This movie is a complete disaster.
February 20, 2022
Terrible by comparison to the original Matrix, and terrible on its own. It's a legitimate travesty. So bad.
February 17, 2022
Definetly the worst matrix movie. Lacked action and substance, everything just seemed kind of forced. Dissappointing.
February 02, 2022
An incredible journey.
January 27, 2022
Once again the Matrix reveals itself as a beacon pointing the direction sci-fi must go. Even better than the 3rd one!
January 24, 2022
All the flashbacks to the original series were perfect. Neo still can kick a--. Well worth it if you loved the original. Storyline came together for me. Go see it!!
January 13, 2022
I like the beginning, it had promise. After, movie fell apart. Sad day. Glad have hbo. Id be u happy if paid
January 11, 2022
Part one of a brand new trilogy and the possibilities are endless! Endless!!
January 10, 2022
This movie may go over the heads of most, but true Matrix fans will be fascinated and enthralled.
January 09, 2022
Movie was boring for first 45 min and walked out.
January 08, 2022
This is more of a story than action. It happens after the end of the third movie and how the characters were tricked into complacency by the computers and how they realize it.
January 07, 2022
The Matrix has changed the game again. Action on a grand scale, with a solid script and top performances from all. Simply marvelous.
January 07, 2022
It's the best.
January 06, 2022
I was blown away by the latest chapter in the Matrix franchise! Obviously, it wouldn't make any sense without the previous films and the Animatrix but I really loved where they took it - very meta! For anyone who is a Matrix fan, I would definitely recommend Resurrections!
January 06, 2022
The year's best sequel. Welcome back, Neo!
January 05, 2022
Not worth seeing at all...zzzzzzz.
January 05, 2022
I WISH I WOULD HAVE WATCHED THE PREVIOUS MOVIES AGAIN SINCE IT WAS HARD TO REMEMBER HOW WE GOT TO THIS POINT FOR THIS MOVIE! SHOW WAS VERY DULL FOR THE FIRST HOUR OR SO BUT PICKED UP THE PACE LATER ON! TOO MUCH KUNG FU FIGHTING FOR ME! THE ONLY SAVING GRACE FOR THIS MOVIE IS WHEN THEY WERE IN THE ALIEN BOT WORLD TRYING TO SAVE KEANU REEVES! SUPER SPECIAL EFFECTS BUT THE MOVIE WAS TOO LONG AND COMPLEX!
January 04, 2022
As Keanu said, this sequel has a very good "why". It's a sophisticated film with amazing effects, excellent acting, clever dialog, and hidden references. Even the layering of the film and the way that its pace changes makes you think about reality and what is real. It helps if you've seen the previous films though.
January 03, 2022
This movie made me realize what they don't want us to do, and that is to grow your own food, buy your own land, stay away from the noise of propaganda. Its the last thing they want, they want civil war, want chaos. I just want my own animals, vegetable, fruits and peace and quiet.
January 03, 2022
No new ground here. The magic of the first is lacking. Definitely not worth a ticket price. A renter, maybe...
January 02, 2022
Our whole family does not understand why the reviews have been so negative. It's well done. Period. Good acting, action, interesting plot. We are actually seeing it for the 2nd time now that we have spent the last 3 nights viewing each of the prior Matrixs. Super good movies!
January 02, 2022
instead of a long rant ill just say this. Around 80 percent of the movie is just rehashing whats already happened including but not limited to the same exact scenes from previous movies shown to you again. They inject a bunch of social justice garbage for the commie kids and continue to laugh at you as towards the end of the movie you realize this is just an extremely low budget trailer for the video game they spent millions on making with the unreal 5 engine.The game looks good but i had to watch hours of people talking about their feelings. absolutely minimal action. dialogue useless conversation a waitress could have written in 30 min. they spent more time worrying about having certain people playing certain roles than they did about if anyone would enjoy this garbage.
December 31, 2021
Totally unneccassary movie. Matrix in name only. Keanu should focus on John Wick or some indie movies because he´s too wholesome for Hollyweird.
December 30, 2021
A new Matrix classic!
December 30, 2021
To understand and appreciate this movie, you have to watch the first 3 to understand the details and to appreciate the importance of Neo's and Trinity's relationship. There are some bad movies out there and this movie is not one of those movies.
December 30, 2021
Exciting and fast paced. The storyline moved forward with interesting visuals. Characters/actors were at their best. Why he was there eluded me because I could not remember the last movie ending... still great!
December 29, 2021
A new high for the series.
December 29, 2021
Taking place 60 years after Neo is recaptured it is nice to see that there is a war between two machine factions represented by Agent Smith and the Analyst And some of the technological updates have some nice visual qualities. But this is simply a rehash of the first, and better, MATRIX movie.
December 28, 2021
Seeing it again for the tenth time.
December 28, 2021
Yes there is alot from the older movies in this film but it showed out as a way to bring in new things as well. The movie was slow at start but i really think it was needed.to better explain whats going on just give the movie a chance and have a open mind when watch i really think the next installment.will give more as we progress through this new story
December 28, 2021
This is where cinema needs to go.
December 28, 2021
Obviously this film wouldn't exist without its predecessors but it is truly a brilliant entry in the Matrix canon
December 27, 2021
This is a game-changer, no question.
December 27, 2021
I loved Carrie-Anne Moss's performance. She is a badass.
December 27, 2021
The best part of this nostalgia was the interesting updates in the visuals. Occuring sixty years into the Matrix future, with a war between rival machines for energy, the analyst and agent smith fought each other using Neo and other humans as pawns. Again, the technological updates were the best part of the movie.
December 27, 2021
Save your money and if you don't want to ruin the last 3 experiences, don't watch the 4th. Zero originality and when they redo what they did in the past isn't simply not done as well. Horribly disappointing from beginning to end.
December 27, 2021
The most entertaining movie in years!
December 27, 2021
Pure trash, horrible fight scenes , the action was a mess and Neo was a sad situation
December 27, 2021
I think I need a pill to erase my memory
December 27, 2021
It was all around terrible Neo was sad as a hero and trinity was the only hero but the fight scenes and the action was a mess , 2 and a half hours of our lives wasted, pure embarrassment