The Meg - User Reviews
Thank you for rating this movie!
Read your review below. Ratings will be added after 24 hours.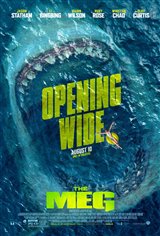 ---
Please rate movie 1 to 5 stars
Showing 1 to 49 of 49
November 17, 2018
Great movie
November 07, 2018
TWO THUMBS UP!!!!!!!!!!
November 04, 2018
Excitement
October 26, 2018
Lots of action for a shark movie, it was enjoyable.
October 20, 2018
AWESOME POPCORN MOVIE
October 05, 2018
Great movie, good special affects, good all around movie
September 30, 2018
One of the best shark movies since Jaws and deep blue sea
September 23, 2018
I liked it, lots of action.
September 21, 2018
This movie is great i love everything about it my 10 year old enjoyed it very much and in general it was a great movie mostly because jason is the star
September 18, 2018
Unbelievable. Poor Jaws spin off!!!!
September 11, 2018
Enjoyed the movie
September 05, 2018
Fun movie , kind of JURASIC PARK under water . No bad language , nothing scary for younger kids. Good guy's win.
September 04, 2018
Don't look for anything deep here and you will enjoy this movie...it's summer fun, exactly what you would expect from the title, not rocket science??
September 03, 2018
OMG WOW. This movie was action for sure but an excellent thriller all the way. I was alone and I could not help letting out a small scream, Oh, No! Just when you thought it was over and they got the Shark then there comes another huge Shark and more tragedy. The little Chinese girl is cute. And the respect and love grew between the hero and the girl's mother is heart warming. The movie had everything in it. It is true the movie lost its creditability when the Shark went in the beach area where there were swimmers. Perhaps, the Shark was mad by now and sought revenge for anyone evading his territory.
September 03, 2018
Good Movie, enjoyed it, went by fast. Yes its another Jaws but it is enjoyable.
September 02, 2018
Almost better than JAWS 3-D. This should do for sharks what Snakes on a Plane did for Delta Air.
September 02, 2018
Another Hollywood rip off. The movie wasn't released, it escaped!
September 01, 2018
Formulaic, predictable, and not so good.
August 30, 2018
A piece of junk, but well made junk.
August 28, 2018
Wow this movie was super cool. Oh yeah!!!!
August 26, 2018
Excellent movie. We know is fake lol but it was an amazing action movie.
August 26, 2018
Jaws on steroids. Lost credibility when Meg is cruising thru waters where swimmers are wading. A + is when you see Longmire star Robert Taylor in a supporting role/hero.
August 26, 2018
I'm pretty tired of all the fake reviews on this site. The movie is predictable and tiresome. I wanted to throw something at the screen. You will forget all about this movie by tomorrow
August 26, 2018
*LeTs tAkE sOmeThiNg tRue anD cRaP AlL oVer It*
August 25, 2018
Great movie. It had my wife jumping in her seat. It has a lot of good action parts thru out the movie.
August 25, 2018
I really enjoyed this move,great action movie, a few times I was at the edge of my seat.Good story for a shark movie.
August 24, 2018
I Really enjoyed this movie. Great comedy moments a few feels moments and a lot of well timed jump scares and startles. Had to subconciously dodge a flying plastic cork/door at one point as I watched it 3D. Everything you want in a shark movie.
August 24, 2018
Absolute thriller! Every character very good! Casting is awesome. Literally jumped out of my seat four times!!! Can't wait for the sequel. I am definitely going to see it again. Adore Jason Statham and the billionaire oh yeah and the little girl and her mom and grandpa and the guys..... well crap I loved the whole dad blame movie!!! Go see it you will love it!
August 23, 2018
This movie in my opinion a great summer thrill with good acting, impressive CGI and unlike most shark movies thats been released over the years it doesn't go with stupid gimics like tornados, hybrid sharks , zombie sharks and any other shark movie that made no sense , not only does the meg execute the shark well but also how its there and is still alive instead of just saying its there cause its there , is it flawless no every movie has flaws even amazing box office movies like jaws but in my opinion the meg is 5 megalodon corpses being chomped by a bigger one out 5 (#deckershado)
August 20, 2018
I thought movie was great, few surprises in it and I love Jason Statham. Lots of action. Would even go see it again.
August 19, 2018
Fun movie, I tried the D-Box seats and it made the movie super fun, took my grandson and we had a blast. The movie was done well with good action and side action. We were up and down and definitely startled many times. The D-Box rocks
August 19, 2018
Awesome movie!
August 18, 2018
Great movie! Must see.
August 18, 2018
Not unpleasant but utterly preposterous. One he-man escapes far, far to many brushes with death to go one-on-one with a mammoth ( but dumb) eating machine. Guess who wins?
August 17, 2018
A good summer flick. Really enjoyed!
August 16, 2018
Just enjoyed it! And the "Pippin" seen was classic!
August 15, 2018
Ok, not that exciting. Good summer movie with a shark.
August 15, 2018
It was ok, not blood and body parts.....different than I expected. It was more about the scientific aspect. Honeslty, not that exciting, but I liked the cast of actors, and then, 2/3's through, you thought it was over, and of course, more of the shark.
August 14, 2018
This movie gives you everything you want in a 'shark' movie! I really liked it and thought it was very well done.
August 14, 2018
Good summertime flick. Lots of cliche's and predictable plot points, and in some parts some pretty cheesy dialogue, but for pure entertainment value it is never boring and has some pretty decent action sequences. One of those "leave your brain at the door and just enjoy with a big bucket of popcorn" movies. If you're looking for an artsy/indie movie with intellectual overtones and character-study feel, this is not the movie for you. Also, this movie is surprisingly not that bloody. Whether that's a good thing or a bad thing is for you to decide.
August 12, 2018
I enjoyed the movie.. brother not as much as me.. only reason it is not a 5 is there should of been more Carnage and Mayhem.. but overall a great movie
August 12, 2018
Good action although highly predictable. You will like if enjoy shark movies.
August 12, 2018
Will definitely worth watching and wil be going again, Jason... you rock
August 12, 2018
pretty good acting but, the movie didn't show enough of the star in my opinion ..... by star I mean the shark . Some funny bits ,some scare you bits , but mostly the shark scenes are a fin gliding through the water . That earns 3 stars in my book .
August 11, 2018
Good movie great actors. Very suspenseful
August 11, 2018
It was very well done. It will keep you engaged and on the edge of your seat the whole movie. You will definitely love this movie!!
August 11, 2018
Wow! Definitely one of the best movies I have seen in a while. It had me on the edge of my seat and screaming with the best.