The Miracle Season - User Reviews
Thank you for rating this movie!
Read your review below. Ratings will be added after 24 hours.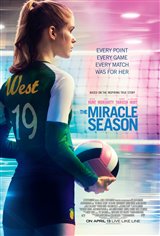 ---
Please rate movie 1 to 5 stars
Showing 1 to 24 of 24
April 28, 2019
Slow paced & dragged on far too long - lousy acting
May 06, 2018
I love Helen Hunt. She's so down to earth. She's a great actress. We need to see more of her.
April 20, 2018
I have seen it 6 times and will be seeing it again and HIGHLY RECOMMENDED
April 19, 2018
Good movie for young girls.
April 16, 2018
Absolutely loved the movie! Inspirational and uplifting!
April 16, 2018
worst movie i've seen in a very long time. pure contrived cynical dreck.
April 14, 2018
I liked it because of just the way it's was made and the way I like to play volleyball and other than the death of the star player it was amazing
April 14, 2018
I loved this movie so much and Highly Recommended
April 09, 2018
What a pleasant change....no violence, sex or bad language and it STILL was an enjoyable movie! Predictable but still an upbeat, make your heart feel good movie!
April 08, 2018
GREAT STORY, I LOVED IT
April 08, 2018
A well made feel good/ tear jerker film. Well paced and very well acted.
April 08, 2018
This was an amazing movie!! Well scripted and acted. Not over the top. Even scripted and held my interest from the first sceen to the very last. The power to overcome is embedded in all of us. This movie represents that spirit in spite of tragedy. Highly recommend!! The naysayers are those clueless people who have zero ability to recognize the true depth of human nature.
April 07, 2018
Worst chick flick sob story schlepp I've ever seen. Bad acting, bad direction, bad everything. I give it one star for the beautiful dog.
April 06, 2018
Great to see Helen Hunt back on the big screen and HIGHLY RECOMMENDED
April 06, 2018
BEST MOVIE EVER!!!!!!!!!!! AND 10 STARS
April 06, 2018
Nesta Cooper just rocked this movie and soooo cool
April 06, 2018
AWESOME #NESTA COOPER
April 06, 2018
Loved this movie.............Nesta Cooper did a great job as Lizzie Ackerman and AWESOME
April 05, 2018
TWO THUMBS UP!!!!!!!!!!!!!!!!!!
April 05, 2018
LOVED IT AND AMAZING
April 05, 2018
GIRL POWER!!!!!!!!!!!!!!! AND AWESOME
April 05, 2018
HIGHLY RECOMMENDED AND SOOOOO COOL
March 09, 2018
Filmed in Vancouver, BC - what a great story of overcoming.