The Mummy Returns - User Reviews
Thank you for rating this movie!
Read your review below. Ratings will be added after 24 hours.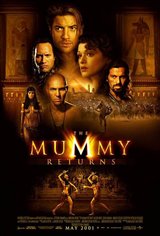 ---
Please rate movie 1 to 5 stars
Showing 1 to 20 of 20
September 01, 2008
i realy like Ronold vosloo as Imotip
February 24, 2007
I thought this movie was brilliant. the same the first except better stoy line.
March 05, 2004
wonderful picture and ultimate direction amazing seens of anubis soldiers wow really excellent and marvelous picture really i like to see this picture very much i saw 17 times what a beautiful picture really the fight seens are very super and fighting art is very super really i like this picture vry much bye bye bye...ur s damit
August 23, 2003
Wonderful! Exciting, romantic, scary, and sexy all in one!
July 20, 2003
I think is so many things in one.I love it.I wach Every day.I am the biggist fan of THE MUMMY.
October 12, 2002
It`s very cool. It`s grate. I like to much the movie. sometimes I see the movie. Is my favorite movie.
July 26, 2002
A great adventure. some parts of it were just unpredictable. a great success
July 05, 2002
What an adventure! I hate to make comparisons, but doesn`t Indianna Jones come to mind? Much eye candy throughout the whole movie, and really fun action scenes. You may want to upgrade your home theatre for this movie!
June 09, 2002
I think it was a great movie. I enjoy movies about myths and revealing truths of the past.
June 05, 2002
I liked the 1st better.
May 12, 2002
This movie was terriable I can`t believeable the horriable acting jobs brought on by the Rock and Yes Brandan Frasier. Another thing the plot went way to fast and there was some points in the movie where they could of slowed things down abit. It always feels like they try to cut the movie in half by editing out alot of material. I think this movie deserves 1 star well that is how I`m rating it.
March 18, 2002
they just had to make it more diferent from the first mummy
February 27, 2002
i absolutely fell in love with this movie it`s the greatest movie i`ve ever seen!Brendan Fraser is to die for,he`s the sexiest male that ever lived!LOVE YA BRENDAN!!!!!!!!!!
February 10, 2002
I thought it was absolutly fantastic. It has an awesome cast of characters and great effects. I thought it was just as good as the first
January 31, 2002
Didn`t like it very much. Good visual effects, but it`s so unrealsitc and lame. I guess that`s why it`s a sci-fi/action movie!
January 29, 2002
ABSOLUTELY AMAZING...visual effect. Franckly, the story isn`t really mature. But it have strong power to make viwer`s full attation. You will even forget yourself during watching this moive. There is no need to talk about the visual effect. It was just SO-GREAT. I had to purchase the DVD.
January 20, 2002
I thought is was one of the best movies of the year
October 21, 2001
I think this movie was great!I totally loved all the action and excitement!I also really enjoyed the way the actors played their parts in the movie,they did an excellent job,good work guys!Also,Brendon Fraiser is so HOT!!!!!!!!!!!!I love him!
October 08, 2001
Well, I think it is not as great as the first one. Also, Brendan Fraser s acting is good.
October 04, 2001
great movie