The Mummy: Tomb of the Dragon Emperor - User Reviews
Thank you for rating this movie!
Read your review below. Ratings will be added after 24 hours.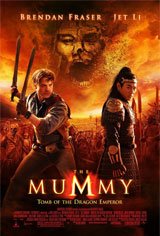 3.64 / 5
User Rating
Based on 787 votes and 121 reviews
---
Please rate movie 1 to 5 stars
Showing 1 to 50 of 121
July 16, 2009
Good movie. Sort of cheesy, but action sequences were well done. 3 stars.
May 17, 2009
IT SUCKED! A big disappointment after "The Mummy" and "The Mummy Returns".
May 14, 2009
So now the mummies can fly and do fire attacks etc, isnt just a bit too much? But overall, Jet Li's act was good, and that was all that mattered in the whole film!
December 21, 2008
it was Ok, but the efficts were great and the reset of the movie was a waste of time! good thing I rent it!
December 19, 2008
A wild ride!
December 19, 2008
so stupid
November 02, 2008
it was the best mummy movie ever
October 09, 2008
The action was spectacular not the first film but still very good
September 26, 2008
Wasn't Worth The Wait
September 21, 2008
Wow that was wild!!!!!!!
September 13, 2008
JACKIE CHAN AND BRENDAN FRASER MADE A GOOD MIX IN THIS MOVIE
September 06, 2008
It wasn't necessary to change the plot of this movie so much. From the real idea of mummies and action, the movie went to the Chinese history where there's no mummies history actually and never there will be. Brandon's son in the movie doesn't have to be so grown up and by changing Rachel with another actress (Maria Bello), the magic of the movie is lost. Overall I like it but I'm a bit disapointed. You shouldn't change the story!
August 31, 2008
If you want to see it, wait until it comes out on video. It wasn't anywhere near as good as the first two.
August 31, 2008
That was the best movie i saw since Ironman and Ironman was pretty damn good. I mean 3.60 what the hell are people thinking?
August 26, 2008
Worst than Mummy 1 and 2
August 25, 2008
I hadn't been looking forward to a sequel this much since "King Kong Lives," and like that earlier monster classic, "The Mummy: Tomb of the Dragon Emperor" delivers!!!
August 25, 2008
Terrible, there was somewhat of a plot but, it wasn't reinforced with anything that happened in the movie, and there was really nothing goo about it!!!!! I'd rate it a 1!!!!
August 24, 2008
I walked out...and I NEVER walk out! I have seen plays better than this movie. Yes...PLAYS!!!
August 22, 2008
didnt like it
August 22, 2008
NOt that good
August 20, 2008
The movie was very redundant and had parts missing in it. It's a renter for sure. Save your money for something better to come along.
August 18, 2008
I enjoyed the story but the script was weak. I felt Maria Bello as Evelyn was wooden and I didn't feel any chemistry between her and Brendan Fraser's "Rick". John Hannah was wonderful as always and Luke Ford wasn't too bad but the script left the actors down. Jet Li and Michelle Yeoh were great. It's too bad as the first 2 Mummies movies were fantastic. I often felt that the O'Connell's were acting "out of character" from what we had seen of them in the first 2 movies and even though I enjoyed some of the stronger emotional scenes, as a whole the movie came across as weak. Please, get a better script, keep Brendan Fraser and John Hannah, and getting Rachel Weisz back for Mummy 4 is a must.
August 17, 2008
great fun as always.. hope they continue the series, however I have no clue where they'd take it from here :)
August 17, 2008
okay first off this is not a must see film but it is watchable... the new evelyn and alex are SHOCKINGLY BAD! and some of the scripts were CRINGY like the bit with alex and the chinese woman thats just bad, but in total this is a good film but it is totally different to the first two... and jet lei has a bit of a random role turning into a 3 headed dragon...
August 17, 2008
dont waste your time stupid
August 17, 2008
wasting time and money is an understatement. 1 & 2 were great but this one was just GARBAGE!! They took a great story and ruined it as I wanted to walk out on 5 differnt occasions.
August 16, 2008
I wasted my time.
August 15, 2008
wow a great adventure and somewhat comedy movie. great for the whole family to enjoy. 4.5 stars. Look for more of my reviews. E.B.A.
August 15, 2008
I have read couple of comments and i realized every one condemned this movie and only few appreciated it! I have seen whole lot of movies and i do not like the idea of a good movie been criticized!! I admit there were some loop holes but overall this movie was good!! my god if u guys condemn saw series i can handle it but this?????
August 14, 2008
This movie was ok. Loved Brenden and John, 2 returning cast from the previous 2 movies. Most of the funny parts came from john. although, Brenden is getting old, he is still the Mummy Slayer guy for the job, excellent work. The new Evelyn and Alex wasnt that great....no chemistry. Bring back Rachel.
August 13, 2008
I was actually really excited for this one, it was a long time ago, but I remember I really liked the first two. All of my friends said it was awful, and based on some of the reviews, I'm not even going to bother....
August 13, 2008
Was very impress for a 3rd time to keep me on edge and excitment
August 13, 2008
1 and 12 were bvetter
August 13, 2008
I loved the first two movies but this one left much to be desired. I am an avid movie goer and am pretty forgiving on many that don't meet a lot of people's expectations. But this movie left me wanting to leave in the middle. The story was weak, I didn't fall in love or attach myself to any of the characters, even though many of them are some of my favorites, and it left me feeling like there was a lot miss-placed in the story line.
August 12, 2008
Well, having seen the first two movies of this series, it was no surprise what kind of movie it would be. I thought it was fun and adventurous which I paid to enjoy on a rainy summer afteroon. Any other "unrealistic" expectations of this movie is just delusional...LOL (no offense)
August 12, 2008
Cannot compare this movie to the first two.
August 12, 2008
The worst movie I saw in 2008. I am sad that this is one of the mummy series.
August 12, 2008
This movie was horrible! I am a big fan of the other Mummy movies, but this one just sucked! I was very disappointed
August 11, 2008
Worst of the worst. I'd say this movie's for kids.
August 11, 2008
What a bad movie. Let someone else pay to rent it. Dont waste your money.
August 11, 2008
I gave it a 5 out of 5 because I found it much better then I had expected it to be since Rachel Weisz wasn't going to be in this one :-( I am looking forward to a Mummy 4. Remember go in expecting a fiction that's way out there.
August 11, 2008
What a waste - not worthy to be in The Mummy series. Incoherent mishmash. Jet Li does not get to show what he is capable of. Brendan Fraser does not go well with the new Evie. Comedy seems forced. The movie never really flows along the way the first 2 did. Yetis and CG were the most interesting things. This movie has a lot of potential conceptually but it is not realized. I will not be adding it to my blu-ray collection.
August 11, 2008
is this a joke?
August 11, 2008
best movie ever
August 11, 2008
There's no such thing as a 'perfect' film but this comes pretty close.
August 11, 2008
One of the year's ten best.
August 09, 2008
This is a renter! Dont waste the cash to see it in theatre.
August 08, 2008
good movie, lacked suspense, cuz i felt bored sometimes. lol heck, the trailer seemed 2 hav suspense but not the movie. good but not great, i give it a solid 4 stars
August 07, 2008
I've only heard bad buzz about this flick, even so I wanted to see a fun action movie and gave it a chance. Glad I did. It was fun. No it ain't Citizen Kane ... it was a MUMMY movie, go in knowing that, it's fun.
August 07, 2008
So boring I was afraid I would become a mummy.