The Rum Diary - User Reviews
Thank you for rating this movie!
Read your review below. Ratings will be added after 24 hours.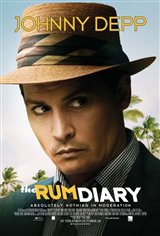 ---
Please rate movie 1 to 5 stars
Showing 1 to 50 of 83
June 03, 2012
excellent 5 star movie, i would watch it again.
May 11, 2012
this movie was so bad it drove me to drink!
April 24, 2012
while depp and eckhart were great, the movie was lacking in any entertainment value.
February 27, 2012
excellent movie, lots of laughs !
February 24, 2012
entertaining movie. better than i expected.
January 05, 2012
Good movie as always with Johnny.
January 04, 2012
Filled the time, not much else, the popcorn was good.
January 03, 2012
Johnny rules!
December 28, 2011
Only reason to see this movie is the performance of Johnny Depp
December 26, 2011
Johnny at his best!
December 22, 2011
Johnny Depp as usual gives a great performance, fun movie!
December 16, 2011
GOOD MOVIE
December 12, 2011
This movie was enjoyable. Amber Heard is gorgeous! Interesting plot but I feel like the ending was sort of incomplete.
December 10, 2011
Enjoyed this movie very much.
December 10, 2011
Once again Mr.Depp you always put out one great movie after another. This is worth seeing!
December 08, 2011
I'ts A Shame Johnny Depp Couldn't Make This Movie Work, The Trailer Looked Great, But It Was More Like A Series Of Skits Jumbled Together.
December 04, 2011
Enjoyed this movie very much.
November 28, 2011
Soooo very disappointed in this movie..Johnny Depp is my all time fave and although well acted, it was so boring and hard to make sense of. I kept waiting for something to "happen".
November 28, 2011
With out JD , movie would be sub-par!
November 24, 2011
Hunter s Thompson is my favorite author and Johnny Depp has adapted his stories to the big screen admirably. I enjoy the escape from reality and hope the rest of Hunter's books will be developed into movies as well. Great locations, fun movie...enjoy!
November 23, 2011
This movie had some interesting elements such as lovely cinematography, colorful characters, and a few lively scenes; however, it fell a bit short on plot eliciting the feeling that this has all been done, maybe to the point where the story lacked a sense of truthfulness. The authentic setting and the funny bits do make it a worthwhile view. If one must choose from the lesser of two evils, let it be this.
November 21, 2011
Pretty boring but with Depp it's always been hit and miss. A good one or two movies, then a poor one and the cycle continues. Hopefully he won't make any new sequels either-Pirates types get old, fast!
November 19, 2011
This is a light wieght Johnny Depp movie...a little boring
November 18, 2011
It was okay to start off then moving along it lagged for a bit then went good then lagged but by the end it was like is it over yet?!?
November 18, 2011
Started out fairly well--a few good laughs --but over all weird.
November 17, 2011
Pretty boring, disappointing ending.
November 16, 2011
ya was all right
November 15, 2011
Really disappointing!!! Slow, boring, no plot.
November 15, 2011
Some hilarious scenes.
November 13, 2011
A little slow at times but still entertaining.
November 13, 2011
Well worth the price of a ticket.
November 13, 2011
Just for big Depp fans
November 13, 2011
love Johnny Depp in anything !
November 13, 2011
Johnny Depp makes the movie........lots of drinking going on
November 12, 2011
interesting character/author
November 11, 2011
Enjoyed this movie very much.
November 11, 2011
Johnny Depp is the reason i rated it 4 stars. I was lost a few times watching it, all i remember was lots of drinking.... Johnny looks so handsome, didnt age one bit since the 80s. I do love his quirky humor and there was a few good belly laughs in this one but overall, i would wait to dvd release....
November 10, 2011
Some very funny parts.
November 10, 2011
I was really disappointed with this movie. I found it to be boring with the exception of a few really good laughs that at least made me feel that it wasn't a complete waste.
November 09, 2011
Great movie!
November 09, 2011
Loved the funny car scenes.
November 09, 2011
A great movie but a huge deviation from the book.
November 08, 2011
The movie was interesting, but kept me wanting more, not in a good way. I felt the movie never got to where it was wanting to go. But overall, it was entertaining.
November 08, 2011
Enjoyed this movie very much.
November 08, 2011
I took the time to read the book a week before the movie was released. This should not have been done. While the movie followed a competent story line, it just did not pull the viewer in to see the characters as developing real relationships. Not Depp's best work, nor Thompson's best screen adaptation. But good enough to see a drug and booze-induced trip through the Caribbean. Which everyone really wants
November 08, 2011
Huge disappointment! Johnny Depp's great character acting ability is certainly not displayed in this movie. I wish he would do a serious movie for a change.
November 07, 2011
You gotta love Hunter S Thompson!
November 07, 2011
Not as good as Fear and Loathing but still an amazing performance by Johnny Depp.
November 07, 2011
This movie was incredibly boring - I wanted to leave after the first 10 minutes, but I went with someone else. I wouldn't even recommend it for a rental. You keep thinking the plot is going to develop, and it never does, so you're wondering for the whole movie It goes nowhere. I do not recommend this movie at all.
November 06, 2011
Jonny Depp does an awesome job a bringing Hunter S. Thompson's world to the screen. A spiralling story that is a credible follow-up to Fear & Loathing in Las Vegas.