The Shack - User Reviews
Thank you for rating this movie!
Read your review below. Ratings will be added after 24 hours.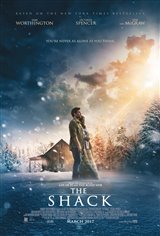 4.35 / 5
User Rating
Based on 400 votes and 145 reviews
---
Please rate movie 1 to 5 stars
Showing 1 to 50 of 145
February 04, 2018
The whole thing is a deus ex machina.
January 27, 2018
This was ridiculously disappointing compared to the book and if you're not religious you may appreciate the overall message but will hate it in general
September 29, 2017
Magnificent, a masterpiece! When you watch this movie, you'll receive revelations of God's love for you in a whole new way!
June 26, 2017
Loved this Movie. There should be additional Movies, Written, Directed & Produced like this. I think all of the Actors deserve an Oscar for their Outstanding Performance! Awesome Movie!
June 14, 2017
I read this book six. Years ago when our Son died! This was my saving grace and got me through the darkest time! My husband hadn't read it but went to see the movie and loved it! Very thought provoking
June 12, 2017
I came just watched this movie without any previous knowledge on what it was going to be about. Just like Sam Worthington, and I will be showing it to my 11yr old daughter, and 8yr old son next. This movie was so uplifting and powerful. Beautifully illustrates one mans journey from sorrow to forgiveness, set amongst a landscape, almost as beautiful as the journey itself. I am Christian and can't understand how any Christian couldn't appreciate the message. A look at what a true relationship with God looks like. Well done!
May 30, 2017
MORE than pleasantly surprised that the characters come through in the movie just as I envisioned them in the book! Movie has a few gaffs such as the wife being so emotionally strong that she appears almost indifferent and Mac starts getting spiffed up for church after he gets to know God (that's religion, not the relationship God wants with us all and this allegory otherwise so beautifully portrays), but the (true to the New Testament) reset on judgment per chapter 11 is fantastic (if a bit too short) - a message I hope many religious people will take to heart! Only wish the movie could have been long enough to tell the whole story, but the right edits were made for time restraints. See the movie, but read the book! .. then get to know the real Jesus - who ends religion.
May 30, 2017
I'm a father of 3, and have been dealing poorly with PTSD related to military service. When the father told the oldest girl that 'none of this was her fault' an emotional dam broke in me. I have been so selfish in my pain. This movie moved me like no other.
May 23, 2017
a religion movie and is not good
May 18, 2017
I read the book some years ago, saw the movie and just re-read the book. It was very motivating and helped me to understand God as a Holy Trinity. The questions we all tend to ask were there. Forgiveness, trust in a all knowing - all loving God and repentance is implied. The beauty of the message is we need to RE-Turn to God as we are, not with a burden checklist of things to do, in order to receive His Mercy & Grace. To know that He is not behind the bad things that happen, but can help us thru them if we trust and have an open/constant relationship with Him. See the movie helped me better understand the Bible and release the great sadness.
May 13, 2017
This movie was very powerful and showed the importance and need to have FAITH IN AND TRUST IN GOD ALMIGHTY!
May 09, 2017
Awsome!! It touched my soul!!
May 08, 2017
Fabulous! Great illustration of how the trinity is separate but still unified in purpose.
May 07, 2017
Not a good movie, poor acting and story doesn't mean a thing, Do better.
May 05, 2017
Very disappointing.
April 26, 2017
It was a good movie about the 5 stages of overcoming grief. The stages were not as clearly defined as in other movies but the message got through. To have the holy trinity take responsibility for the recovery is one way to look at it.
April 24, 2017
This was a very inspirational movie and yet it is has received harsh criticism from Christian reviewers that seem to miss the point. I am Christian. The point of this movie is about love, forgiveness, and that life can and does go on past the tragedies of our lives. It seems to me that so many Christians have a need to "pigeon hole" who or what God is, who Christ was/is, what the Holy Spirit is and what Wisdom is. These entities have as many dimensions and meanings as there believers. This movie touched me in the deepest and most profound way. I saw it twice and it left me even more breathless the second time. The effect it had upon me was to bring me to a place of forgiveness in an area of my life that I was not able to. If a movie can do that to one person, well, then it is worth every penny it took to make it. But I have talked to countless many who saw this movie and one of the fruits was that of forgiveness. This movie paralleled the book like most do not. It was very well done and I just might see it a third time. I am not one to see a movie even a second time. Kudos for the producer and director.
April 23, 2017
I've never been so inspired by a movie as I was by "The Shack". I've held on to grudges and hates for many years and this beautiful movie taught me how to let go of all of those negative feelings. The story line is beautifully crafted, the acting is real to life and I highly recommend this to everyone who needs a relief from holding on to past events that are keeping you from being the happy and spiritually healthy person you want to be. Forget any negative press you may have read....it's just the negative forces trying to prevent you from knowing that our Heavenly Father is always with us and loves us unconditionally. Can't wait for it to come on Blu-ray.
April 22, 2017
This is the BEST movie ever....please don't listen to the negative reports, nothing could be farther from the truth!! Beautifully illustrates God's unconditional love, grace and forgiveness for ALL.
April 18, 2017
This is the most spiritual and accurate account of what faith is. An absolute must see. I have seen it 2 times and plan to see again tonight and purchase as soon as available!
April 14, 2017
Wonderful story. Touched my heart and spirit. Coming to see it again Easter Sunday. I've read the book three times, and this will be the third time I will see the movie again. I will buy the movie when it comes out. I am a Christian as well.
April 13, 2017
This movie touched my soul
April 10, 2017
A thought-provoking and fascinating movie with many levels of meaning to understand. It is not just a story but a personal spiritual journey. I want to see it again. Very meaningful. I loved it so much.
April 10, 2017
Excellent story...as good as the book
April 08, 2017
Wonderful presentation of God's love and forgiveness. The actors were great! Nothing was lost from the book to the movie. I loved it, shed some tears and was encouraged to keep trusting God.
April 07, 2017
Represents the book well. Beautiful scenery,healing message.
April 06, 2017
Sam Worthington was in WAY over his head. The film drives its points home like the audience is a bunch of 8 year-olds. It's TERRIBLE!!
April 04, 2017
Too melodramatic!
April 04, 2017
Won't see it. I refuse to pay to see a movie that forgives a killer, drives parents insane enough to think they got a letter from God which then explains the horrific truth from a twisted mind that somehow sees his 'work' as beautiful.
April 03, 2017
You leave the theater with lots of questions answered and lots to think about.
April 02, 2017
What a fantastic Movie I was afraid it wouldn't be as good as the book. It was even better than the book and the acting was fantastic.
April 02, 2017
This is a movie you should take entire family to see. In fact most of the theater were kids w parents and grandparents. We have seen it twice and may see it a 3rd time. Serious issues like death, the cycle of abuse, loss of faith are addressed. But so well done you will feel refreshed by the end. With so many dooms day and violent movies, this was a wonderful change.
April 01, 2017
This movie was great,makes me want to be even closer to Jesus. This was about relationships..it was a movie about forgiveness, no matter how hard..Jesus says we must forgive so he can redeem.....
April 01, 2017
The way Christ has to come to us individually in the state of mind that were in. No cussing, sex or massive killing.
April 01, 2017
Just a fantasy of a new age person who hopes God is like this. Not based on scripture or revelation from God. Portrays God as Santa Clause. No repentance required, everyone's sins are forgotten.
March 31, 2017
I liked every thing about this movie. I am now reading the book and I plan on seeing the shack again. God was always important to me but I know Jesus died for me and is always with me. Marilyn
March 31, 2017
The movie was a stunning non religous picture of Daddy, (Poppa) Jesus and Holy Spirit. For anyone who is looking for a relationship with God, go and see this movie. I read the book a few times and got a lot out of the movie. The visual depiction was delightful. A stunning portrayal of the truth of Who our God really is. Don't go looking for a theological review but go with an open heart and be amazed. It doesn't hurt that the atmosphere is extremely comfortable.
March 30, 2017
I read the book four times it was so good. This movie is so amazing, everyone should see it. I plan on seeing it again. The messages were very powerful and uplifting.
March 30, 2017
Had really no idea what to expect with this movie , went with a friend she cried through almost the whole movie . Personally I could not wait for it to be over , not my cup of tea at all .The walking on water thing over the top .
March 30, 2017
Slow, boring
March 30, 2017
5-star!!!! Take your Kleenex! I've seen this movie twice now and taking another friend tomorrow. They do an excellent job showing the love of God and the perfect picture of the Trinity.
March 30, 2017
Loved it !! A lovely fantasy portraying GOD's LOVE in a very unique way. Great movie for everyone. Thanks
March 29, 2017
My daughter was murdered also. This movie was like watching my emotions on the movie screen. So similar. I loved this movie. Gave me confirmation of what I already believed Brought me even closer to the Lord!
March 29, 2017
An amazing understandings of God, Jesus and the Holy Spirit. What's there not to like, fellow Christians? Hummm? Is it because Papa is portrayed as non white??? We all know that God is a spirit however for the purpose of book &. movie production he looks human to us.
March 28, 2017
Just amazing!!! Changed my daughter's life for the good..
March 28, 2017
The book was amazing. Some feel the story is far fetched or formed in a blasphemous way. Everyone gets a different message when they read the Bible. Even preachers/pastors etc. we are human and we were made to have our own thoughts. This FICTIONAL story is a thoughtful view on the relationship between a man and God. It just gives you a different way of thinking outside of the ways that are pushed on you by others.
March 27, 2017
I think the movie was awesome. Show a lot of love and forgiveness. Read the book twice and loved it. I even bought the book to pass it to people to read. Hope they make the movie crossroads by the same author.
March 27, 2017
Excellent movie, loved, loved, loved it!!!